| | |
| --- | --- |
| eXtra Notes | |
Graham K. Rogers

Unpublished ideas that are not going to make it into print
---
---
Silly me, I missed a Bangkok Post, Database deadline. I thought it was Monday, and the deadline for this week was last Monday. I had been trying to keep as few articles in the pipeline as possible, and there were recently two deadlines in one week. It shows how difficult it is to keep a column topical. Whatever is in print is already a couple of weeks out of date. I have got round this in a couple of ways: xnotes, which allow me much flexibility; and the RSS feed, with which I include some articles under a "pointer" directory. The former alllow me to rant. The latter give me some space to be on the ball with news: some of the items have been circulated within minutes of the events described.
Enough of me. How about You? Last week in the Post there was a column on security. Joe's notebook was the envy (and the plaything) of all his friends and he was not firm enough -- students find this difficult. I had to help with passwords and suggestions as to some secure practices.

The afternoon it was printed, I was sitting in the sound-dead room of Salaya Community Radio when the phone went off (I had it on silent). I had been recommended by the Siam Discovery Centre shop and the man at the other end was in a deal of trouble. I listened for a while and was aghast at what he was telling me, but it sounded like a short tidy up and a couple of quick fixes. The description wasn't the half of it.
The previous Mac visitor was described as an "Indian looking gentleman" (and the photo confirmed this), who turned up with a version of OSX on a PC laptop.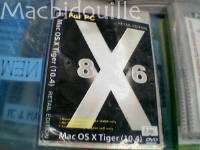 I had heard rumours of this going around and Mac Bidouille has pictures of this (the one here is from their site) and dismissive comment. OK to try this for an experiment -- it might be part of the OSX86 project -- but they are more of the opinion that this is one of those escaped versions that Apple put out for developers. I am sure that when they find out who let this one out of its cage, they will cut his balls off. Mind you, some people suggest that Apple themselves are the culprits and are seeding this to give Windows users a flavour of a real operating system.
Nevertheless, this version does work, but it is flawed -- consider its intentions -- and for someone to turn up on the doorstep to do repairs or maintenance on OSX machines is ambitious, stupid and hopeful all at once.
Apart from this, there were questions of personality that the Mac owner was unsure about. His technical abilities were quickly confirmed when it became clear he did not have much of the required experience of OSX use. (When I suggested, for example, that some of the dmg files strewn all over the desktop and directory structure would be better in one folder, I was told that this was how they had been until "Chummy" took them all out.)
Part of the problem was a mistrust of what had been done: did Chummy have the passwords (owner did not); and was he tracking things? We changed the password for the WiFi (I found that in Keychain), and then had a look at settings. There was a complication in that the man has a fearsomely expensive camera with WiFi capbilities -- shoot and download takes place automatically -- and it may not be possible to use automatic settings (DHCP) for such transfers. A fixed IP number (as had been entered) may be the solution; but then there are two other computers to configure, both in the home and on the road.
The main problem came when settings needed to be changed on the Ethernet modem. Billion produces a modem that links to a PC (note the PC, please) using the Ethernet port. It has a fairly clear setup screen (accessed using a browser) but trying to change settings, after the online password had been changed, seemed doomed to failure.
Two things became clear to me. CSLoxinfo had easily findable online information on settings and requirements. True, which I use at home, does not have easily findable online information on settings and requirements. When I accessed the TrueCorp website, there was plenty of information on what ADSL is, but not on what to do with setting it up. However, after looking at an e-mail from the Helpdesk at True (there are some people there who comprehend) I was given a completely different URL for True Internet. The link here is of the site-map: the home page is almost totally Thai and not easy for me to find the information I was after. Further checks of the TrueCorp site show that this link and the others in the same section are all dead links.
After leaving the apartment, I gave the matter of the modem some thought and I conclude that this is the wrong one. I had heard stories before of other users having problems with this device and it might be better to use a type that I know does work with Macs and OSX. I fired off some e-mails to some people in town and had a look round myself. The replies to the mails simply confirmed the dubious nature of this connecting device: this is not a modem/router but an Ethernet modem.
---

On Sunday, I took a rare trip to Phantip Plaza.
On floor 4, the Uficon shop had an SMC NETWORKS, 8-port ADSL modem-router for 2,500 baht.

Next stop was the IT place on the top floor of the inner mall area. This shop had a couple of the ADSL modem/routers that I was after:

D-Link DSL 500T, with only a single Ethernet port for 1,890 baht.
Prestige 660H, with 4 Ethernet ports, for 3,190 baht.

My last stop (I can only take 30 minutes of Phantip, even on a good day) was at Data IT on the mezzanine floor. This is where I had bought a PCi BRM-04 for a friend last year, but these had all gone. I am told by the company, Optimus, that these have been superseded by the Tactio, and the model is Altera-04G. This is Modem + Router + Wifi: all-in-one. This was available for 4,590. It should be noted that this has 4 Ethernet ports as well as the WiFi.

The replacement for the BRM-04 was also there and this four-port device was priced at 2,590 baht (a reduction of about 1,000 baht in a year).
Armed with some information, I can now make some suggestions about what might work better in the situation that he wants to work in. However, once that is fixed, we will have to start work on the computer itself, which was not as tidy as I would have wanted. As one example, the Dock was at full width but with so many icons that they were at the smallest size and it was difficult to find the one wanted anyway.
This may keep me busy for a while.
---
Sometimes when I use the trackpad of the PowerBook, the scrolling is a little fast, especially when viewing RSS pages. With the new PowerBooks and new iBooks, it is possible to scroll using two fingers. I saw a tip on MacOSX Hints a few days ago, that shows how to scroll more slowly: put one finger on the trackpad and hold it still, then move another finger. This works with both vertical and horizontal scrolling.
---
With Apple stock at its current high price ($53.70 as I write this), there are stories going about that the company has been buying up land in the Cupertino area around its headquarters. Ironically, some of the lots it has now acquired it had previously owned and then let go. On the personnel side too, there is recruitment and the workforce has increased to 13,500.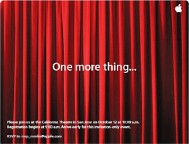 Fourth quarter earnings results are to be announced by Apple on 11 October starting at 2pm Pacific Time: that is 8 hours behind GMT; and 15 hours behind time in Bangkok. If my maths is right, 2 pm there, equals 5am here, but don't quote me on that.
The day after that (12 October) there is a "special event". Using Steve Jobs' infamous "One more thing" phrase as a teaser, the event is at 10am at the California Theater is San Jose. Barring a miracle, I will not be going. Rumours, of course, are flying with suggestions of the video iPod, or new PowerPcs (upgraded to dual-core processors). Who knows?
---
All materials ©copyright G.K. Rogers. Free for individual use.
Other links:
---
---
---
For further information, e-mail to Graham K. Rogers.

To eXtensions, Current items
To eXtensions, 2004-05
To eXtensions, Year Two
To eXtensions, Book Reviews
To Education Page
---