Lente, lente currite equis nocti
Graham K. Rogers

Motorcycle Riding
Final update, 24 May 2006.
Belatedly writing here, I have to mention that I have given up riding, but will leave the ride reports available as a resource. I hope anyoone accessing the information enjoys the experiences, at least vicariously. I guess, in the end, I was accident prone.
After experimenting with a Yamaha 650, I became the happy owner of a BMW K75C. This was replaced (October 1997) by a green K100RS and then in January 1999 with an identical motorcycle (we swapped the body panels and the tank).
Unfortunately, this was in an accident. After 7 months (more due to getting the money out of the other driver) it was back on the road: it ran like a train.
While waiting for the repairs to be effected, I had picked up an R80G/S with which we found some new roads to play on.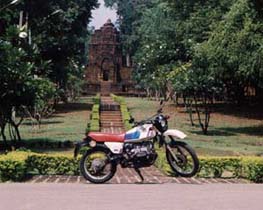 I owned a gold K100LT as replacement for three weeks but I got the green K100RS back. The LT was fine as far as handling was concerned, but the engine would not pull the skin off a rice pudding. I also had a K1 for a few weeks but that had electrical problems and did not handle at all to my liking. A few months later, I dropped the K100RS on some diesel and it was written off after coming (violently) to rest against a concrete power pole.

It took over a year to find a replacement which I collected in February 2003.

The R80G/S has now been sold, and now the K100RS is dead (see below).

BMW K100RS in forest near Chombung, Rachaburi: 14 September 2003
The end of the line
I had another accident (16 June 2004) in which I was knocked out after colliding with a truck that did a U-turn in front of me, then turned back. A nasty surprise, I guess, but I remember nothing. It is this and the 25 stitches close to my eye (glasses inside a helmet) that have made me realise how lucky I have been in a country where riders are often disregarded by other road users but heavily penalised by the authorities. I have therefore giving up riding.
These pages will remain and I will add to them in terms of interesting travel items that might interest riders and other visitors
Some Links to BMW rider sites:

Some Links to other useful sites:

---

For further information, e-mail to