---
Full Circle: Bangkok repair shop to Malaysia and back
Part 1: From the City to the South
---
(Prices are quoted in Thai baht, currently running at about 42=$1, at the time of the ride it was 38=$1)
Sometime last year I had an accident on the K100RS and, with the way things work here in Thailand, it took about 8 months for the repairs to be made. In the meantime, I bought a 1981 R80G/S and have put over 10,000 miles on that.
The K was returned at the beginning of April and I had it for a weekend to check out and found a few minor problems including excess tank pressure and a leaking tank: probably related. With my annual leave approaching, the tank was not easy to seal and the Old Man who I deal with, sent it back three times. The afternoon it was finally due, I was haunting the shop for hours and checked a number of things over with the Old Man.
The tank overflow pipes needed replacing but Thais are averse to preventive maintenance. Crisp and cracking as they were,they still carry water and fuel vapour away, even if one had a hole a foot below the tank. It was only when I pulled this off and went to get the replacement tubes myself that the Old Man conceded.
We put them on and I blew through them to ensure there were no obstructions. When the tank arrived I also blew through the overflow stubs (at Brian Curry's suggestion--air flows two ways).
The next day I needed a test and, conveniently, the local racetrack had its regular last Wednesday of the month, afternoon meet. I took the main road out to Kanchanaburi and the lanes back to Nakhon Pathom, and then cut across country to Nakhon Chaisri where the track is located.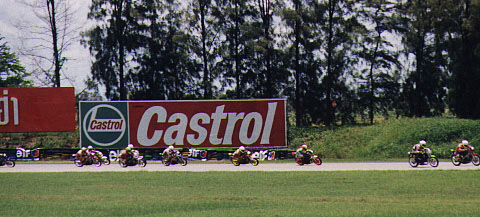 Every time I checked, pressure was normal in the tank, and I could find no trace of leaks.
Thursday (27 April)
I took the R80G/S into the shop. The Old Man was going to check and change all oils; and he also agreed to look after it while I was away. I packed that night and the alarm went off at 0330. I left the house at 0500. I decided that, as the sun was not yet up and there was a chance of rain, to wear the plastic overtrousers and rubber boots from the outset. The waterproof coat was within easy reach under the seat.
Early morning is a good time to ride the southern highway: the road is clear and the dual carriageway is now open beyond Chumphon abut 450 kms from Bangkok. I passed through Chumphon at about 0900. The traffic lights, always bumpy from the heavy traffic, especially from the trucks that use the left lane, were a decision point for me. I could take the west coast route by turning left, or by carrying on to Surat Thani, I could switch to the east coast or carry directly on through the centre. I usually take the East coast, but had half a mind to meet up with Erin and Chris Ratay whom I knew were travelling up from Malysia and Had Yai.
I was pleased to find that the dual carriageway had now been extended south of Chumphon and now reached to within 70kms of Surat Thani. But that last 70kms is deadly and I was forced off onto the hard shoulder five or six times; although one car driver chickened out way before me and made a real mess of sliding sideways onto the hard shoulder on my side of the road. I guess the fast bike with the headlight was a bit of a surprise. It took me a couple of minutes to stop sniggering.
Entering Surat Thani was a mess. New roads and bridges are being built--the south and east sides were completed a couple of years ago. It was this that finally decided me to continue directly south and keep an eye open for Chris and Erin.
I saw them about an hour later, just after a fuel stop, much further south than I expected. Erin explained that they had not left until 0900 (instead of the planned 0800). I only saw Chris initially as Erin was tucked in behind a truck. I checked my mirrors and debated; but how many big bikes are there i Thailand? I found a gap, hauled the bike round and piled on the speed. For the first (and last) time, I saw an indicated 200kph. Just for a moment; but it is nice to confirm it is there.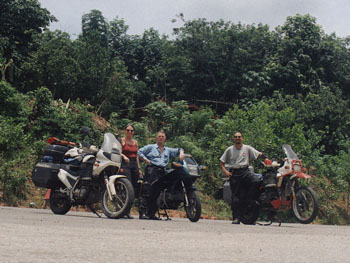 As all traffic was using one side of the road--the other being still under construction, we pulled over into what will be a U-turn and parked the bikes. We each took some photos and chatted about the next stage of our respective journies. As I have long had a desire to ride to Angkor Wat, and they were off to Cambodia, perhaps with Bernarda Pulko, I was also invited. As the sun was pouring out much power now, reflected by the tarmac, we decided to continue the chat via e-mail and headed off in our respective directions.
Coming into Patthalung, the province north of Songkhla, there were lots of headlights flashing. As this was where I got stopped, for my one and only time, for radar, some three years ago, I decided it was prudent to bring the speed down and run at about 100kph for what seemed like forever. I did see one highway police car but there was no evidence of a large organised check as I had seen that earlier time.
When the road turned into dual carriageway south of Patthalung, I opened the taps again, although I could already see the line of cloud. The rain fell just as I turned off the southern highway onto the road that bypasses Had Yai. I had to stop for fuel anyway, so I grabbed a drink and took time putting on the waterproof jacket. The rain had just about stopped by then, but the road was still wet and I decided to keep it on. A good call. Excavation work to one side of the road on this stretch meant that the road surface was an ochre colour rather than black and both the bike and me were covered--"Hey, cleaning it up costs money, nah?"
I rode into Songkhla at 1400 but was slowed by the resurfacing work on the main road into the city. For the rest of my stay, like the locals, I used the beautiful coast road for inbound riding. I got to the guesthouse I usually use--I have known the owner since he was a teenager--booked my usual room overlooking the National Museum, and grabbed that well-earned shower.
With a change of clothes I walked into town to get a newspaper and have a cup of the local tea. I wandered back via a Caltex gas station where I arranged to have the bike cleaned the next morning: not laziness, practicality as the guesthouse is not set-up for bike cleaning.
That evening, after a meal, I rode the bike up to the seafront and stopped by the Kaosan fishing village. Local boats were riding the tide; out to sea the anchovy-fishing fleet lined the horizon; a big, starry sky above. The Plough (Big Dipper) is upside down here.
I like Songkhla.
Saturday (29 April)
My impression was reversed at 0700 the next morning when loudspeakers, strategically placed on a lamp-post just outside my window, began broadcasting the early morning news. After a couple of days I got used to this and was awake before the music started, heading for the bathroom to avoid the news. I rode to the Caltex station and left the bike--it would be ready at noon--then walked round the corner to a friend's cafe (her son owns the guesthouse now) where I had a huge breakfast and took some photographs of early morning traffic:
At 1200 I collected the bike and it looked good, although it smelled oily.
After it had been washed, there had been a liberal application of some spray to make things shine. Instead of keeping it to the relevant parts of the bike, it must have been sprayed everywhere. I wiped the seat clean, as I sat on it I slid down into the well; then I wiped the handlebars, and began to have a good look round. Hmmm, disks back and front also coated. I moved off slowly, applying the brakes carefully until they began to bite; then did it lots more to make sure that we really did have braking power restored. I stopped to have another check and found smoke rising from the exhaust pipes by my left foot. Must have sprayed there too.
I headed for the beach for lunch in the shade: fresh fried shrimp and a can of Sprite.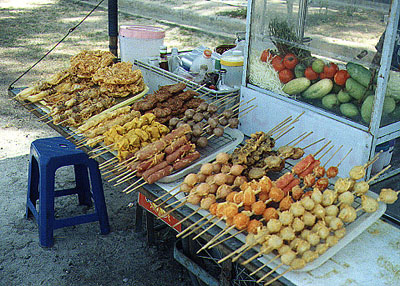 While sitting there, a student on a pedal bike, Chris, came up and we chatted. As his English was quite good we had a good chat and ended up touring the area for the next few days, as he was from Chaing Rai in the north and not from Songkhla.
That evening in the cafe, I met my old high school teacher. When he retired some years ago I invited him out for the winter. When he went back to a cold and grey London, he asked himself, "What am I doing here." he came back and has been here ever since with a couple of strategic breaks. He brought some pictures of the fishing boats I had taken last year and had enlarged.
He had forgotten to frame them (Songkhla slows you down) and was now returning them. I had another with me so I decided to get them all done while here.
. . . and to take some more:
Graham K. Rogers
Bangkok: May 2000
---
Part 2: Songkhla and Malaysia

For further information, e-mail to Graham K. Rogers.
---