| | |
| --- | --- |
| eXtra Notes | |
Graham K. Rogers

Unpublished ideas that are not going to make it into print
Previous note (1) can be found here.
Previous note (2) can be found here.
Previous note (3) can be found here.
Previous note (4) can be found here.
---
Getting towards ADSL (2)
Installation was quick and easy; and then the connection was made to the Internet a couple of hours later. What was needed, however, was some information about the settings. TRUE do not provide any information at all either in the shops or on their web-pages. You can download the Windows drivers of course, but I can find zero information provided by TRUE on getting up and running with a Mac except when one phones the help desk in desperation. It is left to someone at the Apple shops here, or on the Freemac.net discussion board to provide the right data.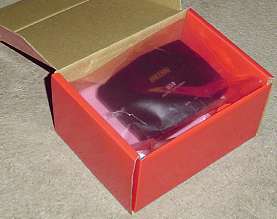 The USB modem: in the box where it belongs


As it is, the reason the lady on the help-desk phone knew immediately what the problem might be when we told her that we were using a modem/router was probably because several Mac users have phoned with the same question; and not a few Linux ones, I wager. This makes it all the more reason for the company to provide such information. More and more Mac owners -- a surge in the last year -- just means that proportionally more will be accessing the Internet through fast links.
The way that one connects to the Internet with ADSL means that the old dial-up accounts at ISPs, already declining with the popularity of pre-paid services -- grab a card and you are online -- are going to have to reposition or die. One ISP told me at the end of last week that "this (ADSL) is killing us." I am sure this company is not alone. Roynet was finally laid to rest by the SET last week and that seems to have succumbed to bad management: the family/monopoly that so many businesses understand here. Roynet will not be the last. CAT has done plenty of damage already by its 30% cut for nothing; and now the advent of modern communications will keep the ISPs on their toes. I would envisage some mergers.
I would also suggest that some ISPs -- with a number of skilled personnel -- will have to switch from sitting on their butts and waiting for the customers come to them with their money. The ISPs are going to have to go out and get business, not wait until it coes a-knocking on the door. With the hardware in place, an obvious start would be the provision of web-based services, which have always been too high in my opinion. I had to go to an outside provider (and I am happy with the service) to get a reasonably priced site. I was also happy that they did all the paperwork needed to register eXtensions in my name.
Thumb-twiddling ISPs might also provide a holistic service for a company: running the entire Internet-based services, from e-mail, through websites and databases, to dealong with customer service questions. This is an area where many companies round the world fall short. In some cases, you can search a site, send off an e-mail with a question and have a reply in hours (apart from automated replies saying that the message has been recieved). On the other hand, many companies not only leave a customer with questons suspended for days, some never reply at all.
I had this some months ago when I was looking for information on high-speed links here. I had not been happy with the initial TA (before they changed the name -- and I hate the new one, TRUE) response so looked at other possibilities. CSLoxinfo (formerly Loxley) was out: I have a choice where I put my money and I still smart over the initial DataNet price rise from 1,000 to 2,700 baht a month. As an aside, that DataNet site has one of those infuriating multimedia introductions that takes ages to load (even with ADSL) and does not offer the "skip" link until after the introduction begins.
I then looked at ToT, the Telephone Organisation of Thailand, whose websites are not that bad. I particularly like the pages (in English) that allow me to check on the status of my phone bill and, using a credit card, to pay it as well. Even the rules and regulaions that you had to sign as accepting were provided in English as well as the Thai, something TA was unable to do.

When I got down to the high speed link pages, there was not quite enough information for me to proceed, so I made use of the e-mail links, several of which were provided. Over the next couple of days, one-by-one the messages were returned, most of them with the warning that the e-mail accounts had not been activated: one step forward and one step back.
It goes back to what I wrote above: increased professionalism is required; and this applies particularly to the IP industry. This does not necessarily mean becoming faceless and ignoring the customers as happened with some coroprations here and in other countries. It does behove these companies to recognise who they are in business for. if the answer is, "the shareholders", they may end up alienating their customer base as thye concentrate on the dark side of efficiency. If a company (of whatever size) remembers that the basic income of the organisation comes from the customer, then the shareholders will also be happy. A good example of such repositioning mught be Pixar.
---
Rumours
I am told that there are expected to be good supplies of the new iBooks. I am pleased as my own intention is to collect one of the current range as soon as the prices start to tumble. On the other hand, as the pricing of these new computers looks to be more competitive, I may aim for one of those to complement the eMac.
---
Not so much a rumour, more a confirmation of an event. I was given a handful of tickets to the upcoming Mac show in late November which this year is called Creative World 2004 and is to be held at a new location, the Emerald Hotel on Rachadapisek Road, Huay Kwang, Bangkok. The back of the ticket carries information about transport links for those silly enough to attend this event by car. The BTS subway runs nearby and, if my Thai is good enough, the nearest staion is Huay Kwang. The following buses are also suggested: 36, 73ก, 98, 136, 157. The following air-conditioned buses also pass: 15, 36, 185, 514, 517 and 529. I hope that there will be less emphasis on printers and more on computers and peripherals this year.
---
All week the rumours have been getting louder about an Apple event scheduled for Tuesday. We have heard sounds about iPods with coloured screens, with 60G hard disks, and the latest concerns the group U2 who feature in Apple iPod advertisements. many of these stories focus on a special edition iPod, perhaps in black, with preloaded music from U2. Sounds good to me as I go through updating my 80s collection and buying more as a result of the iPod than ever.
---
Also coming in the next week or so is likely to be the 10.3.6 update to Panther. The last I read it was at build 7R24 for those who are interested in that sort of trivia.
---
One slightly sour note this week (if you do not read between the lines) is that Apple seems to be about to stop support for iTunes 2 users at the iTunes shop because of security concerns. Not that this will affect more than a handful of users here. The only person I do know who can access the iTunes shop because she has a US credit card, has iTunes 4 anyway which comes with the iLife package and is installed on all the latest Macs. Apple are also warning that the supply of iPods may dry up before Christmas.
---

It looks like the eXtensions articles are now being taken up by MacNewsWorld as a couple of the recent columns have been available there. This will be all the more useful if (or when) the Bangkok Post site were to go to a pay-only service. It is also encouraging as it puts Bangkok (and the Post) on the map a bit more, plus expands information about Macs: useful for those of us still battling myths about Apple (you know: no software, expensive, incompatibility) that often come from ignorance, and certainly not helped by input from people like Steve (iPod music is all stolen) Ballmer. If he spent the same energy putting Windows right that he does downplaying other platforms, maybe there would be some improvement there.
---
All materials ©copyright G.K. Rogers. Free for individual use.
Other links:
---
---
---
For further information, e-mail to Graham K. Rogers.

To eXtensions, Current items
To eXtensions, Year Two
To eXtensions, Book Reviews
To Education Page
---