| | |
| --- | --- |
| eXtra Notes | |
Graham K. Rogers

Unpublished ideas that are not going to make it into print
---
---
How time flies. The last week has been one of the busiest for a couple of years. August is always hectic with the shcedule at work: year 2 teaching; year 4 students' project proposals; and year 2 marking of html pages. The last two are over and above what is a normal situation, but if I did not do this, no one would; and if I did not do this, the students would not have such a wide or deep range of experiences. Year 4 students hate me (up to a point) while it is going on and I send them back time and again to correct errors in their writing, or make them come clean with where the information they are using came from (or who wrote it).
In the main, progress is made and they go away with a piece of work which is (in the main) theirs, along with a lot of input on what they have to do to take it from their first Thai ideas and forge an English report. I tell them, and I show them the steps that I have to go through as a native speaker of English. I know that several of them do actually download the series of files I have online to illustrate the writing process; but I am sure that, even having seen what I do, some go away with the idea that somehow, a fairy is goingn to come along and sprinkle the report with magic dust and that the next morning it will all be in perfect English.
The Year 2 problems are of a different nature, although this sense of disbelief also intrudes. When I first asked students to create home pages, some ten years ago, the technology was in its infancy and we still used templates to demonstrate how to write pages. In those days, a students web pages would fit on one 3.5" floppy disk. Now, the free access to web sites allows them to download hundreds of pictures and include their interests. If I see one more picture of Manchester United, I shall scream.
In some cases, these downloads are all that they have, and instead of the students using their own background to form a biographical site, all they have is downloaded: in one case over 500MB of downloads. There are certain parameters that students need to remember when writing web-pages, and these could also be applied to commercial sites:
Your own information is what I want to read;
Likewise, your images are what I want to see, but these images need to be resized;
Size and number of images or files affect downloading and processing speeds;
The Internet does not have a C: drive.
So after a day or so of wading through so much crap, so many unneeded .bak or .doc or thumbs.db files (when the instruction was to have it "web ready") and scores of pages where the images were represented by blue squares with question marks in the centre, I gave up and offered another chance. I took time in class and showed the students some of the problems they had.
Back came a score of new CDRoMs that I had to check and upload onto the hard drive, and still I found hundreds of unnecessary files, html pages requiring access to A: C: or D: drives (depending on which disk my babies had used to write their pages on); and still I found some pages that the only content produced by the students was when they had written their names on the top: two were total downloads of external sites.
There were tears. Not mine of course, although despite a hard face, I am affected by upset students; and I relented: Monday -- two days or zero.
It is a shame as this project is intended as a way in for students to pick up some extra marks by using what they should know best: themselves. I am resolved that, in future, I will tighten up the rules, which always happens when students ignore the spirit of an idea and are motivated only by marks. Indeed, it is those students, who are so badly mnotivated that they think the perfection of professionally built websites is what is needed for this student project, that come off worst.
Over the last few years our students have lost sight of so much. With websites, they have almost no idea of the underlying coding, and rely solely on web-producing software (I vetoed use opf Macromedia products as I wanted to examine the code where I thought necessary). Similarly, none of our students -- including 99% of the computer engineers -- has any experience outside the environment of Windows (3.1 to XP), including DOS commands. Forget UNIX (apart from one or two -- there seems to be an individual each year).
So next time? One restriction will be a limit on the size of the submission: I think 2M should do it. I am also going to cut out the downloads from external sources: cake recipes, resorts, football teams, guitar sites, car manufacturers. To make this so, I think we will have to come up with a basic skills course in the summer.
---
I am preparing for a fairly busy week as far as Apple stuff is concerned. We had the iPod Nano announcement last week, and during the week the first versions arrived. I managed to get my hands on one by Thursday in the Apple shop in the Siam Discovery Centre and put some information up then


David Pogue wrote in the NYTimes that "to hold one is to want one." I am glad I have a little more self-control than that, but they are cute: loko at the 10 baht coin in the pictures to get an idea of this.
---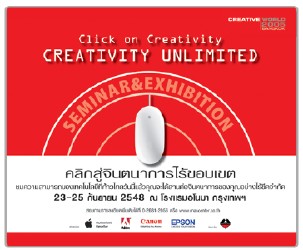 On Tuesday is the official press announcement in Bangkok, just in time for this year's Creative World which is now back in its eariler home of the Arnoma Hotel in Rachadamri Road, opposite the renamed Central World, Bangkok (formerly World Trade Centre). I always thought of this as something like an exhibition in an envelope owing to the narrow excalators and the small hall the show was held in.

I also remember that in those days Kodak was a bigger player in Apple shows and being infuriated as the guy in charge managed to ignore me for about 20 minutes while he chatted to a succession of other, clearly more important people. I did tend to have a low profile at these shows and found that quite useful. It is a little less easy these days -- and I am flattered by this -- because a lot more people recognise me.

Just before this Bangkok show, there is the Paris Expo with no Apple keynote speech, although it is rumoured that Steve Jobs will be present, and we should never discount the possibility of new products. A local retailer suggested to me last week that this month is the deadline for new products as otherwise we will miss the end of year blowout. The Nano is a bright spot, but one swallow does not make a summer.
---
I am always on the lookout for useful information and am one of those who frequently uses the command line in Terminal or X11. The "man" command is OK once you know what you are looking for but sometimes that is not the case. Simon Sheppard has a list of the commands, inlcuding links to extra information for some of them. By following the linbk to his Home page, there are similar command lists for Oracle 9i, Windows NT/XP and Linux BASH.
---
All materials ©copyright G.K. Rogers. Free for individual use.
Other links:
---
---
---
For further information, e-mail to Graham K. Rogers.

To eXtensions, Current items
To eXtensions, 2004-05
To eXtensions, Year Two
To eXtensions, Book Reviews
To Education Page
---