| | |
| --- | --- |
| eXtra Notes | |
Graham K. Rogers

Unpublished ideas that are not going to make it into print
---
And one more thing. . . .
I woke up this morning (Wednesday 12 January) to a list of announcements from Steve Jobs about all those new products which the rumour sites had got 99.9% right this year. The iPod shuffle (flash drive) exists. The Mac Mini exists, Keynote 2 exists, iWorks exists. And a whole lot more, details can be found on the Apple site.

Rather than stay up overnight -- I am not a fanatic -- I left the Mac Daily News feed running and the pages were refreshed every few minutes. When I awoke, I printed the page and read it over the cornflakes.

The order of presentation was significant.

After the reports on how good Apple is (typical company stuff) and the state of the Art, Jobs had a talk about Tiger (10.4) and some of the features to be included, and included updated iPhoto 05, iMovie 05, iLife 05 ($79), iDVD 05, and Final Cut Express HD video editing suite ($299).

Then, iWork which replaces the long-in-the-tooth Appleworks and has a new application, Pages (a word processor with footnotes -- I have only seen that in Word and Mellel), and includes Keynote; thus pitching this firmly againt M$ Office.

. . . and then, the iMac Mini. It is actually smaller than I had anticipated as it fits in the palm of the hand: about the size of a CDROM. There are two versions and the full details are on the Apple site from whence I have borrowed this picture using Appe's own screen capture technology.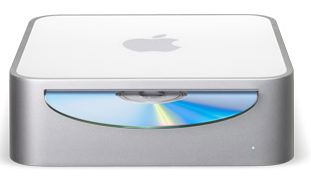 According to the basic information I have the two versions are 1.25GHz (G4) with 40G hard disk and 1.42GHz with 80G hard disk. Both have 256MB RAM (expandable up to 1G). They are priced respectively at $499 and $599, so I would anticipate Bangkok (initial) prices of 23,000 and 27,000 baht. That, of course, is pure guesswork.
The machines apparently come with DVD drives and can be upgraed to Superdrive. Other upgrades include Airport and Bluetooth. There are neither monitors (it has an adapter) nor keyboards, but if someone has a PC, they will already have the monitor, eh?
What else does it have? Firewire 400, USB, Ethernet (10/100), internal modem. Of course it comes with OSX Panther and that includes Mail, iChat AV, Safari, Sherlock, Address Book, QuickTime, iSync, iCal. Other software on board is iLife Ô05 (includes iTunes, iPhoto, iMovie, iDVD and GarageBand), AppleWorks, Quicken 2005 for Mac, Nanosaur 2, Marble Blast Gold and also the Apple Hardware Test. All this information comes from the Tech Specs; and there is more.
My take on this is that, if this does not push the PC/Windows waverers over the edge, then nothing will. I tink I might get one just for a way to run a home network and as an entertainment module. Oh, it also has a place to fix a cable and lock: these will walk if owners are not vigilant.
Steve Jobs then switched to the iPod and did the company talk about the sales (iPods and iTunes) and told the aurdience that Apple was working with BMW on a generation 2 adapter. And also that Alpha-Romero, Ferrari, Mercedez, Volvo, Scion, and Nissan will offer iPod adapters. let us hope they do not develop one for the Bangkok bus.
And then, "One more thing..."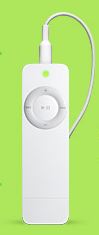 The crowds love it when he says that as this is the apex. I am surprised that the iMac Mini was not the "one more thing" but this does seem to confirm that Apple is shifting, or re-aligning; or even expanding in two directions at once. Napoleon and Hitler both came to grief this way.
It is called the iPod shuffle (with a small "s") and is for Mac and Windows. There are also two versions of this: 512MB with 120 song capacity and 1G for 240 songs. The prices are $99 and $149 respectively. With the 30% import duty here, this may not be so favourable and I anticipate local (start) prices of 5,500 and 8,000 baht (again, I am guessing).
The shuffle has no screen and is controlled with a special Autofill button in iTunes. It can also be loaded manually with iTunes too. You know if it is on when the LED is lit. Useful, eh? It can also be used as a USB thumb drive, but I bet I would be hard pushed to put OSX on there.
At less than an ounce, it has a lanyard (round your neck) and a battery that apprently lasts for 12 hours. On the notes at the bottom of the shuffle page, there is a reference to the idea that it is the size of a packet of gum. Note #2 says "Do not eat iPod shuffle".
Locally, the Sony 128 is 6900 baht and iRiver 128 is 4600 baht. The iRiver 512 is more expensive at about 12,000. I just looked at those figures again and wonder just what the local market will take. We shall see on 25 January when there is a Thai press release of new products planned.
---
The morning after. . . .
After the intial euphoria of new product announcements, the cold, hard light of day has given me 24 hours of analysis. I love the iPod range and the iPod shuffle is a good addition, especially with its price: it compares favourably with devices of the same type. here, I think, Apple has done the right thing.
The iMac mini looks, on the face of things, like the belle of the ball, but a closer examination shows that there may be some flaws in the makeup. It depends who buys it and what it is used for.
There are a few possible problem areas:
Heat: To a great extent this -- which is the bane of small enclosures, like a laptop (why there is so far no G5 PowerBook) or the beautifully designed Cube -- may not be a problem. A look at the rear of the machine (and the specs) shows that the power supply is external, thus the usual heat source of a computer is not there. There is reported to be a small fan inside the enclosure.




Users: Just who is it meant for? there are three possible groups: those switching from a PC; totally new users; those who are Mac users already.

If someone is switching from a PC, they will have a monitor that can be plugged in and used; fine. They may not have a keyboard as many PC keyboards use PS/2 connectors. Up goes the price; and if they opt for Bluetooth or Airport to be supplied, that puts the price some more.

Totally new users -- and this group ought to be fairly small, will need a new keyboard and a mouse as well as a monitor, so the base $499 has to rise considerably, perhaps defeating the object. This group would probably be better off with an eMac (if they are still to be supplied -- they seem to be in short supply in the US right now), or even a G5 iMac; but this would be at a considerably higher price.

The Mac users who are thinking of changing might not find this too attractive, unless they already have a monitor, and not all Mac monitors will work: an adapter may be needed for some, and up goes the cash outlay again. As a second machine, this is a good choice it seems to me and one that could easily run a home network, act as a music machine or a video display.

I have not seen it mentioned anywhere yet (for once we have an original idea it seems) but a projector (most have VGA connectors) could be attached thus changiing it to a home cinema or to an easily portable computer for presentations. Not all of us like laptops. For all of these groups, there is one problem that every Mac suffers from: memory.




RAM: OSX, being Unix with a pretty face, thrives on memory and most Macs come with, sort of, enough, although hungry for more. With the eMac, open the bottom panel and in goes a module. With the G5 iMac, open it up and the memory goes right in. With the iMac mini, however, it would seem from first reports that this computer is not easy to open (perhaps voiding warranty) and so the factory or an authorised dealer is the sole route.

Memory prices quoted for 512MB are reasonable but that for 1GB of RAM is outrageous. Using the Apple Store page, former is $75 but the latter $425, increasing the price to $924. On the other hand changing the nhard disk from 40G to 80G adds only $50. Changing to a Superdrive (from the standard Combo) adds $100: not too bad. The mini with the 1.42GHz chip ($599) already has the 80G hard drive.

As there is only one memory slot, the whole module needs to be replaced and there may be a danger if an inexperienced user tried the update at home. One wit (Michael_C) on the Apple forum this morning offered this scenario:

"Ooh, I love my shag carpet, and these corduroy pants! Oh, look, I made a little spark jump from the RAM chip! Hee, hee! Now let's start it up and enjoy all my new memory...what's the matter with this dang machine? It won't start! I KNEW I should have waited until they got all the bugs out! I'm going right down to that Apple Store and refusing to leave until they give me my money back!"
I hope that the memory price is either an error or that it will quickly come down as this alone would almost double the price of what should be an entry-level Mac and put it far above the eMac which does have a screen, keyboard and mouse.
---
All materials ©copyright G.K. Rogers. Free for individual use.
Other links:
---
---
---
For further information, e-mail to Graham K. Rogers.

To eXtensions, Current items
To eXtensions, Year Two
To eXtensions, Book Reviews
To Education Page
---