| | |
| --- | --- |
| eXtra Notes | |
Graham K. Rogers

Unpublished ideas that are not going to make it into print
---
With the release of Tiger (OSX 10.4) the name of Rendezvous for what is touted as a zero-configuration connecting facility, was renamed to Bonjour. I am not great on naming conventions, but this does seem to be somewhat chinless in comparison. The reason for change was copyright -- another company had beaten Apple to it.
According to AppleInsider, "Tibco Software of Palo Alto, Calif., entered into a trademark dispute with Apple over its use of the Rendezvous name, alleging that the Apple technology, used in products such as Mac OS X and the iTunes Music Store, infringed on its exclusive rights to the Rendezvous name."
If you Google for "rendezvous" the first few entries come up with the Buick Rendezvous, the Harley Rendezvous (a get-together), Rendezvous Hotels, Sonic Rendezvous, Anchorage Fur Rendezvous, the Rendezvous Jewel Box Theater. . . .

I can see Bonjour, clearly marked on my Safari Boookmarks bar (where rendezvous used to be), having turned it on in the Sharing preferences. I do not think a change of name will make a blind bit of difference to the way it works. However, to help our unfortunate brethren locked into the Windows world (for whatever reason), Apple has quietly produced a Rendez, umm, Bonjour for them. The 14MB download wan be accessed via the readme page on the Apple Support pages.
Like iTunes and QuickTime for Windows, I expect it will work just fine.
---
I recently looked at the craven stance taken by Microsoft after threats from a nearby church, run by a Dr. Hutcherson, who "believed his boycott threat had persuaded Microsoft not to support the bill" (NYTimes 7 May 05).

Following a considerable number of public criticisms from rights groups and other activists, Steve Ballmer, in an e-mail to employees "reversed course again yesterday and announced that it was now in support of the bill" (ibid).
---
Also, in the last xnotes I wrote about one of the Widgets that listed (or rather didn't) Wi-Fi sites in Thailand. I wrote to the company and they sent an automatic response immediately. Within 24 hours I received a composed email reponse. As they had more than 50 sites listed, this must be a bug, was the reply. The e-mail included a link that took me to a listing of the sites that they had for the Big Mango.
After further invesigation, I have come to the conclusion that it is not a bug, but more a question of cultural engineering: filling in forms. The location details on the rear of the widget -- these things turn round 180 deg when you press i -- ask for city and state/province. A couple of the other entries could be ambiguous if one is not from the US. The country selector keeps reverting to United States too. I saw that I had entered "Bangkok" twice. Removing one (it also does not accept the local postcodes), gave me a result of 75 entries. Much better.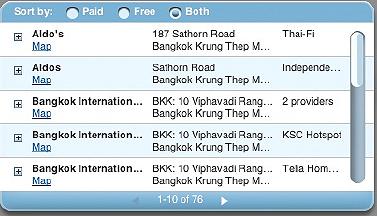 ---
One of the immediate points that occurs to me when scanning that list is that there are few free sites, which had seemed to be part of the ethos of Wi-Fi, particularly in the United States. Instead, almost all (including Starbucks branches, which are also paid access in the US) are linked to the service provided by KSC with a charge of 150 baht per hour (and what a mess that site is in with several links broken and poor checking of the English used).
When prices for access here are falling, this seems like an unusually steep fee. As far as I can ascertain wi-fi access in Starbucks in the US is by T-mobile and the fees start at $6 for 60 minutes for occasional users, with a charge of $0.10 for each extra minute, and go down to just under $30 for unlimited access: natably less overall than the KSC charges.
This is less about access than about control. KSC has often been at the forefront of such developments, especially under its former mentor, the self-styled "father of the Thai Internet", Dr Srisakdi Charmonman. He was the person responsible, around the end of 1997 (-1998), as a private citizen, for the pushing of an Internet law. The proposed law was promoted under the auspices of The Thailand Chapter of the Internet Society (ISOC), of which (along with many other independent organisations) Prof. Dr. Srisakdi Charmonman headed; and still is according to the website (7 May 2005).
In the weeks that the laws were being promoted we had a lot to write about them in the Bangkok Post. As subsequent drafts were produced, in Thai only, I sat in the World Trade Centre with a Thai friend who translated them section by section, then wrote my comments.
I dusted these off and now the three articles are online. I would also suggest a look at the article by Jeffrey H. Matsura and Jean-Pierre Auffret (on the ISOC website) which takes a wider look at Internet control in general. My comments and the comments of Matsura and Auffret are just as relevant today as they were then.
The pressure that was brought to bear on the local chapter of ISOC showed the need for a public meeting, which was held way down at Ramkamhaeng. Within a few days of that meeting, the decision was made to abandon that law.
The problem with Computer Science graduates is that, like Library Science people, all they understand is control, not use. The ideal situation for a librarian is for the shelves to be totally full. For the CS people, users have to be dragooned into behaving like CS people but the Internet is not a clearly defined construct, it is a natural anarchy where information is passed freely.
---
Rather than leave anyone too depressed, try this. . .
A friend showed me a trick with the eMac the other day. I had just set up screen savers that I had made myself using downloads from art galleries: I have a Kandinsky as desktop. The friend set up a new account and in the System Preferences>Screen saver panel there is a folder called WorldBook. Of course, I do not have this on the PowerBook. When that folder is selected, a black screen is the background with slides -- still and moving -- passing over the screen area.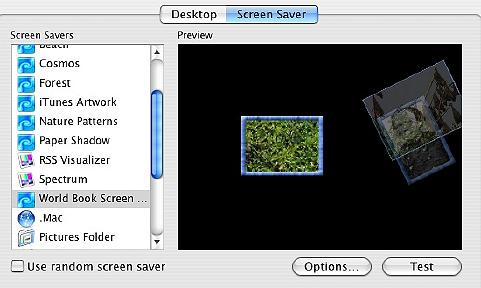 ---
All materials ©copyright G.K. Rogers. Free for individual use.
Other links:
---
---
---
For further information, e-mail to Graham K. Rogers.

To eXtensions, Current items
To eXtensions, Year Two
To eXtensions, Book Reviews
To Education Page
---