<! ----------------------------------------------------------------------->
---
There are several applications that Mac users can work with instead of expensive, professional-level software. This is the final section of my look at some alternatives.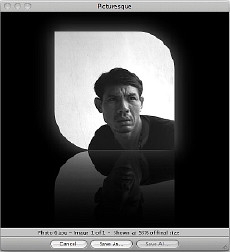 Picturesque is a 2.1 MB download and won an Apple Designer Award in 2007 as a Best OS X Student Product.
While there are some limited editing features, it applies effects to an image, so that we have more than just a simple rectangle to display. The cost is $24.95. The demo version leaves a pretty large watermark across the center of the new image.
I dropped a small PhotoBooth image into the working panel, quickly added effects using the "Beautify" menu, including reflections, curved corners, then resized (this allows either a percentage or a pixel value). The resultant image was some 600Kb. A really nice program to work with, feedback from users is positive: for some, this is a must-have. [This has just been updated to version 2.0. - GKR]

Photobooth itself is a utility that comes with the Mac installation. It uses the iSight camera to take snapshots or videos. As well as effects that can be added to the shots, there are a number of backgrounds. The best way to create these is to have a light, well-lit background and to wear a dark shirt, which may be why Steve Jobs can always do this.

Photon, a digital workflow application has just been updated to version 1.1. It is cheaper than Aperture or Lightroom at $69, but has fewer features. The developer suggests it could be used first for a quick cull of images before sending them to those programs. It is considerably lighter, with a download of 1.2Mb. When in demo mode, some features are disabled It handles RAW images but export functions are not available with the demo.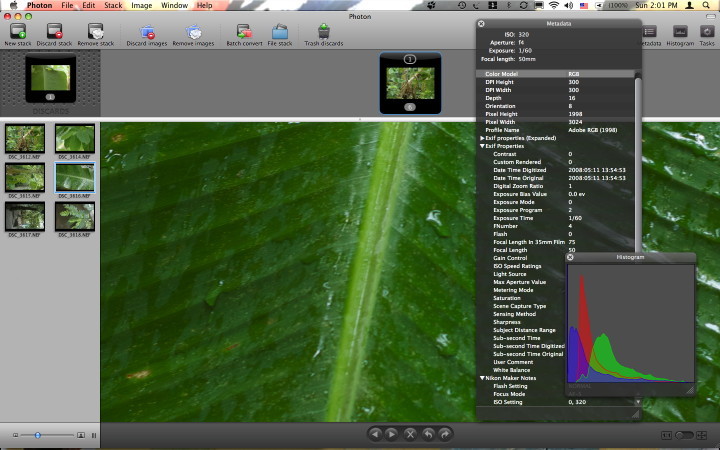 Pixelmator is a delightful image editor that claims it is "Image editing for the rest of us": not an idle boast. It has a good range of tools -- both editing and painting -- and the black interface makes it look effective when working with images. This utility takes full advantage of the OS X Core Image technology and was the first such application to do so. It integrates well with other parts of the installation and browses photographs directly from the iPhoto library. There is a trial download and the full version is not expensive at some $59 (1,871 baht).

Posterino, winner of an Apple Design Award, arrived some months ago. After 30 minutes of working with it I bought the licence online. Like many Mac applications, it has one job and does that well. It creates posters plus postcards in portrait or landscape, using images that are either dropped into the template or imported from iPhoto or Aperture libraries. Templates allow single or multi-image creations and imports can be randomised: creating a poster can be the work of just a few seconds.
Blank templates are available and users can also save their own. Posters may be created in default sizes from A6 up to A1, plus a "not defined" setting. If the default sizes are not enough, we can add our own paper size.

Posters have a resolution of 200 dpi while postcards are at 72dpi. These settings may also be changed depending on output requirements. A friend also found this useful for creating multi-image backgrounds for a Hi5 web page. It is now at version 1.3.5. A licence costs $24.95 and includes postage for three postcards via the Swiss Postal Service. More coupons for this are available online (e.g 10 cards for 750 baht, including printing).

Preview is an installed Apple program and handles PDF files and graphics. It is the default application for screen shots. There are some extra effects, in particular the way it allows parts of images to be cut out (Instant Alpha) using the "select" tool: a feature now in Keynote.

Seashore is like a simplified GIMP and has several of the tools of that application, but works as a native OS X installation. It is useful for resizing images quickly, although it only works with pixels and percentages instead of measurement units.

The basic tools include lasso and erase, while lettering works with the installed Thai fonts. The application allows creation of a new image, including an image from the clipboard, or an already-existing picture. Seashore also works with layers.


As a demonstration of the fluidity of computer media, just after I wrote the first section on alternative graphics software for OS X, Comic Life released a new version of their excellent software: Comic Life Magiq. It is priced at $39.95 for a short time, with an upgrade for current users at $19.95. It takes advantage of new features in OS X Leopard, particularly Core Graphics and has several more features than the original which is still available and it is a little less easy to use at first because there are more tools.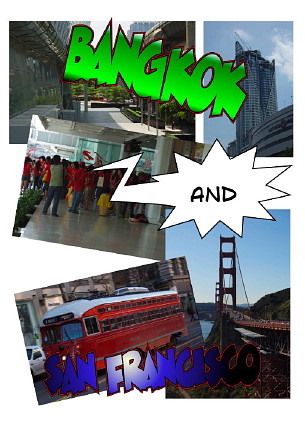 Back to Alternative Graphics Applications (1)
Back to More Graphics Applications (2)
Single-page version of the Graphics applications text
Print-suitable version of the Graphics applications text
<! ----------------------------------------------------------------------->