<! ----------------------------------------------------------------------->
---
There are many applications available for Mac users without using some of the heavyweight programs that many users claim they cannot live without. I am looking alphabetically at some of those that I have used or that have passed by.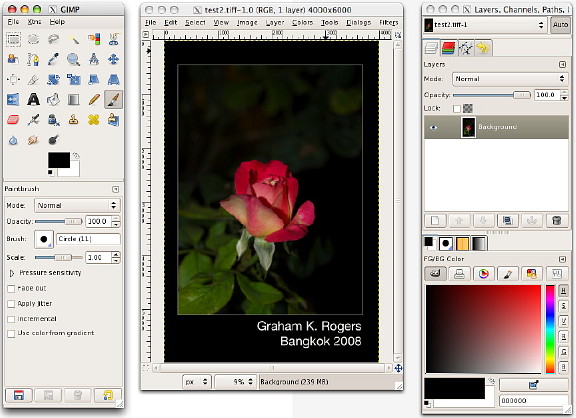 GIMP (Gnu Image Manipulation Program) was developed because there was no Photoshop for Linux. A disadvantage of this Open Source application is that because of this it needs the X11 window (Unix) as its operating environment. That may be found on Mac install disks. When we start GIMP, X11 also starts automatically.

I find two specific features highly useful (among several others, of course): the ability to straighten an image perspective (like a building); and lettering: there are no jagged edges with large fonts. GIMP has a full range of filters and effects.

Although most of us do not need the full features of Adobe Photoshop, GIMP does provide many similar bells and whistles and we may be able to get by with this.


Graphic Converter is not quite in the same league as GIMP or Photoshop but for most users, if they are going to purchase one application, this is the one to buy and will be all we need. It can handle scores of file formats, has an excellent range of filters and effects, and can be set up to do certain tasks quickly. I find that larger lettering has jagged edges.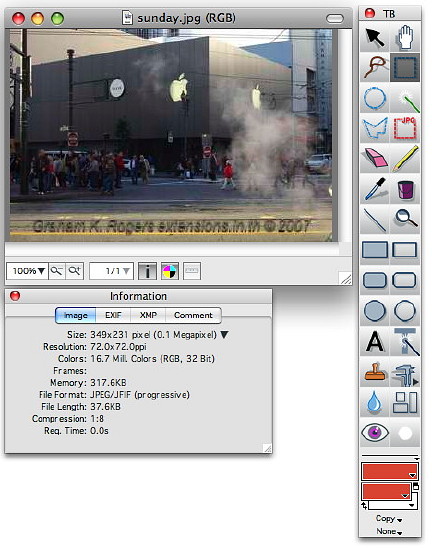 One of the many excellent Apple utilities that comes out of Germany, Thorsten Lemke, the writer, maintains a useful website where he also has links to his CADintosh application: a high performance 2D CAD program. Downloads of Graphic Converter are sometimes a bit slow. We can try a full version; while buying this (online) costs $34.95.





Media Browser Panels

iMedia Browser is a recent product from Karelia, who make the excellent website creation tool, Sandvox. This free download has an appearance that anyone who uses Mac software like iPhoto or Comic Life will have seen as part of those applications, though here it is a standalone and therefore will work with programs that may not have a full set of OS X features.


As well as allowing me access to the Aperture and iPhoto Libraries, I could use music not only from iTunes but from GarageBand plus the iLife and iMovie sound effects. Movies on the disk, including video podcasts were likewise available and so were any bookmarks I had in the three browsers installed on my computer. All were just a click and drag into a suitable application, like TextEdit or Mail. I could not get this to work with Microsoft Word nor with NeoOffice.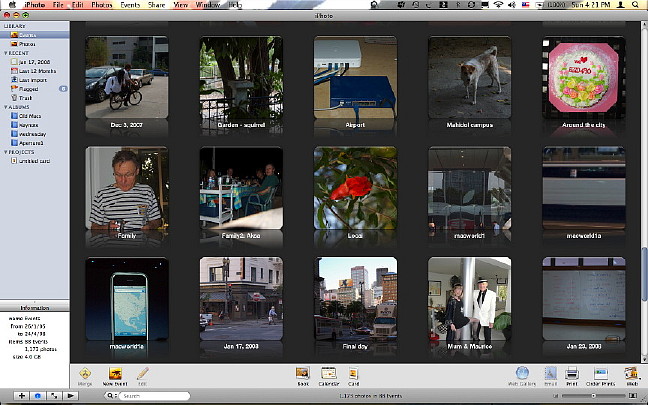 iPhoto, one of the components of iLife, is one of the many applications that comes pre-installed on all Macs. This has evolved into a useful utility that not only organises and stores images, but allows limited editing and image manipulation: perhaps enough for some. It does handle RAW format. There are also several useful output media, like QuickTime slideshows, books, cards and calendars, as well as the pictures themselves. It is not always easy to resize an image to the exact dimensions required and when an image is adjusted, a second version is created taking up a certain amount of disk space. Like other iLife applications, it integrates fully with the rest of OS X.





iWatermark is a small application that is useful for those who distribute images, especially on the web. With the ease of access now possible, even someone like me finds that photographs I put on my website find their way onto other pages and rarely with any acknowledgement. For a professional photographer, this could affect income. While it is possible to add a watermark using several graphics applications, this enables the user to fine-tune both the message and the method to be put on to images so that their true provenance may be displayed. This utility can handle Thai text.


Lightroom, like Aperture, is really workflow software although both do have the ability, like iPhoto, to allow some editing of images. The setup and nature of these two applications means that if you favour one, you are highly unlikely to work with the other. The current version is 1.4.1 and is priced at $299. There is also a 2.0 beta available for download.


Photomechanic, a photo browser that is aimed more at press photographers has a number of special features that this group finds useful: particularly batch commands and export formats. There are some editing tools, but the most important attribute of this program is the handling of images and their metadata.


Photoshop is essential for professional photographers. I have not used it for several years and do not miss it at all with all the other graphics utilities available for the Mac. According to online information the price here in Thailand is about 26,000 baht to just over 41,500 for the Extended version.


Seel also:

Alternative Graphics Applications (1)
Even More Alternative Graphics Utilities (3)


Single-page version of the Graphics applications text
Print-suitable version of the Graphics applications text


<! ----------------------------------------------------------------------->