<! ----------------------------------------------------------------------->
---
One of the strengths of Macs is graphics. A wide range of programs is available for OS X installations over and above what users commonly consider. Many think that they cannot exist without Adobe Photoshop, but (like the full-featured Microsoft Office) this is overkill for most of us.
Photoshop is a Carbon application so does not run on OS X as a native application. The 64-bit version for Windows will be available first, as parts of the code for the Mac version need a complete rewrite. There are several alternatives for users who do not need industrial strength software. The alphabetical suggestions here are not exhaustive.

A is for Acorn. I recently came across this useful and compact graphics utility and rate it quite highly. The wonderfully-named Flying Meat company cite this as a simple image editing application (now at version 1.1.1). Despite its economical size it has a lot of muscle and includes a wide selection of filters. Many of the commands are activated instantly just by pressing a single character.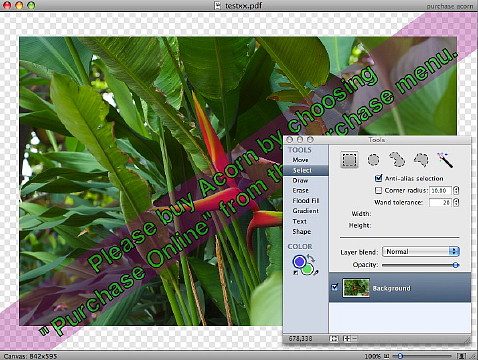 It can handle quite large images in several formats and has a small selection of tools that allow drawing and manipulation. Thai text can be used. Like some other programs it can capture an image (or layer) directly from the inbuilt iSight camera. The cost is $49.85 and the full-featured trial version has unlimited use but there is a watermark.


Aperture is professional workflow software from Apple. As such it handles input from cameras and is especially good with RAW images. It has several ways to deal with output too. Although not strictly a manipulation program, there are several ways that images may be adjusted. Recently it was updated and plugins may be used (Apple provided one for dodge and burn).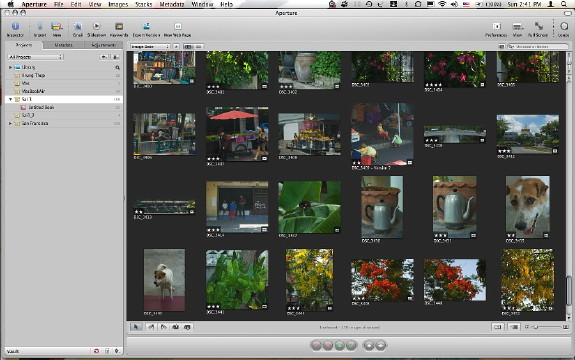 It is not cheap at $199 online, but if handling a lot of photographs, this is an aid to efficiency. Like much Apple software, it integrates well, including with iPods. I downloaded the trial version, then bought a licence via the Apple online shop in Hong Kong.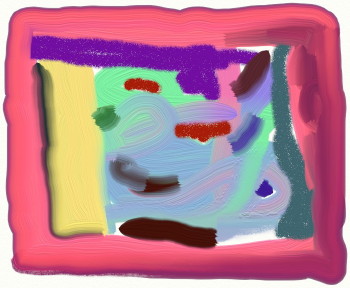 Art Rage 2 is a delightful drawing program out of New Zealand. As well as Art Rage at $25, there is a trimmed down "Starter" version as a free download. Particularly impressive are the brush effects: with oils selected, the brush strokes and colours bleed into each other giving a realistic textured appearance. JPEG images can be imported and painted over.


ColorSync Utility is an application installed with a Mac. It is used for colour accuracy: scanners, digital cameras or printers may produce different color profiles. ColorSync helps with colour matching automatically. However, if you open an image, you can resize (using percentage) and make other adjustments to the image.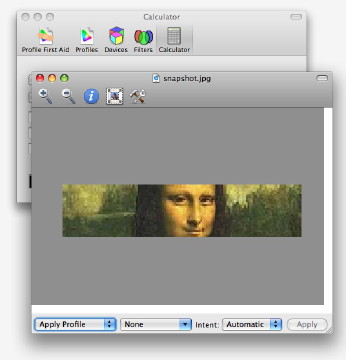 Comic Life was one of the nicest specialised graphics applications to appear in recent years and was bundled with some Macs. As its name suggests, it is for creating comics, or graphics with a comic-like appearance. The text boxes, balloons or lettering may be resized on the fly and each, as well as outlines (and the pictures themselves), can be fine-tuned with additional effects. This application handles Thai.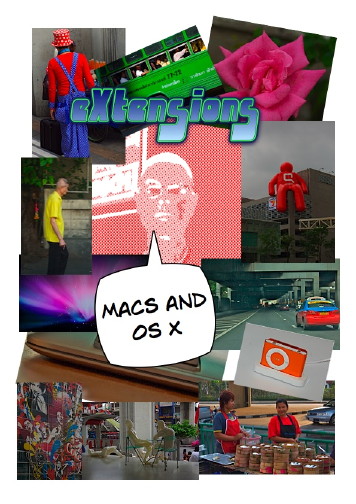 Input is from the Finder, the iPhoto Library (Aperture is coming soon) or direct from an iSight camera. Page sizes can be adjusted to fit regular paper or video sizes. Outputs include JPG, TIFF and QuickTime as well as web formats. The standard version is $24.95 (just under 800 baht) with a Deluxe version at $29.95. A 30-day trial version can be downloaded from the Plasq site.


Digital Color Meter is a utility that comes with the Mac. By putting the cursor over a pixel, we are shown the value of that pixel in 13 different ways, from RGB as Percentage, to Tristimulus with RGB as 8-bit Hex value (for web work) on the way.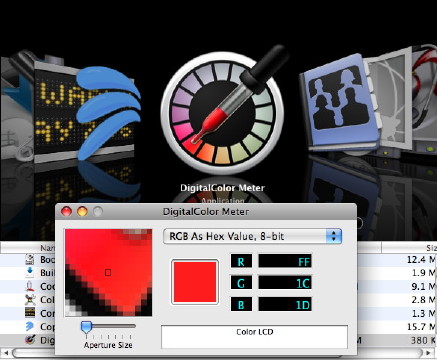 Photoshop Elements 6, a trimmed down version of Photoshop was released a few weeks ago. I have no experience of this but include it as some users may want to consider Elements as an alternative.

The software is available for $89.99 (2800 baht) and there is a free trial. This has a nice clean interface, like that in Lightroom, and has many of the features of Photoshop making it a good alternative.

Early reports suggest this may only run in an Administrator account which is not very helpful if, like me, you work in an ordinary user account or if there are several users with accounts on the Mac.


Recently Adobe created an online site called Express. There are some editing features, but it is mainly a storage and display site: it is not possible, for example, to resize a picture. The original agreement that users signed meant that Adobe basically owned any uploaded materials, although this was later softened.


Seel also:

More Graphica Applications for the Mac (2)


Even More Graphica Applications for the Mac (3)
Single-page version of the Graphics applications text
Print-suitable version of the Graphics applications text


<! ----------------------------------------------------------------------->