eXtensions
GarageBand 3: A Sound Application in iLife
By Graham K. Rogers
It was love at first sight. The announcement of GarageBand and its inclusion in the original iLife (introduced to Thailand in March 2004) was one of those, "a ha" moments. With this relatively cheap package which is just under 4,000 baht or bundled with new Macs, a user has a full range of integrated media applications.
Some familiarity with the click and drag assembly of iMovie was a good grounding for the way GarageBand works. Instead of clips there are pre-recorded loops: professionally recorded sound for backings. These give style to even the worst warbles. For teenage groups, for example, preparing a demo tape with limited resources, these loops would add depth to their talents. Many users have also been using GarageBand to produce podcasts.
As well as the loops, it is possible to record voice directly into GarageBand or to input sound from a musical instrument (like a guitar) with an amplifier, or a keyboard with a USB connector.
GarageBand (updated to version 3) has been beefed up and more flexibility has been built in. The application integrates even more with iLife and Apple has recognised the surge in podcasting by providing extra features and loops.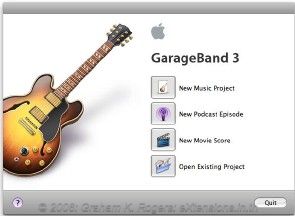 The opening panel now has two extra choices: Podcast and Movie soundtrack. The soundtrack option opens with a video track which allows for a movie to be dragged in. This neatly mirrors the iMovie export to Garageband.
Selection of the Podcast opens a working screen with five tracks: a podcast track for artwork, male voice, female voice, Jingles and Radio Sounds. The recorded voices need to be enhanced in some cases, although effects such as "helium voice" are noticably different at once.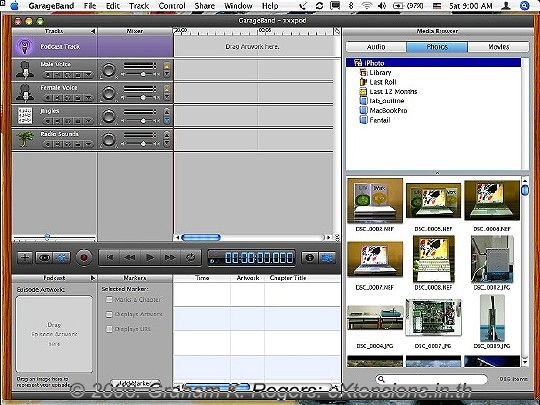 A user could simply open a new project and select the movie clips or the different voice tracks, thus producing a podcast or soundtrack from the ground up.
The basic working screen opens with a piano track (with a keyboard on the screen). I found this particularly effective when the instrument track was changed to orchestral strings. There is also a virtual keyboard that allows musical typing using the keyboard's keys.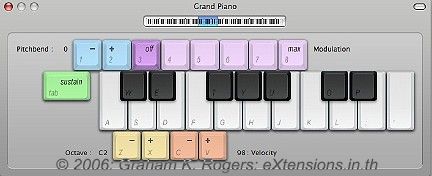 As well as editing of the sound files created in GarageBand, a software instrument track can also display musical notation, which itself can be edited, although this is lost on me as I cannot read music.

One of the interesting changes in this latest version of GarageBand is the increase in number and types of loops. We already had a wide range of instruments to choose from in the loops, and it is possible to buy more loop packs (for example, Symphony Orchestra), but now there are jingles, "stingers" and sound effects.

It is the addition of these last three that have turned GarageBand from a simple sound file-making utility into an application that can turn an amateur effort into a polished performance. I repeat here the warning I have made before when dealing with iLife applications: less is more. It is all too easy to overload a sound file (or a movie) with effects that are at hand.
A check of what is available shows 201 jingles of different types (e.g. Cinematic, Orchestral, Jazz); 52 stingers, which are brief sound effects one might hear in cartoons; plus 178 other sound effects including booms, bubbles and barks. All loops are copyright-free.
If that were not enough, we can create our own loops. I did this for the start and end of a podcast, by recording the sound and selecting "Add to Loop Library" in the Edit menu. All loops are in AIFF format.
Exporting of files can be done in three ways: Save As, Send Song to iTunes and Send Podcast to iWeb. With the Save As selection a project can be saved as an Archive so all data can be moved to another Mac for further work, or it can be exported as a compact file with three choices of AAC (64kbps, 128kbps or 192kbps). Sending a song to iTunes creates a large file in AIFF format which can then be converted in iTunes to MP3 or any other of the supported file types. Creating a mixdown while preparing for this export can take a while and with all GarageBand operations, more memory helps.
This version of GarageBand now includes sharing via an export to iWeb, thus saving the user of writing all the necessary RSS files. In addition, a file built as part of a movie project can be exported to iDVD or as a QuickTime movie.
GarageBand does not pretend to be a high level sound recording application, such as Metro or Reason. It does not, therefore have all the sophisticated level controls (nor the complication) of such a program. It is right for the home user, or evolving musicians, who want some ability to record sound either as a music offering or for adding sound to a movie.
---

For further information, e-mail to Graham K. Rogers.
Back to eXtensions
To eXtensions: 2004-05
To eXtensions: Year Two
To eXtensions: Year One
To eXtensions: Book Reviews
Back to homepage