eXtensions
iMovieHD6: Making movies in my spare time
By Graham K. Rogers
There wasn't much on T.V. on Thursday evening, so I made a movie. It took me an hour or so assembling the project from resources I had collected on my PowerBook.
For users with video cameras, connecting with Firewire allows clips from the camera to be downloaded directly into iMovieHD, and as the application name suggests, the latest high definition video cameras are compatible.
The integration with iPhoto (where mpeg files can be downloaded from consumer-level digital cameras) makes the exercise simple. What users have to bring is the artistic and creative skills. Integration with other hardware and software also makes exporting of files possible (and easy) in several different formats. The demonstration at the Apple product release in late January by Tony Li also showed the latest features that users can now benefit from.
I had played about with different versions of this application since it first appeared and had not realised even part of its potential. My first demonstration came with a student who used my old iMac a couple of years ago. Within a day he had taught himself to import photographs and download images, set them in the time-line and add transitions between the clips and effects to them. The result bordered on overkill but was satisfying from the point of the quality of a self-created project.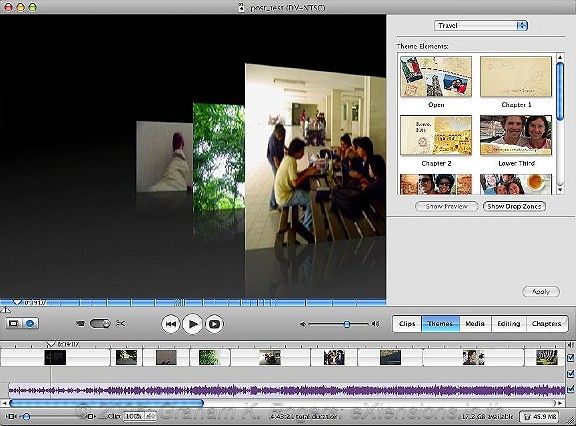 Recently I had dinner with a friend who works for an international news agency. He has a 12" PowerBook and, although most of his professional work involves other systems, has taken to playing about with his own cameras, and selections he has made at work.
He showed me a short movie from Iraq he made. Many of the clips were brief (some only a couple of seconds) but he had the editorial skills to stitch them together in a visual narrative. He said that while working he developed a sense of how the pieces would fit together.
A few days later, I dined with two friends from work. They are both Mac owners (15" PowerBook and 14" iBook). The iBook owner had just returned from Nepal and was pleased to show me the slide shows he had made of trekking in the hills, using iPhoto, including some stunning shots of Everest.
He asked me what he could do with the mpeg files he had taken with the same camera. He had a large memory card so some of the shots were quite lengthy. We started up iMovie (his was earlier than iMovieHD 6 that I have) and I showed him quickly how to drag in the clips and then assemble them using the time-line. By the time we looked at the transitions, he was hooked.

I used other sources for my Thursday evening movie. In addition to photographs and clips in iPhoto, I had downloads from sites, such as the BBC's Motion Gallery (I am not using the movie for commercial purposes); there were QuickTime files that I had already made or saved; and I had a clip that I had recorded on my mobile phone earlier. As with the digital camera, the quality of such clips is nowhere near that of the higher level video camera.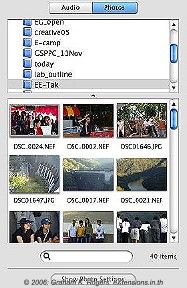 When starting a project in iMovieHD, the user is given a "timeline" where clips (or photographs) are dragged. Most of those I used were from a "media" window which reveals the iPhoto library. The other clips I used were simply dragged in from the Finder window and dropped into the Timeline.
As an alternative, the same section on the working screen may be changed to be a "Clip Viewer" so that clip arrangements may be made more easily. Clips already on the time-line may be split at the play-head, and the parts may be either cut or copied. Audio clips may also be split in the same way.
As photographs are imported, a panel appears and the Ken Burns effect may be used. This zooms into (or out of) an image, making it appear to be moving. The effect can be lengthened and the zoom adjusted more easily with iMovieHD 6.
Once I had brought in the clips and photos I wanted, I switched to the "Themes" panel. By dragging visual media to the spaces on the various panels offered, a number of professional-looking effects are possible, which are useful for adding titles and breaks between sections of a movie.
When I had created a fair experiment, I switched to the audio media panel and found a suitable song for a soundtrack. I then selected Export from the file menu. For that movie, I wanted to try it on the Engineering Faculty in-house TV system, so I exported as a highest-level QuickTime file. Almost 5 minutes of video was 973MB. At the "Web" export setting -- below -- the same movie was a more respectable 6.6MB (Note: the file is large, may take a while to download depending on your connection).
This look at iMovie is in two parts: Part 2 using the application itself.
---

For further information, e-mail to Graham K. Rogers.
Back to eXtensions
To eXtensions: 2004-05
To eXtensions: Year Two
To eXtensions: Year One
To eXtensions: Book Reviews
Back to homepage