eXtensions
iLife: Installing and First Impressions
By Graham K. Rogers
With the Intel-equipped iMac, I was handed iLife '06. The iMac has iLife pre-installed, but I examined the suite on several consumer Macs I use: eMac, PowerBook and Mac minis. i Life 06 is available locally for 3,990 baht

Applications in iLife show significant improvements. There is now also iWeb for click and drag web site building. All are Universal applications: native for PowerPC and Intel Macs.
With my 12" PowerBook, installation was easy: so too with the G4 eMac. I was less fortunate with a Mac mini in my office: Installation failed, try again. I did, and watched carefully. The problem was GarageBand Instruments. GarageBand installed but would not run; and as iWeb followed, that was not installed. All other aplications in iLife were fine. Using a Custom Install, iWeb was fine too.
I removed Garageband and installed the previous version. Garageband 3 failed again, so I went back to the original computer install disks. The subsequent update also failed. I wondered if low memory was the cause. This machine has only has 256MB: but this was not the reason.
I switched to other Mac minis and tried the 1.5GHz superdrive machine first. Perfect. I tried the Mac mini with identical specifications to the problem machine. I first installed all except Garageband, then went back and installed that. It was problem-free and the program runs perfectly. That other computer may have a problem (Disk Warrior was also not able to complete its tasks). I will reinstall OS X and start from scratch.
Note: that reinstall managed to put Garageband on but iDVD 6 failed and I went back to iDVD 5 (not critical as the machine does not have a DVD burner). I conclude that the machine itself has a problem: an identical machine had none. I am still tracking this down.
None of these computers had problems handling the applications, although the basic Mac mini was creaking with its small memory. The Intel iMac, my PowerBook and a Mac mini performed well with a standard 512MB, while the eMac was also fine with 1G of RAM but a slightly slower (1.25GHz) chip. Current machinery, out of the box, will work with all parts of iLife. As with any computer, larger file sizes take a toll.
I will start with some initial impressions.
---

iTunes has not so much improved as evolved. The latest version has the addition of a "Mini store" button. Initially a link to the iTunes store was open by default, but after privacy concerns this changed. This panel links to the iTunes shop and displays music related to the tune being played, with the intention that we should buy more. This has little point for most users in Thailand.

When iPhoto first came out it could handle 2,000 images. With iPhoto 5 that had risen to 25,000 photos. This latest release supports up to 250,000. Several features have been added. Like in Aperture, it is now possible to edit photographs side by side, which is useful for "burst mode" which may produce several, similar images. Even more valuable, is full-screen editing: screen clutter is invisible and one can concentrate on the image.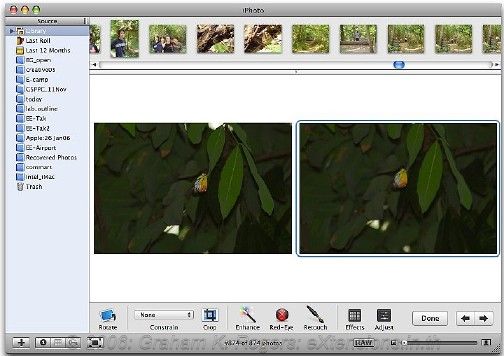 iPhoto 5 could make basic adjustments to images. Apple has added an "effects" panel, similar to that in PhotoBooth, the picture-taking utility found on recent Macs.

Since early versions of iPhoto, a "book" facility has been included; iPhoto 6 adds to this with the card and the calendar. Users can now also order prints online direct from iPhoto. The functions have limited use in Thailand, however, and are intended mainly for US users. Slideshow allows instant use of selected images in a display, and integrates with iTunes to add music. An iWeb button allows us to send selected images to an IWeb page or to an iWeb blog page.
---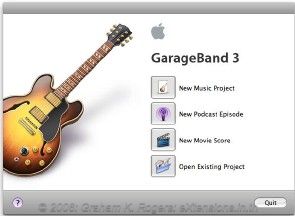 GarageBand 3 has several new features, many of which are aimed at podcasting. A new project can be opened either as music, a movie score or a podcast. The latter opens several additional tracks, including male and female voices (the voice recording is different) and jingles.

The inclusion of many more sound effects makes this even more rewarding to use as a basic recording and mixing utility. I use GarageBand to mix a podcast and, as a home user, this is enough for me. Some menus have changed; and there is a new interface when creating tracks. Some of my students used a Mac mini and (as first time Mac users) tried Garageband. Within minutes, they were making music using loops, and having great fun.

---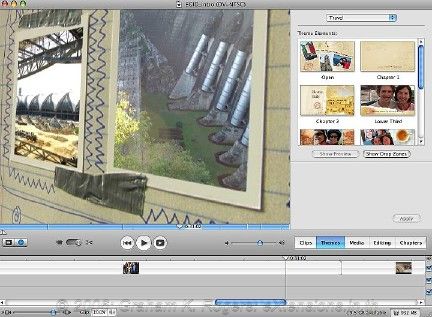 iMovie too has improved considerably. Clips and images are handled differently and, like other iLife applications, there is integration between the programs. When a coilleague who works in audio-visual media tried iMovie 6 he was elated. Themes, for example, allowed him to introduce several effects instantly that would have taken hours with other software.

I am in early stages with iDVD and iWeb although both make use of the drag and drop ease, along with total integration in iLife. This suite, and this update, have improved productivity immenseley.
---

For further information, e-mail to Graham K. Rogers.
Back to eXtensions
To eXtensions: 2004-05
To eXtensions: Year Two
To eXtensions: Year One
To eXtensions: Book Reviews
Back to homepage