eXtensions
iLife '05: Apple Software included with the Mac mini and Consumer Machines
By Graham K. Rogers

The announcement of the Mac mini coincided with the release of new software packages, including iLife '05: iPhoto, iTunes, iMovie, iDVD and Garageband. This comes as part of the installation on the latest consumer machines, or it can be purchased in the shops. Some of the software on the Mac mini is limited for local use.
iTunes, for example will not allow us in Thailand access to iTunes store purchases. Quicken is a US-only package for financial management of no use here. On UK machines it is not included in the installation. If you need money-managing software Moneydance -- not to be confused with the Ballmer "monkeyboydance" -- is available online and this one does work in Thai baht (and with Thai fonts).
Owing to space constraints, I have to spread this look at iLife '05 over two articles: iPhoto iMovie and iDVD will be covered later (link at the bottom of the page).
(Note: I now have the whole package thanks to Maccenter and find there are two disks in the package: a CD and a DCD. If you only have a CD drive, the disk will install only iMovie, iTunes and iPhoto. If you can use a DVD drive, the DVD disk will install those applications plus iDVD and Garageband.)
One of the things that finally pushed me to buying my eMac months ago was the inclusion, amongst all the other packaged software, of iLife. I already had the first iPhoto, iMovie and iTunes (albeit earlier releases) and iDVD was wasted on me (no Superdrive), but it was Garageband I craved.
I was stimulated by the idea of creating music on my computer using professionally recorded (and royalty-free) sound loops. It took me a few weeks to get round to playing with Garageband, but when I did -- as a decidely non-musical person -- the results were both satisfying and a whole load of fun. The review of this was in the Database late last year (20 Oct 2004).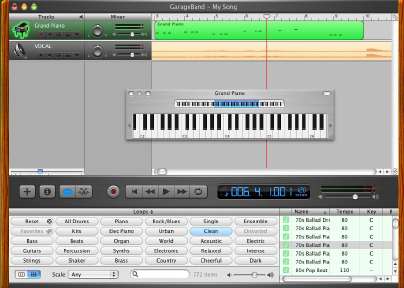 With iLife 05, there have been a number of improvements in this application. They give Garageband much more flexibility with the way the home user (and musicians) can record and distribute materials.
Recording has been beefed up and we can now record up to eight tracks, playing and singing at the same time. Of course, you could record your efforts then add the loops -- horns, violins, what you will. Click on a loop and it will play. If you like it, drag it across to the time line and drop it in. One of the violin loops is included in a recent track by U2. You can move it; and it can also be copied: cut and paste the music. This is pretty much what could be done with the version on my eMac, but with the latest issue, there are more tricks.

I must admit that one is totally wasted on me. As much as I appreciate good music, I have never been able to read (let alone write) the notes. Garageband does it for me. As the track is laid down, the notes appear.
If you have ever listened to one of those late night sessions in which "My Way", the Anka/Sinatra hit, is mangled, you will realise that the singing voice is not always what we would wish it to be. Garageband to the rescue here. With the "enhance" tool, we can get to grips with the timing and tuning. This works on both instruments and voice. And if you really want to change things, your basso profundo could be so changed by the tool that it would become a female voice (and vice versa: female to male).

When you manage to create a particularly effective piece yourself, you can save it as a loop: the completed work can be exported and brought into iTunes -- listen to yourself on your iPod.
---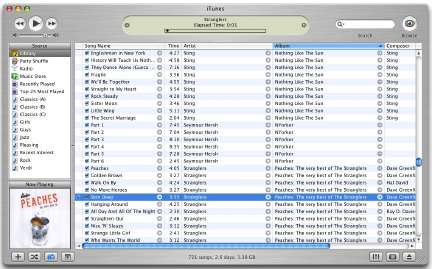 iTunes is still at version 4.7.1 and available online so there was no update within the iLife package. Nevertheless, it is worth examining briefly. For those of us in Thailand (without a US credit card), the iTunes shop cannot be used to purchase music. However, we can look at tunes available and the artwork. We can also play a 30 second extract of any tune. To see iTunes solely as a conduit for downloads of purchased music is to be blinkered.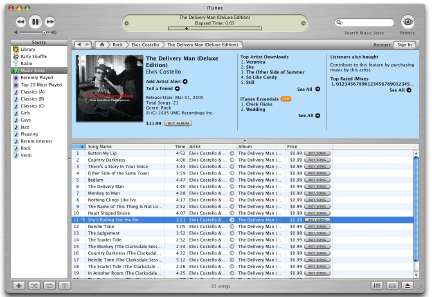 If you have or want an iPod (including the new iPod shuffle), you need iTunes, either from iLife or as a free download. I use it daily, both as a way to manage and listen to my collection of CDs (all stored on the eMac) and to synchronise that music with the iPod.
If you have a reasonable Internet connection, there is the additional facility of Internet radio. Click on the radio icon and twenty classes of radio stations appear, among them classical, rock, country and spoken word. Opening each group sends iTunes looking for links. Users can add their own favourites by entering the URL. With a LAN, shared music installed on one computer can be played on another: with the right connections -- either a network or the AirPort Express 0wireless system -- you could have a different music choice for each room.
Once in iTunes, the music -- including the Garageband creation -- is also available for use in other parts of iLife '05, like iPhoto and iMovie and can be burned to a CD.

The other parts of iLife have been reviewed and can be read using this link.
---

For further information, e-mail to Graham K. Rogers.
Back to eXtensions
To eXtensions: Book Reviews
To eXtensions: Year One
To eXtensions: Year Two
Back to homepage