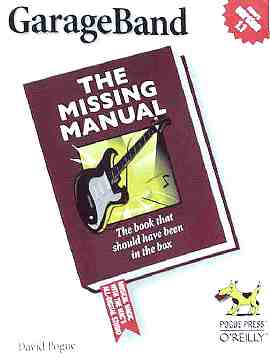 Pogue, David. GarageBand: The Missing Manual. O'Reilly; Sabastopol, CA. US$19.95. ISBN 0-596-00695-0
I could never claim to be musical. I was thrown out of the choir when my voice broke and never learned to read music. In my teens, however, I could play a pretty mean Blues harmonica. I listen to a wide range of music and am envious of those who have the talent to play.
I was intrigued last March when iLife was demonstrated in Bangkok. I had some of the components on my iMac (iPhoto, iTunes, iMovie) but of the additional applications, including iDVD, it was GarageBand that caught my imagination: turning the home computer into a personal recording studio.
iLife is part of the installed software of my eMac. Its interface reminded me of iMovie, where one drags and drops still pictures or video clips and assembles a linear movie. GarageBand's assembly is multi-dimensional and, when one creates a file, involves layering of musical clips called "loops".
When I first looked at the interface, even having seen it in use, I found it daunting. Fortunately, O'Reilly and David Pogue came to the rescue with another in the "Missing Manual" series. For new users of Macs these books are invaluable. This is no exception. I could not have got to grips with the GarageBand without this book.
The Missing Manual's highly-detailed explanations helped me cope with the GarageBand' functions that allow fine-tuning of instruments and loops. As always, Pogue makes it look quite easy and helps one build a tune with the loops, piece by piece.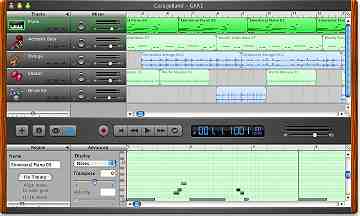 It is particularly with Chapter 2 (Loops) that the book takes a reader from the basics of the program to a sense of the sophistication that can be achieved. Pogue provides several URLs for locating additional loops and for other sources of information. These can be accessed via the Missing Manuals site. Apple has also provided additional sources of loops with its "Jam Packs". There are currently three available from the Garageband site which also contains additional information, pdf manuals, and useful links.
Selecting a loop browser brings up a large selection of pre-recorded music made by professional musicians and provided, royalty-free as part of the installation. The browser contains over 1,000 of these loops, and just selecting one, "electronic," gave me a choice of over 160 from 80s Dance Bass Synth through to "Vinyl Scratch". Some of these have green icons, some have blue, some have purple. The green contain MIDI data and are editable; the others are digital and cannnot be edited (Pogue).
If you listen to a piece of music it does not consist wholly of solo players. The background is layered with sections that repeat for longer or shorter periods. As extreme examples, try Bach, or The Stranglers (particularly "Golden Brown").
As in highly sophisticated recording software, loops can be overlapped. It is also possible to change the selected musical instrument (piano is the default) and play a solo either using a mouse on the onscreen keyboard, or by attaching a keyboard, guitar or other instrument via a USB port.

On page 70, Pogue explains the use of a freeware program -- MidiKeys -- to turn the computer keyboard into a piano keyboard: QWERTY and number keys are lower-octave; bottom row keys are upper octave. I accessed GarageBand's selection of instruments and used the letter keys to play and record from these. The 131kB (beta) download is available from Pogue's site, from VersionTracker and from the writer of MidiKeys.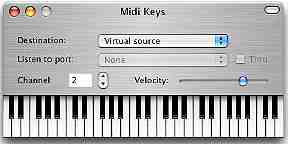 Large parts of the Missing Manual examine the ways to record one's own music and to incorporate this into GarageBand compositions. Using another installed application, SoundStudio, it is also possible to record voice and add that to one's magnum opus.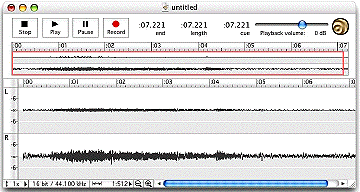 Like all Missing Manual books, there are scores of illustrations making it easy for the reader to follow the text. There are also the familiar panels where additional information and suggestions are included. Pogue has three useful appendices: a "crash course"; explanation of all menus; and keyboard shorcuts.
And when all is done -- the potential hit has been created -- the piece can be exported to iTunes. It appears as a hefty .aiff file but can be converted to mp3 or aac or any other supported format. When I did this conversion, my creation was reduced from 42.5MB to 3.9MB. It can also be installed on an iPod, sent over the Internet, or used in other applications.
GarageBand is two things for me: a serious application that can help musicians assemble music tracks without the need for expensive studio time; and a whole load of fun, particularly when one is a musical dunce.
I must be honest, what I assembled is a good cure for insomnia; but the potential for someone with real talent is vast and musicians are already realising this.
---

For further information, e-mail to Graham K. Rogers.
Back to eXtensions
To eXtensions: Book Reviews
To eXtensions: Year One
Back to homepage