---
<! ----------------------------------------------------------------------->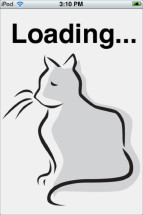 While a lot of the apps we are being offered are effective, interesting and valuable, there are some which ay not be perfect on first examination. Of course the user base will find some blemishes and, with adequate feedback, these can be updated by the developers. This is as it should be.
As examples of these, less than 24 hours after I uploaded the first Bangkok Diary page of web app reviews, iMaze was updated and that criticism I had had about the free flow of the ball as it was sent through the maze was covered. Now the ball moves far more smoothly through the corridors of the maze. The icon on the home page has also had a makeover.
Along with iMaze, the text displaying app, Shakespeare, also received an update. The changes were more subtle -- almost unnoticable -- and, according to the description on the relevant iTunes page, we read that this update includes the Help section and that there are also interface and stability improvements.

The Bloomberg App that I downloaded more as a look-see than anything else, had the standard markets, including some for Asia, but not the SET in Thailand. As this is the area where I live and work, it would have been a nice addition for me and anyone else who uses apps here. I wrote using the feedback facility and in the middle of August was given a reply, "We are planning to release a new version of the iPhone application at the end of this month and we will include support for additional indexes." That is good news; and not just for me. I used the search panel to track down the Thai Stock Market (SET) and then added the SET 100 index to the My Stocks panel.
One app that appeared then vanished then reappaeared was Box Office which on the way was renamed to "Now Playing." The problem seems to have been something concerning the way this app accesses the location services API; but I have no way to test this as when try the link I am told that the app is not available in my area. I guess that means it is a location-specific app, the location being USA. It does appear to have been pulled again. I am also unable to give a developer link at this time.
---

Sports Tap is an information utility aimed at those who like sports, but seems aimed mainly at the North American market. As I wanted to check it out mainly for the motor racing, I focussed on that to start with, but even there, for someone like me, all I found was Formula One and the information was limited previous results: not even the World Championship or Constructors' championship were shown. Looking at the news section, the only item displayed was an entry for 19 July, when we were in the middle of August and another race had been run.

Navigating up the levels was hit and miss. Sometimes this was possible, but most times it was only possible to go up to the top level then navigate down again. News in all sections was not totally up to date and in most cases was at least 24 hours stale.


Not that I am a soccer fan by any means, but a large proportion of the world's populations do follow the various leagues. Five were shown: one in the US, the Premier league (which was being updated) and three UEFA leagues, none of which was currently available.

Tennis featured the ATP and WTA and these were fairly well-covered, but to go from one to the other, again, meant accessing the home page, then going down levels.

Two other icons on the main page covered Alerts, which revealed a Yes/No survey on future paid offerings; and "Local Tap" which used the iPod touch local information but was unable to offer any sports for my location, which to be fair, is unlikely to be in their system.

At the bottom of the main screen were a Feedback icon (I sent mail asking for motorcycle racing to be added); a FAQ, which had two questions, albeit relevant; and Settings. In Settings were the ability to save the last viewed page and an On/Off switch for sleep settings. Also a link to Customize Sports. When activated, the sports icons on the main page had the delete X displayed. It was possible to remove, but not adjust position, and clicking the icon deleted it. Fortunately, as I was hoping to adjust the Motor Racing icon, but instead deleted it, the final item in Settings was "Reset Sports."

The idea of results services for those who want them is commendable, but Sports Tap needs some sharpening up before is ready for prime time.
---

One of the early apps was one from British Airways. I am thinking of a quick trip home at the beginning of October so this was opportune, although I must admit I was finally prompted bythe rumour of QANTAS information being formatted for the iPod touch or iPhone. It would make a good comparison.

This seems to be a well-made app. The screens are clear and informative. There is good access to the types of data that anyone searching for a flight, for travel prices or even booking a flight would find useful. There was also a direct link to the British Airways website.

First up is "Arrivals and Departures" giving a range of selection types. As an odd note, the calendar selector uses a wheel, as one finds in other applications and the installed Apple clock, but for some reason this goes all the way back to the year 1900. A.D. I presume.


Online Timetables also gives a wide range of ways and locations from which to create a search and the results were reasonably quick in displaying. Always, the "Back" or "Home" buttons allowed a quick return to pages at higher levels.

The website page was slightly different from what one finds if linking via a computer and Safari to www.ba.com as this immediately redirects a user to another page and a user is asked to choose a country. The app link does not do this. The page that loads takes a while and there is no feedback or rotating wheel to let us know that anything is happening.

A page comes up with a link to some of the post commonly used BA sites (UK,US, Germany) and a button for others. This reveals the typical iPhone (or touch) selection wheel with choices from Albania to Zimbabwe. Select the country and press "GO". This then reveals a similar page to the computer accessed website and the prominent feature here is a calculator for flights and prices.

The only other app that might come up with flight data is Travel Tracker, a $29.99 utility that has a wider range of subjects: hotels, car rental, weather and an aircraft database for users to find and note their favourite seats. A regular traveller would find that useful.

British Airways have either been quick out of the door with this app, or the other airlines have been woefully slow and it is to the credit of BA that they recognise the potential of apps such as these and have it pretty much right first time.
---

I have made a point a couple of times about the specialisation that some of the apps developers are focussing on. We have seen medical imagery and theatrical lighting as two areas that have produced some interesting apps. I came across a useful little calculator for network connections in the last couple of days, called aSubnet, and this is one of those that are going to remain hidden until the right moment then spring a nice little surprise.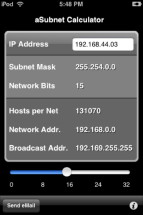 If we enter an IP number, and then use the slider at the bottom of the page to go through all of the 32 possibilities, the app calculates all the combinations of Subnet Mask, Network Address and Broadcast Address in an IPv4 subnet, as well as a number of other details in between. I did find that the slider itself was a little sticky on a couple of occasions, but if I tapped the screen further up or down the slider it would jump to that point and was then easily moved as per design.
The default setting is for "Standard" and "Decimal" data, but either of these may be changed -- to Wildcard and Hexadecimal -- giving other ranges of information that, for example, a System Administrator would be able to use.
Once the settings are found, they can be mailed although I tried this a couple of times without success. That is not an indictment of the app as this may be more to do with my own iPod touch, so let's reserve judgement on that.
Ralf Utternthaler has come up with a nice little example of a specialist app in aSubnet (nice to get away from the "i" prefix sometimes) which is a free download.
---

One of the attractions for me of the iPod touch (which is all that is officially available in Thailand from Apple) is its value as a PDA. The Notes facility that Apple provides with the installation works up to a point, but to export information requires sending the note by email, so it is limited in use. Perhaps the promised Cut and Paste will improve its functionality.

Evernote is a free note-taking and exporting utility that does a little more than Notes and is linked to a website, so that these notes may be available in another form. This sems to be a highly flexible utility that gives a user several ways in which to move data between computer and iPhone (or touch).

Once a note is written a number appeared beside a "pending" menu icon at the bottom of the screen. A reload of the Evernote acount web-page within a couple of minutes displayed that note. The page does not reload on its own as far as I can judge. Evernote is not going to rival Mobile Me in terms of breadth, but here is another way that information may be made available in several locations at the same time and, if settings are changed, to anyone.

On that Evernote user's account page, there is also a note-writing facility and this has a fairly extensive interface with bold, italic and underline as well as subscript and superscript features. There is also text formatting -- left, right, center, but not Justified -- as well as listing and bullets. Fonts (7 allowed) and font colors can also be changed: five basic colors here. A fairly complex note could be written, or a text could be copied then pasted into the text box. A file may also be attached.


When I saved the above four paragraphs, with some colours, subscript and superscript as a test, they were ready for download within seconds. I also added a JPG file to a brief text note. We can also attach PDF and audio files. The process is Select (using a menu on the computer); Attach, so that they are uploaded; and Done. Once saved they were on the iPod touch in a minute or so.

As well as the web-based facilty, there are also applications available for download, including for OS X and for Windows computers. The free user account allows a respectable 40MB of uploads per month, and there is a $5 upgrade for 500MB per month.

As had been suggested when registering, I added a new mail acount to my address book to facilitate data exchange and this now appears to offer me a push facility from the web page to the touch. The account appeared in Contacts on the touch, but not in the mail settings.

The iPod touch has two panels for writing new notes: Text Note and Saved Photo Note. As the title suggests, the latter allows the user to save a photograph from the Saved Photos folder. On the iPhone, of course, this folder contains all the photos a user takes using the inbuilt camera. On the iPod touch, however, there is no camera, so those images available are from any screen shots (hold the Home button and press the On/Off button briefly). It might be useful if other photo folders were accessible.

I am somewhat enthusiastic about this app for the functions that it adds to my iPod touch and, perhaps as important, the way the features all work so easily.
---

MathquizK ("K" standing for Kindergarten) is a small app that tests the mathematical skills of youngsters. As well as checking their abilities at simple calculations it would test articulacy too as answers are entered using the wheel format (clock and British Airways).


The app could be set up to offer a range of more complex calculations, but my free download was limited to + or - with the largest number set at 9. Other calculation types are division, multiplication, and root, plus a splin of the dice. Series of numbers may be maximised at 25, 99, 999 and 9999 and problems may be set either randonly or in sequence.

The upgrade to the full version comes in at a very respectable 99 cents so, in retrospect, it hardly seems worth it to download the freebie. Both were early releases and were available on 14 August. Less than a dollar will not break the bank and the wider range of facilities will be considerably more useful than just plus or minus.
---

The world surrounding Apple and the App Store had a minor lip-tremble a week or so back when a $999 app appeared that did nothing but display a red ruby on the screen: if you could show the ruby, you were ostentatiously rich, I guess. One problem occurred when at least one user wanted a closer look and pressed the buy button by accident. Something that, actually, is not difficult. I did it myself this week although, mercifully, the app I had intended to look at was free.

There is nothing wrong with a little luxury from time to time. Karl Lagerfeld is well known as the owner of so many iPods that he has a special case for them. He is also, according to Wikipedia, the host of fictional radio station "K109 - The Studio". in the videogame Grand Theft Auto IV.

Largerfeld is perhaps best known as a designer for Chanel, the fashion house, who have produced a web app which in some ways is little more than advertising, but has such panåche that we can let that pass and wallow in the eye-candy which starts with an animated icon as we start the app.


The opening screen has four sections. First is "Chanel Haute Couture, Fall/Winter 2008/9", a well-produced one-minute movie (no YouTube offering this) of models displaying the collection. Then a "Looks and Accessories" section of still images from the collection which is viewed either vertically or horizontally. If the latter view is used, the images are different and in some cases focus on a particular aspect of the model's apparel, or add other images to complement the first photograph. Click on the action selector, bottom left, and the mail application is accessed, ready to send an image.


The third section specifies that a connection (EDGE, WiFi or 3G) is needed and this then loads a selection of high quality fashion and design exercises. Some of these are Tokyo Mobile Art, with images and text in French and English; Exclusive Nail Polish, a small selection of images; and Dinner in Cannes, which has an image of Madonna and a small text describing an auction to raise funds for the gight against AIDS, which Lagerfeld supports.

The final section on that front page is a store locator split into America, Asia, Europe and Oceania. Of course I focussed on Asia where ten countries, including Thailand, are listed. It seems odd that, as well as Bangkok, there is a shop at Samut Prakarn, but then that is the location of the Suvannabumi Airport on the former Cobra Swamp.


Accessing the store locator gives the address and two buttons: Call, which can only be used by iPhone owners; and Locate. The iPod switches to Google Maps and places the pin near a bend in the Chao Phraya river, down a small soi in Amphur Muang, Samut Prakarn several kilometers from the airport. Similarly the Siam Paragon shop is mislocated a couple of kilometres north of Hualompong, which is also the location of the Emporium. I am unable to test this for locations in other countries.

This is a classy app with good images and some interesting information for the fashion conscious. Chanel, like British Airways has seen the opportunity here for a quick way through to their target group of customers and others who love to follow this scene. It is spoiled by that locator function which I hope would be updated in a future iteration.


Here we have six more apps, in this case they are all free, and each has a different target grouping. While some may be worth a quick look, users will begin to adjust the apps they acquire, but culling those that are not as useful as expected, or fail to work as advertised. In two items in the Bangkok Diary I have looked at (what?) less than 1% of those available, so we have a long way to go.
---

See also, A Score from the App Store

Seven More from the App Store


Online articles that were originally in the Bangkok Post:

Looking at some Apps from Apple's App Store
Apple's App Shop Appears: Thai users Now Welcome


Graham K. Rogers
Bangkok, August 2008 <! ----------------------------------------------------------------------->