<! ----------------------------------------------------------------------->
---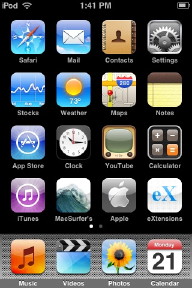 The original iPod touch had basic applications like Safari and YouTube access plus other standard utilities. In January this year, Mail, Notes and Google Maps were added making the iPod touch more flexible. It was possible also to use Web Apps, or create your own. The most recent updates have added more facilities and now allow Apple authorised apps to be downloaded.

When Apple's App Store became available in Thailand, I signed on, bought the 2.0 update for my iPod touch and had a look in the 23 pages of apps that were then online. By the time I wrote this article, these had increased to 41 pages for the iPod touch (43 pages for the iPhone): something over 800 apps.

With the problems of Mobile Me now beginning to recede -- it actually works quite well now, but there must have been a major and unanticipated server meltdown -- it was time to have a deeper look at the App Store. I felt like a kid in a toy shop.


Many apps are of specialist interest, like Wybron's Color Calculator for lighting personnel to help program colours for gelstrings at $4.99 (168 baht); or Luminair ($99.99 or 3370 baht) which allows users to manage DMX lighting fixtures via wifi from the iPhone or iPod touch.

Some of the apps are location-specific, such as those for the iTrans BART or NYC Subway: there is also one for Berlin. Someone could easily create a similar app for the transoport systems here in Bangkok.

I avoided the free phrasebook utilities, like French, German and Italian, despite the value of having the phrases read out. This is another utility that screams out for a Thai version. There are also several dictionaries, both for translation and definition. Social networking utilities, like Twitter or MySpace Mobile did not suit me. I have none of these networking utilities on the computer.





One of the applications demonstrated at the Apple Developers' Conference to great applause, was Band. This lets us create music on the touch or iPhone from a range of virtual instruments. This costs $9.99 (340 baht) and comes in at 8.5MB.

While no musician, I was able to tap away and produce a variety of sounds using the collection of virtual instruments by pressing on the touch screen. We can fine-tune many of the settings and also record what we create. While someone like me uses it as a novelty and it would be entertaining for a child, there is a far more serious side to this. It would allow a professional musician to have access to a composition tool without banks of equipment and to make a basic recording immediately.

This theme of professional usability came up several times while I was examining the online screens at the App Store. A small device like the iPhone is more convenient than a notebook computer. Being productive with it is one more bonus.




MiMVista is one of the more exciting of available apps. Something like the Open Source Osirix program that runs on OS X, it is used for examining high resolution medical imagery like MRI and PET scans on the iPhone or the iPod touch. Like Osirix it is a free download and it includes sample images.

Patient data can be transferred, but the writers make it clear that it is not intended for diagnosis. This is a flexible and useful application for physicians who are able to have an idea of a problem without the need for immediate access to a server. A passcode can be activated to make patient data secure. MiMVista also provides access to remote data sources.




The business and finance worlds are well-covered and, although there is already a stocks widget, I downloaded the free Bloomberg LP application. While this takes its data from the internet, it is not necessary to be online to use it: data is retained. There are four sections: news; World Markets (SET is not included); "My Stocks", which tracks companies selected by the user with several data displays; and search. Commodities like gold or silver are not included. Nonetheless the wide range of information that is to hand is valuable for those who need it.




My cleaning lady dusts the pictures every Saturday and I have to go round that evening straightening them all again. A useful utility, therefore is PosiMotion's, "Level", at ($0.99 or 33 baht) which reads off the accelerometers and displays a virtual spirit level in three ways (horizontal, a smaller vertical display, and a flat, target). The reading may be set to either degrees or radians.
This app is not quite ready as yet and the readout seemed a little askew. The site has a disclaimer and information concerning a future free calibration update which would then make this useful to put my pictures straight. [Note: this app has now been updated to v1.1 and calibration is included.]

I now have thirteeen apps along with the installed basics and web apps I have found: more next time.


<! ----------------------------------------------------------------------->