<! ----------------------------------------------------------------------->
---
As well as a full version of OS X, new Macs come with a good selection of software. There are about 30 applications, plus some 25 utilities: enough to start productive work out of the box. Sometimes third party software is bundled, although most of the programs are by Apple ensuring a high level of integration between the operating system and those applications. Today: a quick run through of some of the most useful applications.


The first program for a new user to consider is the humble Text Editor as an alternative to a bulky Office installation. It has a few surprises under its deceptively simple skin. Despite its name, it can read and write .DOC files as well as Rich Text (RTF), HTML, Web Archive, Open Document (ODT), Word 2007 (DOCX) and Word 2003 XML format.
It also handles graphics and can create simple tables and lists. I write my teaching materials with Text Edit and give them to the secretary on a thumb drive for her to print from her PC (with a laser printer) in one of those file types or as a PDF created directly from the Print Menu.
The PDF files I create, or that I download, are opened in an application called Preview. This also has a few tricks up its sleeve. With a multipage file, we can use the sidebar and drag any of the image pages to another open PDF images file or onto the desktop as a separate file. An image on the desktop can be dragged into the sidebar. A text page can be dragged to another text-based PDF.
Images from PDF files may also be used further, for example by dragging one (or more) from the Preview sidebar and dropping the file or files into a Keynote sidebar, making an instant presentation. These images may also be used in Pages or Numbers.
Keynote, Pages and Numbers are the components of a relatively inexpensive suite that equate with (respectively) PowerPoint, Word and Excel. A trial version of the suite is included with all new Macs as is a trial version of Microsoft Office.
Installed equivalents for Microsoft Entourage are iCal, AddressBook, and Mail which integrate tightly with each other as well as other parts of the installation like Safari (browser), iPhoto and even iTunes. As well as being the default application for controlling an iPod, iTunes will also work with other parts of the iLife suite, which is also on all Macs as part of the default installation.


Synchronisation of data from iCal and AddressBook to a Bluetooth mobile phone is via an application called iSync. The same data, plus photographs (from iPhoto or Aperture) and music are put onto an iPod connected to the computer and synchronised using iTunes.
iLife is a multimedia suite. As well as iPhoto and iTunes it includes iMovie for creating video files really quickly, iDVD, for turning those videos into DVD disks, iWeb for creating web-sites and blogs, and Garageband with which we can create sound files. Apple includes hundreds of pre-recorded loops with Garageband: instruments and sound effects.

Mail is a useful application that, like many Apple programs, has one basic function, although there are now some extra features.
When we first start Mail it will assist with setting up of an account, so it is useful to have the information (account name, password, servers) to hand, and to be online.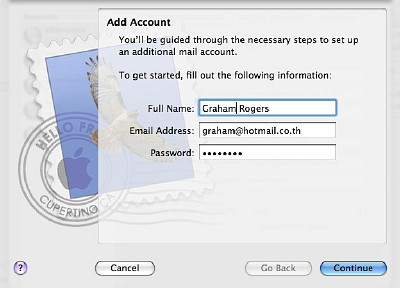 This process begins with entering name and email address plus password. Some of this information is used in subsequent panels to make things a little easier. First Mail sets up the data for receiving mail and checks with the remote server; then it does the same for sending mail. Both of these will take some time -- several minutes sometimes for the send-mail settings, particularly with some local servers. If anything is amiss, we have the option to go back and try again.
Once the first account is created, it is a similar task to enter other mail accounts settings via the Mail preferences panel. Here it is also possible to add extra server settings, which is especially useful if one works in several locations: a variety will help ease the process if a server or connection is having a bad day.
The browser, Safari, has several features that make it my choice. One of the best of these is tabbed browsing; but Apple has developed this so that tabs may be dragged from one page to another, dragged off the page or it allows several pages to be merged as a single tabbed page.
A further feature is the use of RSS news feeds: a way of accessing basic information quickly and then linking to a main page that contains fuller details. With the recent update to the operating system we can now also add that feed to Mail when subscribing.