<! ----------------------------------------------------------------------->
---
I am currently working with Office Mac 2008: a robust suite of applications that I think still has some shortcomings for Mac users, particularly in Thailand.

Although Microsoft's Word is widely used, there are alternatives. When it comes to spreadsheet work, Excel, which was first developed for the Mac, before it was available for Windows users, is the de facto standard and rightly so. The version of Excel that comes with Office continues the good work.
Excel also has a gallery from which to choose templates, although they are not as varied as with those in Word, nor as creative as those in Apple's Numbers. This confirms the workmanlike nature of this application: it is meant for business, while Numbers is aimed more at the home user (although it can still hold its head up). The gallery includes accounts, budgets, lists, portfolios and reports as well as blank sheets. Like Word, the toolbar includes a selection of Charts, "SmartArt Graphics" and WordArt.
The default file type for a workbook is .xlsx (the XML-based file type), although files can be saved in a number of other formats, such as .xls, .mht, .csv and text.
Imports can be CSV, FileMaker Pro database (fp5 or fp7 file types), HTML, or text files (values separated by spaces). It was also possible to open files directly in certain formats which I exported from the Open Source NeoOffice: xls, xml, and xlsx (unsurprisingly); but not pxl files (Pocket Excel files), nor the Open Office .ods type. These had to be exported in a compatible format. The same does occur with Numbers. NeoOffice has a far greater number of file types for exporting spreadsheets.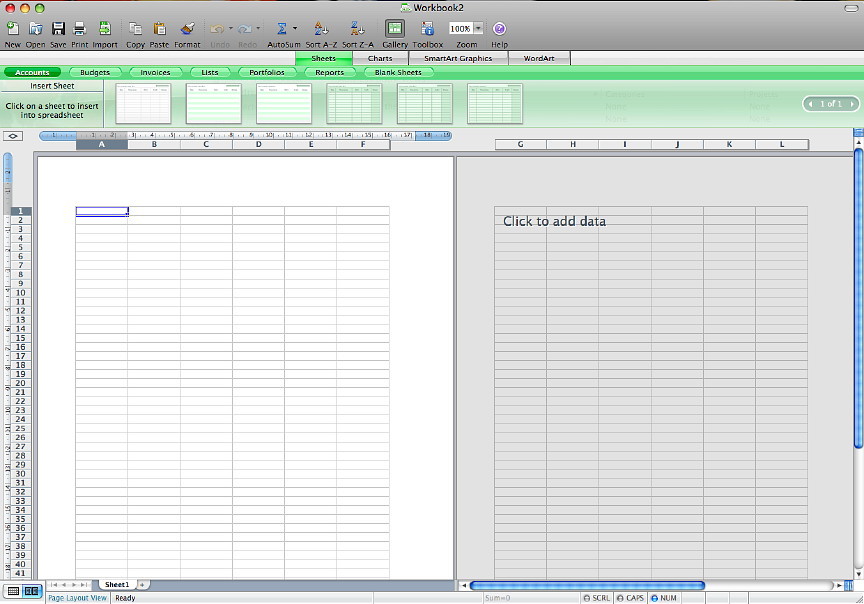 I must admit I have been spoiled by Apple's Keynote, so when it comes to PowerPoint, although this is used widely, it always has something lacking for me. There are new slides to choose from, some of which look distinctly like Keynote slides, although what you see is not always what you get: selecting a number of the templates, produced a similar -- not exact - slide.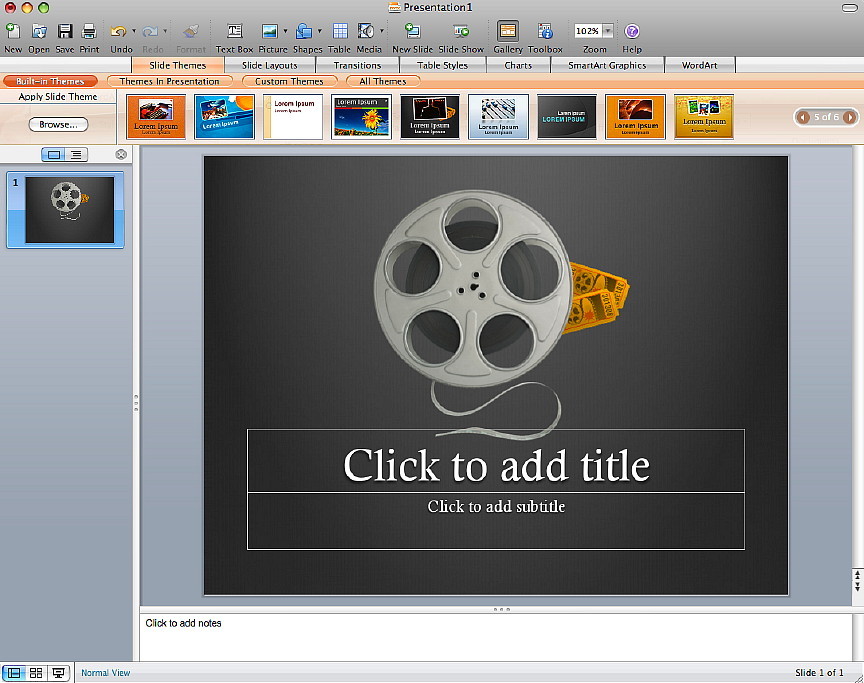 Here, I think someone at Microsoft's Business Unit may have a sense of humour. One of the gallery slides, "Story", has a tiny picture of what looks like Steve Jobs' back and head. Selecting that theme produces a slide with a film reel instead.

PowerPoint, like Keynote, has the presenter screen that was introduced in Office 2004, which enables us to view the next slide or build, before the audience does, keeping the presenter one step ahead and thus enabling a smoother delivery.

PowerPoint also has access to the same charts, graphics and lettering (WordArt) available in the other modules of the suite: a standardisation that is essential, particularly in a work-environment. Files saved are pptx type.

I looked briefly at Entourage as I am unfamiliar with this application, preferring Apple's Mail, iCal and AddressBook. While I could import information from Mail, I could not import from iCal, but then iCal cannot export in an Entourage-compatible format. Apple Mail can import mailboxes from Entourage.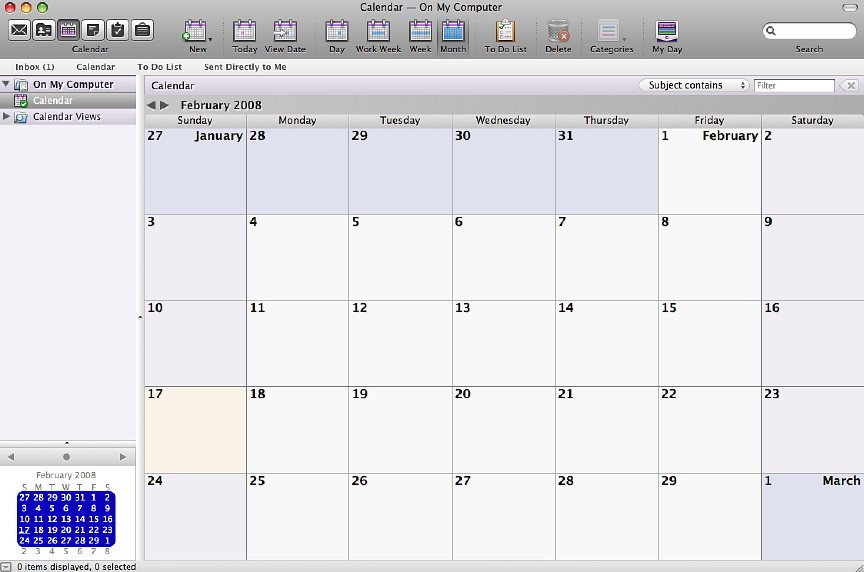 My details from the Address Book were already available and Entourage was able to import from an Address Book archive (I save these regularly) or Vcards -- click and drag from Address Book. Entourage includes several functions that Apple has as separate applications but which integrate seamlessly. Although I had never used Entourage, it was clearly an application I could warm to.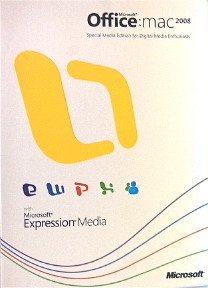 Office is a first-rate suite of applications, but I have concerns about the way it works with OS X and about the pricing.
Use of Thai fonts was not straightforward. Other applications -- Apple or third party -- access the fonts easily. Ayutthaya was shown in the Office "Toolbox" when a Thai keyboard was selected, although no Thai fonts (of five installed) were available in any Office fonts menus.
Inside the Apple fonts folder is now a Microsoft fonts folder containing 127 fonts (almost 115MB), mainly duplicates. I copied Krungthep across but it failed to appear in Office. It does link with the main font folder, so one would think it might recognise the other fonts.
I really do not understand why Microsoft's application is unable to use the installed fonts (or the photo library) -- everyone else does. Rather than this "repel all boarders" approach, I would prefer it to work with the operating system rather than create its own environment.
I tested the "Special Media Edition" which, as well as Office, has Microsoft Exchange Server Support and "Expression Media" which I will look at in a few weeks. I have seen this version of Office in Bangkok at 24,900 baht. Office plus the server software is 19,900. A Home/Student version (Office suite alone) costs 7,500 baht. The Amazon price is $129.99 or 4042 baht. It is 3,600 baht for iWork. There are also Open Source suites which do integrate with Thai fonts.
I will be returning to my Microsoft-free environment.
Note: I had email pointing out one or two things that I was misguided about. As the suite does not integrate with Thai fonts properly and adds its own fonts to the installation, I stand by my comments there. In addition an item on the MacFixit site covers similar problems. Of particular interest is the comment from Microsoft that he engineers writing the program decided no 3rd-party fonts were being supported in Office 2008 and that [a user] could only use Microsoft fonts." Again, I stand by my comments.

On the question of access to photo libraries, indeed, I missed this: a new feature that is accessed via the Toolbox, then Object Pallet (the tiny icon that looks like a mountain), then the camera icon. The music library is not accessible unlike Apple apps., and nor are movies. Also unavailable is any Aperture library - which a high-level user might need.

Entourage, as I expected (but could not find) does allow for a synchronisation of Address Book and .Mac as well as iCal. This trick is in General Preferences, Sync Services. Whoever would have guessed?

Back to Part One

<! ----------------------------------------------------------------------->