<! ----------------------------------------------------------------------->
---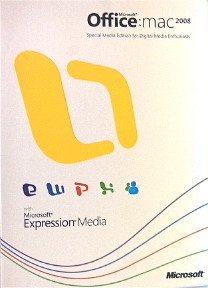 Anyone reading the eXtensions columns from time to time, would realise that I maintain a Microsoft-free zone in the main. At MacWorld, Steve Jobs mentioned that Microsoft's Ofice 2008 was the last of the major applications that was now running "native" on the Intel processors.
I was offered a look at the new MS Office 2008 for Mac, but was reluctant at first. However, I realise that many users, particularly anyone moving from Windows to OS X, may be happier with the familiarity that such a suite offers.
Installation was clean enough, although to ensure integrity, I switched to the Administrator's account (I normally install applications via a User account). After it went on, there was a tedious process of filling in registration details and connecting online.
There was a problem I was already aware of: according to Microsoft, the "installer is incorrectly granting ownership of the files to a particular local user as it installs them, so that if your Mac actually has a second local user and that user is not an administrator on your Mac, they could modify your Office 2008 install." The page provides a fix which requires use of Terminal in an Admin account.
Once fixed, we were ready to start and here we see Microsoft doing what it does best: creating good cover-everything software; although I feel it is somewhat large for most users. My installation was almost 1G, whereas the Open Source NeoOffice I have is a third of that. The comparison should end there as the Open Source software is slower and unsophisticated. Office 2008 is no greyhound, but the interface and the tools that are provided far exceed those of NeoOffice. I also made a side by side examination of Office with Apple's iWork: Pages, Number and Keynote, starting with Word.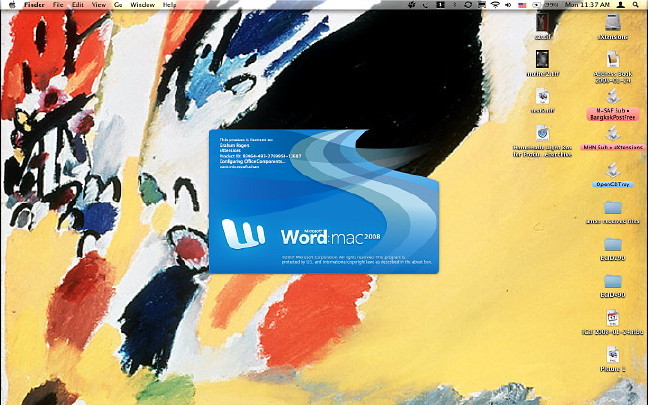 A new Word document opens by default with five levels of selection tools, plus the ruler line. At top is the document name, then a line of icons for quick document management, which are duplicated in menus (and key commands). Beneath are three lines which handle document tuning: Document Elements, Quick Tables, Charts, SmartArt Graphics and Word Art.


Selecting one changes the line underneath for greater fine-tuning. As an example, Word Art has All, Simple, Bold, Enhanced and Elegant. Document Elements allows Cover Pages, Table of Contents, header, Footer and Bibliographies. With the last highlighted, as well as icons in the next line indicating what the choice will look like, there are citation styles to chose from: APA, Turabian, Chicago and MLA.


There is also a Toolbox panel, similar to the iWork "Inspector" which allows several other tasks to be carried out. This also appears when a document is saved: all documents I created reported compatibility problems. I just clicked on fix it and the problem disappeared. I wondered why the software did not do this while I was working.

With these choices, creating a document for first time users may be complex, although once one is into a work style, the selections will be made by default. This is aimed, I feel, at the higher level writer of documents: thesis or company report, rather than at those who want to write a simple letter: for that, this application is overkill.

I was particularly concerned that, despite having Thai fonts installed, these were not recognised in the Word font menu. Selecting the Thai keyboard did produce Thai characters, which could be displayed in bold, italic and underline, but no change to the font itself was possible.

As well as a default document style, a panel opens via the File menu to provide a "Document Gallery": a selection of templates that provoke a direct comparison with templates in Apple's Pages. However these fail somewhat, particularly with graphics use.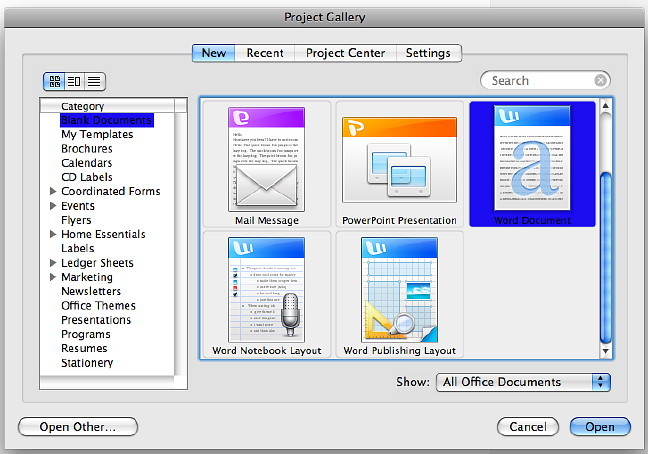 The Apple software allows direct access to the image (and even music) libraries but there is no such integration here and this is nothing to do with this not being an Apple product: Comic Life and Posterino, for example, both use the image libraries in iPhoto to allow instant insertion of photos into a file. This entailed a click and drag process from the Finder. The text uses the standard, "lorem ipsum. . ." placeholders, which we just type over.

When saving documents, I found that the default is .docx -- the XML-based document format. I tried a couple of these docx test documents and found that text would work up to a point in TextEdit (which can read or write in .doc format). Pages was able to handle such files, but Word could not handle Pages creations.

As well as the docx format, files can be saved in a number of other types including Rich Text (rtf), HTML and PDF, so some decisions would need to be made depending on distribution.

Next time, Excel and the rest.


<! ----------------------------------------------------------------------->