eXtensions
Apple Press Briefing: New Apple Hardware and Software (iMac, Mac mini, iLife, iWork and .Mac)
By Graham K. Rogers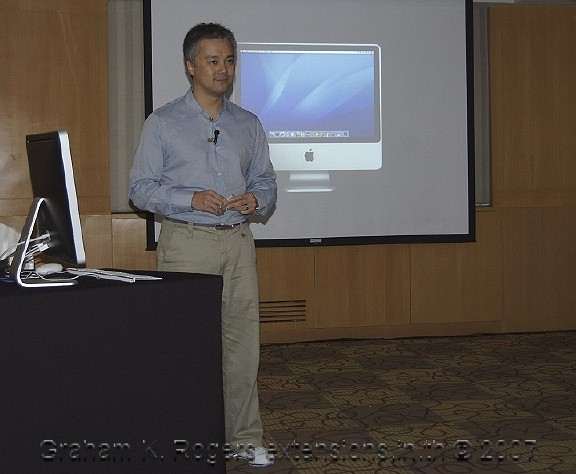 Tony Li at the Bangkok Press Briefing


I recently went to the Intercontinental Hotel, Bangkok where Tony Li, Apple's Director for Product Marketing, South Asia, briefed the press on the newest introductions from Apple.

He pointed out that while PC sales have increased by 9 - 13% in the last few months, the same period saw an increase in Apple computer sales of 30 - 36%. Tony was clear that despite the success of the iPod and the arrival of the iPhone, Apple has no intention of abandoning its core business of computers.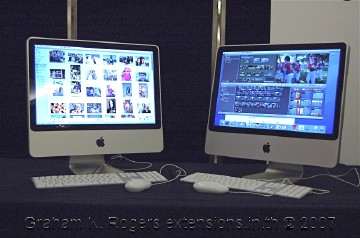 iMacs at the Bangkok Press Briefing

The iMac has been redesigned and is thinner. It is made from more materials which are recyclable. The one-piece frame is of anodised aluminium and the screen is of glass, like the iPhone. There are now two iMac screen sizes. The 20" comes with 2.0GHZ and 2.4GHz processors; the 24" has a 2.4GHz processor, while a 2.8GHz chip is available via special order. The basic 20" comes with a 250G hard disk. The 2.4GHz machines have 350G disks. Disks up to 1 Terabyte may be ordered.
These iMacs are priced at 44,490, 55,990 and 66,990 baht: cheaper than the iMacs that they replace, with the 20" 2.0GHz machine some 3,000 baht less than the previous 17" iMac. At this time, the price for the 2.8GHz machine is unconfirmed. It is $2299 (79,500 baht) in the U. S. All have a new ultra-slim keyboard and a mouse. The iMacs all come installed with the current version of OS X (10.4) as well as a full complement of software, including the latest version of iLife.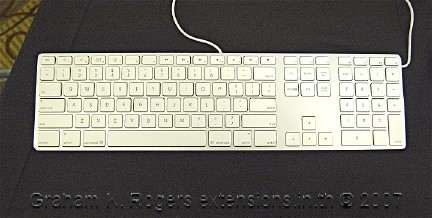 New iMac Keyboard

Tony briefly also outlined the latest update to the Mac mini, a computer aimed at people with desktop PCs, who already have keyboard, mouse and monitor. Like the iMac, there is the same full software installation. There are now two versions of the mini, with 1.83GHZ and 2.0GHz Core 2 Duo Intel processors. They are priced here at 22,990 and 29,990 baht respectively.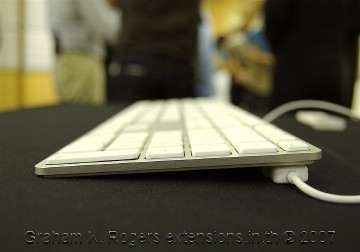 New iMac Keyboard: Side View



The briefing then switched to software. iLife '08 is a suite of programs that includes iTunes (via download), iPhoto, iMovie, iDVD, iWeb and Garageband. iPhoto has had considerable revisions and there are new ways of organising image imports using a conceit called "Events". All photographs are stacked under one event and they can all be viewed by running the cursor across the Event. Images can also be displayed in a panel (as before), but by Event instead of date or Roll number.

Editing tools have been improved. There are more ways to adjust an image, including "Highlights", "Shadows" and "Reduce Noise". A valuable addition is the ability to copy adjustment settings and paste them onto another image.

iMovie has been totally rewritten with the intention of allowing a user to make a video quicker and more easily than before. Tony demonstrated a swift assembly of a movie from clips; adding sounds, transitions and titles in an instant although it appears there are no effects in this version.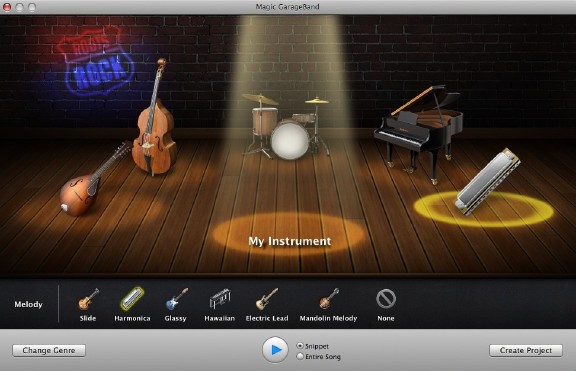 Magic GarageBand

Garageband has also been upgraded and there is a new "Magic GarageBand" feature that produces a selection of instruments (which can be changed) which allows for users to plug in their own instruments for a jam session. Several music genres are included.
iWeb enables quick and easy writing of web pages and blogs and includes direct input from iPhoto, plus "live widgets" from sources such as Google Maps. It is aimed at subscribers to the .Mac service which Tony pointed out has been upgraded and now allows 10G of online space. The price is also reduced here: now 3,490 per year.
The final part of iLife '08 is iDVD, an application, now with several new themes, that links particularly with iMovie for the exporting of video to disk. iLife is included with all new Macs as part of the initial software installation, while for those already with Macs it may be purchased for 3,190 baht.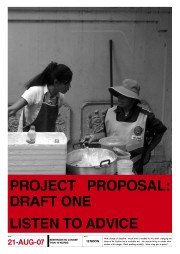 The final upgrade was iWork '08. This was earlier released with two components: Keynote, which creates high quality presentations with several export modes; and Pages, which is billed as a word processor, but has considerably more value than just document-writing.
Keynote now has several new templates and transitions. Pages too is improved as may be seen from the two sets of templates now included: for word processing (letters, forms, envelopes); and for Page Layout, such as brochures, flyers and posters.
What now makes iWork '08 more valuable is the inclusion of a spreadsheet program. This has the name Numbers. I was able to download a copy of this and examined it briefly last week. It is not an Excel replacement, although in many cases it might well serve instead of this or the Open Source equivalent.
At the press briefing review copies of iLife and iWork were distributed. I will look at these shortly. I have also been promised a review iMac this week.
Note: a full report plus more images from the Press Briefing is also online.
See also Part One and Part Two of the iMac review
---

For further information, e-mail to
Back to eXtensions
To eXtensions: 2004-05
To eXtensions: Year Two
To eXtensions: Year One
To eXtensions: Book Reviews
Back to homepage