eXtensions
Bangkok Thursday Afternoon: Apple Press Briefing (iMac, Mac mini, iLife, iWork and .Mac)
By Graham K. Rogers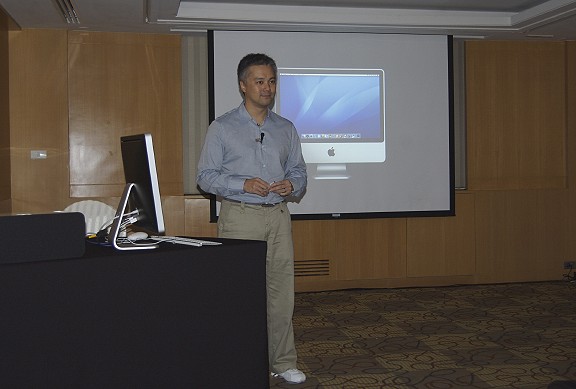 This afternoon (16 Aug 2007), Tony Li, one of Apple's regular visitors to the Big Mango, introduced a wide range of hardware and software to Bangkok's press at the Intercontinental Hotel. Indeed, Tony actually announced more than Steve Jobs had the week before in Cupertino. It is a sign of how the area is developing that, within 9 days of announcements in the US, we now have the same products on sale in Thailand with prices that are fairly comparable.

As ever, Tony outlined some of Apple's achievements pointing out that with PC growth at around 9 - 13% this year, Apple's growth of computer sales was 30 - 36%. Tony was at pains to point out that, despite the success of the iPod causing some to take their eyes off the ball., Apple was still firmly in the computer business and sales are increasing.

iMac
He began with the iMacs which he described as a "flagship product" for the consumer. With its new design, it is also using more environmentally-friendly products, like aluminium and glass because they can be reycled.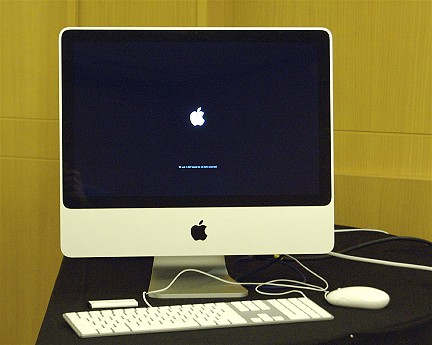 There are two screen sizes in the iMac range: 20" and 24". The 17" is no more. The 20" comes with either a 2.0GHz or a 2.4GHz processor while the 24" has the 2.4GHz chip. I asked Tony beforehand about the 2.8GHz version and he confirmed that this is available in Thailand but has to be ordered specially. At the time, he was unable to give me a price.
The iMacs are constructed in the main from aluminium, the same as the top level MAcPro computers, with a one-piece anodised aluminium frame. The screen is now of glass, like the iPhone giving (he said) an elegant, scratch resistant finish. The glass is held in by compression and magnets: no screws. The back of the iMac is of high quality black plastic and in keeping with the design ethos of Apple, all of the ports are now coloured black.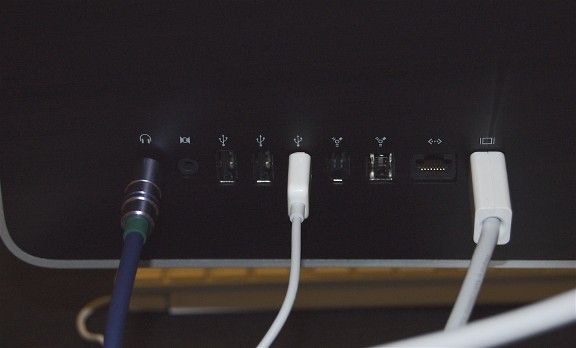 As well as the ports that we usually find on the iMac range (USB, video, etc.) for the first time there is a Firewire 800 connection. To complete connectivity, the iMacs have Bluetooth 2.0 and Airport (WiFi) to the 802.11n standard.

One of the slides that Tony showed the media personnel was of a Dell computer with separate monitor and the nightmare collection of cables required in normal operations. With the iMac there are two going into the computer: for the keyboard and the power (the mouse connects to a port on the keyboard).


Tony then highlighted the new ultra-slim keyboard, which he described as "very slick". Its frame is a single piece of anodised aluminium and is only 0.33" thick (which is some 7mm). There have been some changes to the keyboard layout and some keys have additional functions, e.g. Dashboard and Exposé to the left side; with iTunes keys, such as back and forward, to the right. He did not mention the lack of an Apple logo on the Command key.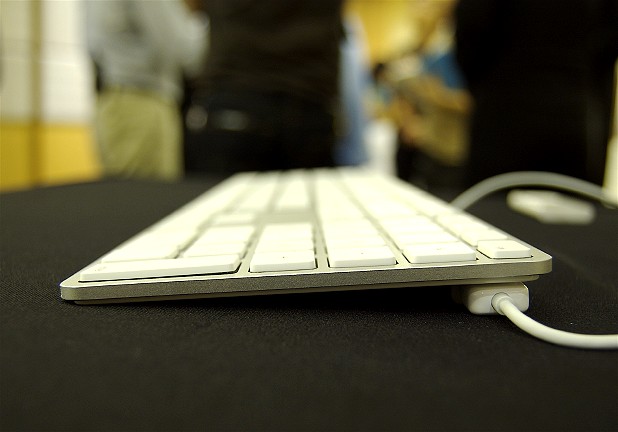 He also introduced the smaller Bluetooth keyboard at this stage. It is designed to look similar to the USB version, but has no number pad. It is therefore only 11.1" x 5.1" and this is intended to enhance its portability. As another Apple design touch, the power key for this device also concealed the battery storage.

Tony said that the use of this keyboard and the Bluetooth mouse meant that only one cable need be used: for the iMac's power. Then he joked, "that will take us a while to get rid of . . . we are working on it."

It is claimed that the new imacs have up to 30% more performance over the previous models, but the prices have been reduced somewhat. The three models are 44,990 baht, 55,990 baht and 66,990 baht respectively. That 24" 2.4GHz model is around 10,000 baht less than its predecessor, while the 2GHz 20" is some 3,000 baht cheaper than the previous 17" model.

Consensus among some of the media guys there was that this price was about right considering the dollar: baht rates and the usual premium of a couple of thousand baht. I calculated the prices in the US last week (using the rates then) at 41,500, 52,000 and 62,000 baht respectively. Considering the taxes one might have to pay in the US and (particularly in Europe) these prices are competitive.

All of the imacs come with 1G RAM as standard but this can be expanded to 4G. There are also several options on hard disk size up to 1 Terabyte. With the smallest of theses units now equipped with a 250G hard disk, there is plenty of room for data or even a couple of operating systems. Among the software installations with these computers, the new iLife (see below) is included.

Mac mini
Tony then switched briefly to the Mac minis, which Steve Jobs did not introduce last week (just a mention under questioning later). Tony highlighted the idea behind the mini: it is easy for a Windows user to migrate as they will probably already have a keyboard, mouse and monitor.

The two models now both come with the Intel Core 2 Duo processor and are available in 1.83GHz and 2.0GHz configurations. They are priced at 22,990 baht and 29,990 baht respectively.

The press briefing then switched from hardware to software as Tony had the new versions of both iLife and iWork. Apple tend to spend more time resources on designign software and iLife is about "managing digital life" as we make more use of digital equipment these days than analog.
iLife
iLife compriese six applications: iTunes (which is downloaded), iPhoto, iMovie, iWeb, iDVD and Garageband, all of which have been revised, Tony describing it as "the most significant update we have done. . . ."
iPhoto has been considerably revised in the areas of organisation, searches and editing. There has been a rethink in the way that photos can be organises and the application now uses the conceit of the "event" rather thah the roll. All images in one event can be clustered together (something like stacks in Aperture). One click, however, and all become instantly visible. They may also be viewed by running the mouse across the top image. Events can be split or merged.
Tony touched briefly on the searches which are now available in a menu as well, before looking at editing which is more powerful. The editing panel has been revised and I noticed, for example, that Exposure was now at the top while there is now a totally separate "straighten" tool. A couple of effects seem to have been borrowed from Aperture, such as "highlights" and "shadows" and there is also a new white balance tool.
In demonstrating the use of editing in iPhoto, Tony made a series of changes in one image and then, using a "copy and paste" function, applied the same changes to other images.
At this stage he introduced the revised .Mac and explained how it is now easier to share photographs (and movies) with the Web Gallery feature of .Mac. One click in iPhoto can publish images to the internet and even (if activated) can allow another person to download a photograph, instead of just viewing in a browser, and print at sizes up to 16" x 20". Subscriber to the photos can also submit their own which cna then synchronise with the original users iPhoto library.
iMovie has had a total rewrite and Tony mentioned that one of Apple's own engineers had returned from a trip with a lot of videos but found that the earlier iMovie was to slow. The engineer then wrote his own application which has now become iMovie.
Like Photo it now has a single library and video can be imported from SD and HD cameras. Also like iPhoto's Events, skimming the mouse across the clip allowed it to be viewed.
Tony also demonstrated this application by making a movie from a selection of clips and he likened it to editing a text document. Once the video choices were made, themes were easily added, then transitions and finally music by linking with iTunes. As a further benefit it is possible to export in several different sizes and formats in a single operation.
iWeb '08: an easy way to create websites. Although this was not demonstrated, Tony explained that as well as linking with the .Mac service, it could now support personal websites, which many will find to be of benefit.
iDVD '08 was also not demoed but we were told that there are new themes and now pro-quality editing is possible.
Garageband has been considerably changed to make music more powerful and more fun for musicians. There is a new feature, "Magic GarageBand" which sets up a virtual jam session which the user (and rpesumably others) can join in. This has a nuymber of musical themes (e.g. Jazz, Blues, Rock) and instruments can be added or excluded as well as changed to different types. Musical notation can now be printed which has been a long requested feature.
Tony also mentioned that there is a new Jam Pack -- Voices.
iLife is priced at 3190 baht (family version for five computers 3,990) although it does come free with all new Macs. The Jam Packs are 3,990 baht while .Mac is now cheaper in Thailand at 3,490 baht.
iWork
iWork now consists of three parts: Keynote, the presentation software; Pages, a word processor and layout editor; and now Numbers a spreadsheet program which is well overdue. I also noticed earlier that Apple has finally withdrawn Appleworks.
Tony spent a little time on Keynote and Pages, mentioning several new themes and effects in the former and the new templates in the latter. He tells us there are now some 140 themes available: from letters and envelopes to posters.
One feature he did show was the new Instant Alpha, a way to remove unwanted background from an image which in the past might have meant firing up Adibe Photoshop. It pretty much was instant here. he selected an area, expanded it to fit what was required, then click: the background image was gone.
He spent considerably more timne on Numbers as was to be expected and demonstrated some of the ways in which the simple spreadsheet has become a far more dynamic document, while still retaining the major fiunctions of a spreadsheet application: there are some 150 formulas for example.
One interesting feature was that, in preparation for printing, a Numbers document spread over several pages could be reduced in size to fit one page.
iWork is priced at 3,190 baht here with a family pack at 3,990 baht.
The speed with which these new offerings from Apple are now appearing in the (greater number of) shops here is a far cry from how things used to be a few years back. The new comnputers and software are also a clear indication of the target market that Apple is aiming at and we can expect far more users switching to OS X and the better integration of hardware and software that Apple offers.
---

For further information, e-mail to
Back to eXtensions
To eXtensions: 2004-05
To eXtensions: Year Two
To eXtensions: Year One
To eXtensions: Book Reviews
Back to homepage