eXtensions
Reinventing the phone: Press Briefing and Comments
By Graham K. Rogers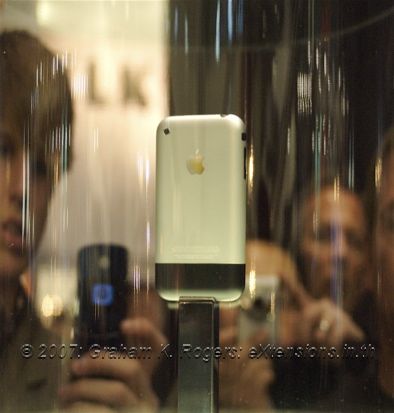 iPhone in its protective case
If you hold any one of the iPods available in Bangkok, or run your hands over the sides of a Cinema Display, you may have some of the idea of what the iPhone feels like. Some idea.
I was able to get my hands all over one of the pre-production models that were available to visting media: this is a major advance over any phone.
Control is via a touch screen. The phone operates on a version of OS X with powerful applications installed: all are accessed not by a stylus as in a Palm, but with the fingers. I found this simple to use and the display crisp and easy to read. Features such as the finger-control zoom show the highly sophisticated nature of the device.
In a product briefing, Greg Joswiak and David Moody, Worldwide Vice Presidents for iPod Product Marketing and Mac Product Marketing respectively, went over some of the ground covered by Steve Jobs the day before and answered some questions.
The iPhone amalgamates the functions of iPod, cellphone and Internet wireless communication device. It is initially to be available only in the United States: Europe following in the fourth quarter of the year. Asian markets trail in 2008. Apple needs the flexibility, we were told, to find out what model is best on a market to market basis. While the phone is locked for US markets, there is no prediction how it will be delivered elsewhere.
Asked about the screen which had scratched on some earlier iPods, Joswiak said that it has a "very hard coated screen" as users will be touching it constantly. The three and a half inch screen is the most visible feature of the device: there is no keyboard or buttons. The 3.5" screen displays at 160 pixels per inch. The iPhone is 11.6mm thick.
There are three main parts: iPod, telephone and Internet. Each of these functions is accessed using an icon in the lower section of the screen. There is also a Mail icon. The larger display icons give easy access to some of the applications installed, such as photos, a calculator and a camera. As pedestrian as these seem, the way they perform is superior to any extras on current phones. The screen has room for more.
First of the facilities in the top section is an SMS icon. Instant messaging has a high value. This installation displays SMS series in a virtual conversation so it is simple to keep track of messages sent and received. This application includes a full QWERTY (touch) keyboard.
Making a call is effected simply by touching the name or number of a listed contact. The contacts and calendar data are synchonised using the iTunes linking. As I use this currently, I can confirm its effectiveness, for both the phone (Ericsson) and iPod. Synchronisation works for Mac or PC and can use an online service like Yahoo!
The internet service provides several features:

Rich html email using IMAP or PPP (Yahooo! Mail will provide free push IMAP email to all US iPhone users, putting this head to head with Blackberry) with the same interface as the OS X Mail application
Safari web browser is running on the iPhone which displays a full page, using the feature of "pinching" (two fingers) like in iPhoto, and this will open multiple pages
Google Maps which can zoom in quite closely and if needed switch to satellite images
Widgets, such as Weather and Stocks
WiFi and EDGE networks are to be used for the US and each market will have its own solution depending on local requirements. It is not currently compatible with 3G networks although this may be upgraded with software should Apple wish.
Battery life is claimed to be 5 hours for talk and video, with 16 hours for audio. When asked about this apparent brief life, Greg Joswiak said there should be little concern. That 5 hours is of continuous use and not many people can manage that. He also suggested that, it would not be suprising if third party developers came up with solutions. Many other phones, he claimed, currently have a similar battery life and it is service-replacable as are the current iPods.
What many people may miss from the reports of the iPhone are the implications of the technology developed and now incorporated. With the touch screen, for example, it is difficult to describe just how well it works without seeing it done. An analogy might be with the screens used in the movie, "Minority Report".
We may expect this innovative device in Bangkok in 2008 although there is no prediction at this stage of pricing or availability; nor is there any way to tell which providers may be involved. Pricing, as announced is $499 (20,000 baht) and $599 (24,000 baht) for 4g and 8g versions respectively.
I have put a number of reports and photographs from the keynote speech and the MacWorld Exhibition online. Also see the Keynote report.
---

For further information, e-mail to
Back to eXtensions
To eXtensions: 2004-05
To eXtensions: Year Two
To eXtensions: Year One
To eXtensions: Book Reviews
Back to homepage