eXtensions
A better Mousetrap? Apple reinvents the mobile phone
By Graham K. Rogers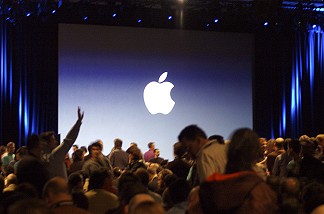 Steve Jobs ended months of speculation and rumour on Tuesday, at the Moscone Center, San Francisco, when, to a partisan gathering of some 4,000, he finally produced the iPhone.
He came on stage to a roar from the audience and quickly settled into the polished and confident delivery that is one of his trademarks. He reprised main events surrounding Apple, particularly the successful switch to the Intel processors.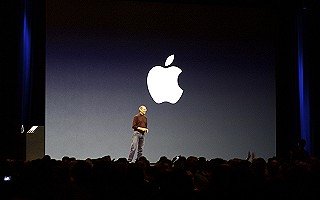 He outlined that Apple's entry into the music buiness had created, with the iPods and the iTunes shop, then celebrated the figures: 2 billion songs on iTunes; 5 million songs downloaded daily. Apple is now fourth largest in terms of sales: ahead of Amazon.
Some 50 million TV shows have been sold, and 1.3 million movies in the first 4 months of the service. Paramount has now joined as a partner and there are some 250 movies now available.
He focussed on new products first with the Apple TV (formerly iTV) which can transmit data from a computer to a HDTV. It is a media hub aimed particularly at the home. I will write more on this later.
Then, to an excited murmur from the crowd, a slide apeared signalling something new. Steve Jobs said that this was "A day I have been looking forward to for two and a half years".

He outlined the way that Apple product introductions have created paradigm shifts: the Macintosh of 1984; and the iPod. Then he announced that Apple was introducing three revolutionary new products: a wide-screen iPod with touch control; a revolutionary mobile phone; and a breakthrough Internet communications device.

Each was greeted with a huge response. All of the rumours were true.

Then he repeated the list. And again. It began to dawn on the audience that there were not three separate devices, but that one device would have multi-functionality.

There was surprise when he announced that the name was iPhone. This had already been used by Linksys, a division of Cisco. He was confident, apparently, that negotiations had produced an agreement. Within a day, this had soured and Cisco reached for the lawyers.

The user interface had taken years of research and development. Jobs identified problems with the standard cellphone's keyboard and buttons, which cannot be changed as new applications and ideas appear: you would have to buy a new phone.

The design includes a 3.5" screen (160 pixels per inch), but no stylus. Control is via a sensitive touch screen, using the fingers, along with multi-finger gestures. There is a single button: the "Home" button. The device has a depth of 11.6mm. There are minimal controls (sleep, volume) and it includes a 2 megapixel still camera.

The iPhone runs a version of OS X and has "desktop class" applications: not the crippled versions one usually finds on a phone. The phone wil autosync via iTunes: not just the media but the data as well. He used a quote here and said "People who are really serious about software should make their own hardware."

There are three sensors. The first checks for proximity: as your ear approaches the screen, the display is turned off. The second for ambient light; and a third is an accelerometer: it senses as the device moves from landscape to portrait and the display adjusts accordingly. As this was demonstrated the advanced nature of the device was becoming apparent to many.

Scrolling is done with finger movements. All major controls for the device are onscreen icons. The iPhone includes WiFi and Bluetoooth.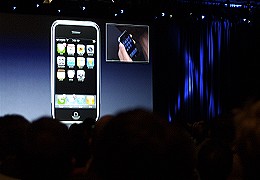 The killer application in phones is making calls; and rather than dialling, it is preferable to use contact lists. The device uses Quadband GSM and EDGE networks. Leo Laporte noted later that using GSM is clearly because Apple has its eyes set on other markets.
The iPhone makes uses synchronisation features in OS X that are available today. Visual Voicemail allows a user to go directly to the message wanted rather than scrolling through a list. Editing the lists and making favourites lists is easily acomplished and one can call up an onscreen keyboard to dial if necessary.
An example of the thinking behind the device was shown in the SMS feature. Messages sent and received are displayed together in an onscreen "conversation" which makes keeping track far easier.
The photograph album links with the iPhoto album as in current iPods, but a two finger gesture: a reverse "pinch" zooms out (a pinch zooms in).
Internet communications include rich html email using IMAP or PPP. Safari (web browser) runs on the phone and instead of the usual phone display, pages are shown full size and the pinch feature used to expand them; then a finger tap takes one to the next link. The device includes Google Maps and Widgets.
As if to demonstrate the integrated nature of the iPhone, Dr. Eric Schmidt of Google, Jerry Yang of Yahoo! and Stan Sigman of Cingular, the US service provider all came on stage (separately) to praise the device, Apple, and Steve Jobs.
There are two versions: a 4G and 8G iPhone, priced at $499 (20,000 baht) and $599 (24,000 baht) respectively. The market for mobile phones is in the region of 957 million annually. Apple is aiming for 1% in the first year.
As a way of underlining the shift that had occurred, Steve Jobs announced that the company had changed its name from Apple Computer, Inc., to Apple, Inc.
Many people came away bothered that there had been no software or hardware announcements. With the focus that Apple now has, it can release something new every month for the next year and have the publicity that others crave.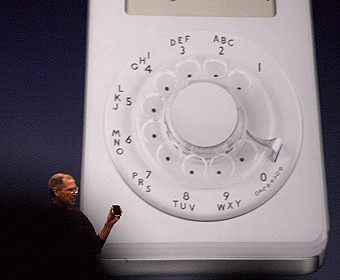 I have put a number of reports and photographs from the keynote speech and the MacWorld Exhibition online
---

For further information, e-mail to
Back to eXtensions
To eXtensions: 2004-05
To eXtensions: Year Two
To eXtensions: Year One
To eXtensions: Book Reviews
Back to homepage