eXtensions



An Interview with Tony Li: Part Two
By Graham K. Rogers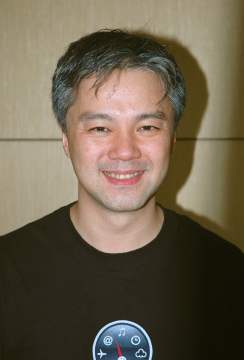 Tony Li
Some days after the release of Tiger, Tony Li, Apple's Director for Product Marketing, South Asia, introduce several new items at the Conrad Hotel, Bangkok. Among the products he demonstrated were the new iMac, 2.0GHz, 20" display; and the 2.7GHz, dual processor Power PC (both with the 64-bit G5 chip). His main presentation was on OSX, 10.4.
I was later able to take a few minutes of his time and ask him about Apple, Tiger and Thailand. Part One of the interview is here. The second part of the edited responses is here:
GKR: What about software piracy here?

TL: It's not just here, it's everywhere. In Asia-Pacific; in China, it's pretty bad as well. It happens in Taiwan. It happens in Singapore. It's just the level of it and that's something that we have to deal with. Interestingly, this morning, we did a customer session. They said, "Having come here -- and seen the demonstration of what Tiger's capable of -- it's really worthwhile for me to paqy for this."

It's more of a behavious thing: not something that you can change overnight; but noneteless, we keep innovating, we keep making our product better. Some time, people will realise. I think we are putting a lot of value in our systems: just iLife in itself.




GKR: Do you see room for a sales increase?

TL: Definitely. Thailand is an important market for us. It's part of our South Asia region. In the past twelve months we have actually increased support and increased marketing support. We are going to come here more often when there is a new product. It is an important market for us that we want to help to grow: there is a lot of potential here.




GKR: What about pricing for the Thai market?

TL: From the product perspective, we are trying to make our product as affordable as we [can]. I think the mini is a good example. The iPod shuffle is a good example. Apple is not known as a price leader, but with the shuffle we are really shakng the market when we come with that product. In terms of CPU -- the Mac mini -- it has never been this affordable before. From a product perspective, we try to make it as affordable as we can.

The other complaint that we keep hearing is price differences between the U.S. market and the Thai market. That is the result (of) a number of factors: the exchange rate, currency fluctuation -- sometimes we don't react as quickly as we could. That sometimes creates a gap between the prices. The second thing is really to do with the eficiency of the distribution system. Unlike the U.S. market, distributing in Thailand is more complicated because we have distribution and then we have the second-tier resellers, so there are multiple people who handle our product: that makes it more costly.

The third is taxation. We are not trying to deviate the price a lot because we know that doesn't make sense: the World is so small now; people could just go across a border to buy.




GKR: What do you like about Tiger?

TL: I think having used Spotlight, that's the number one feature I love because that's really changed the fundamentals of finding things. Before, the users were forced to manage their own directory -- their own hierarchy. If you don't remember where you placed a document, you have a really hard time finding it. I think the hard disk is going to be more chaotic: files are going to be all over the place; but Spotlight is going to be used to help sort things out. That by far is the most innovative feature that we have put in.

The other one that I really like is iChatAV: multi-person video-conferencing. To be able to have that quality -- four people in a [virtual] conference room: pristine quality. Seeing is believing.

When we were doing the preparation, what took most of the time was making sure the Internet -- the bandwidth -- was fast enough. We had a look at so many hotels to give us the stable Internet connections. The Conrad is the only one that could guarantee that their connection was only shared within the function room and the back office: whereas other hotels share across the rooms as well. You can have the best technology, but if you don't have the bandwidth to support it, it's nothing.




GKR: Tiger: any dislikes?

TL: No. I think one thing we were able to accomplish as a company, whenever we add in new features that really change the fundamentals: we still try to make it as common-sense for the user as possible. When we add a new concept, it doesn't take the user a lot of time to get used to it. Exposé had the same impact: I think Dashboard is going to have the same impact as well.




GKR: When more Widgets -- especially localised Widgets are available?

TL: Yes.
---

For further information, e-mail to Graham K. Rogers.
Back to eXtensions
To eXtensions: Book Reviews
To eXtensions: Year One
To eXtensions: Year Two
Back to homepage