eXtensions



An Interview with Tony Li: Part One
By Graham K. Rogers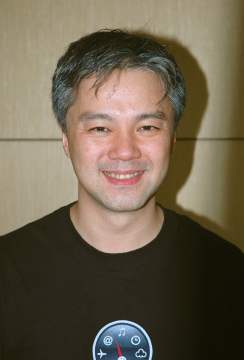 Tony Li
Some days after the release of Tiger, Tony Li, Apple's Director for Product Marketing, South Asia, introduce several new items at the Conrad Hotel, Bangkok.
Primary was his demonstration of the new version of OSX, 10.4. He also showed the press the new iMac G5 line, with the 2.0GHz, 20" display as top of the line; and the new 2.7GHz, dual processor Power PC: an updates of the 64-bit chip, around for the last 3 years. He used the G5 to make his presentations using a projector and one of the large 30" cinema displays.
---
I was later able to take a few minutes of his time and ask him about Apple, Tiger and Thailand. The edited responses (with a follow up to come later) are here:
GKR: What about sales in Thailand: what sort of penetration do you have?

TL: We don't usually give out breakdown numbers by countries. We have breakdowns by regions; whether it is Japan or the US, although we haven't actually published that yet.

GKR: I noticed that with some of the programs, like TextEdit, there are a lot more features -- a lot more things you can do with them.

TL: There are, but we just didn't have time to go through them. We are talking about over 200 new features. A lot of them this time, compared with previously [come from] a system overhaul. To be able to support things like Spotlight we really had to undo some of the plumbing and redo them. There are a lot of things that we have done that the users don't get to see. Spotlight was the top one . . . then the rest of them are either user commands -- from feedback that we got from our website. So we do them as we go.

Overall I think it is a better integration: different applications and better technologies that the applications didn't use before; like TextEdit. It has bettter integration. Mail with Safari: you can now mail a web page as-is. Those were available, but we just didn't have time to integrate them; but this time we have done as many as we could.

GKR: You almost mentioned it at the end of your presentation: but a comparison of Spotlight with (Microsoft's) Longhorn search engine?

TL: [Long pause] . . . From what we heard, I think there is a similar approach. They also want to do it at the system level; but unless they deliver, then we can never tell because we haven't seen it. At this moment, it's all just vaporware.

GKR: So there has been no actual looking at the plumbing underneath?

TL: The only one we have been able to look at is Google and that one we know is not done at the system level. That's why with some of the indexing you don't get the instantaneous updates that you saw in Spotlight. That's the biggest difference you get when you do it at the system level; but again, with Longhorm we just heard about it.

GKR: What about the alleged Dashboard security risk that involves automatic downloads with Safari?

TL: We are aware of that. You can go to Safari preferences and turn off Safari "autolaunch". We are aware of the issue.

GKR: I have seen you several times in Bangkok. When you get new technology, how long do you get to prepare for it? You come in and are "hands-on" as if you are familiar with something. You obviously get it before, but how long do you get to famliarise yourself with the technology?

TL: Actually, it's very short. It's much shorter than anyone thinks.

GKR: Who writes your presentations?

TL: We get the general presentation, but then we craft the messages -- how we want to explain them. It helps when you do it six or seven times (in different countries): it becomes more and more smooth.

GKR: Parental Controls: why?

TL: It is a multiple [user] operating system, so we do have multiple people sharing the operating sytem. Sometimes with the Internet -- with e-mail, with iChat -- parents are concerned about whom their kids talk to; where they get their e-mails from; what they browse. Applying Parental Controls helps give them peace of mind. But I guess the kids will figure it out before their parents (laughs).

GKR: Automater: is that intended to replace AppleScript?

TL: Automater is a simplified version -- you can look at it as a macro for AppleScript. ApppleScript is very user-friendly in the sense that you don't need to know a programming language; but you still need to know the syntax to make it worth your while.

Automater is one level higher; you don't know the logic; you don't know the language; you don't know the syntax. You can still make things useful and streamline your work. Some people may prefer AppleScript over Automater because when there is ease of use, there is a trade-off in terms of flexibility.
[Cont. . . .]
---

For further information, e-mail to Graham K. Rogers.
Back to eXtensions
To eXtensions: Book Reviews
To eXtensions: Year One
To eXtensions: Year Two
Back to homepage