eXtensions



Creating a Podcast (Part Two: Distibution media)
By Graham K. Rogers
See also Part One: Sound Input

Sending sound files to your friends may be sharing, but it is not podcasting. That requires embracing a different technology; one that is more sophisticated than simple html and web-pages: RSS (or really simple syndication). A user subscribes using software; and the podcast delivers files regularly to a computer and thence to the device used.

I took advice from some of the online sources available, including the O'Reilly pages and from the Apple podcast document. I intended to put the link on the iTunes Shop podcasts page (see below), so had to include the Apple-required tags. The pages must be written to the RSS 2.0 specifications.

Having coded the whole thing by hand -- copying faithfully from the various examples at my disposal -- I later found software that would do the entire job: The Podcaster RSS Buddy (1.7). The $19 utility was created solely to write the code for podcasts destined for the iTunes Shop links. A panel appears allowing information, about owner, site location, and files, to be entered; then it creates the page with an XML suffix. I altered this to RSS as I had already put the page online: a mistake.

At the same time, I found "Feed For All" a $39.95 utility for writing RSS newsfeeds that also had extended capabilities, including podcasts and other specific feed types. I could not make up my mind which to use, so I bought both. I will examine these and another ("Feeder") soon.

With my self created pages (above) and those created in this RSSBuddy, I had varying degrees of success, particularly with other browsers available for OSX. I ended up biting the bullet and rewrote both the podcast and the newsfeed, both with the XML suffix. Information from the few who subscribed to the first podcasts was that the new feed was an improvement. Moral: if you want something done properly, get the right tools.

For the podcast itself, browser access is not necessary. We need a "podcatcher". Michael Barnes covered this in Database (20 July 2005) and I use one utility he suggested, iPodder 2.1, but prefer iTunes 4.9. iPodder works well and will deliver a podcast directly to iTunes, Windows media player or a specified location. Both work with OSX and Windows. iTunes is not Linux-capable.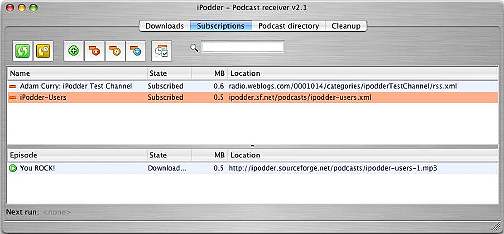 The URL of the podcast needs to be entered into the appropriate panel in the utility. With iTunes, in the Advaned menu, click on the item, "Subscribe to Podcast". A panel appears where the URL can be entered. With iPodder, a Tools menu item or an icon in the main screen opens a panel (like in iTunes), although here one can also grace the link with a title. iTunes does this automatically.

Once the feed is downloaded into iTunes, synchronisation of the iPod updates the music including the latest podcast download. iTunes settings can be changed to allow deletion after various time intervals. With the next synchronisation, early items are deleted and replaced with the most recent.

It was one thing to enable podcasting in iTunes 4.9, thus integrating this twist on technology with the computer, computer player and device, but Apple added further sophistication by providing a section of the iTunes shop where anyone could view podcasts submitted and subscribe.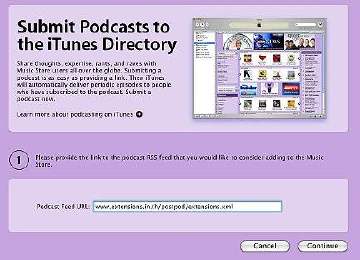 This integrated the process even more. Podcasts I downloaded in the next week were laden with comments like "Wow, we really took off in the last few days" and "Things have gone crazy here since iTunes got podcasts." As was only to be expected: except for a masterstroke of digital colonialism.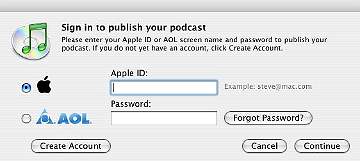 To submit a podcast link, apart from the extra tags required by Apple, one has to be a member of the iTunes shop -- to be one of those able to make purchases, which immediately excludes those of us in Thailand. And South America, most of Asia, parts of Europe and Australia. A couple of friends have offered to submit the link on my behalf, but I wanted to play this one out for a few days, with some virtual table-thumping, firing off e-mails to all points of the compass.

Podcasting is not limited to sound files. As iTunes can handle video this gives credence to the rumours of a video iPod. My current iPod and similar devices cannot handle video: we can view using a computer.
The eXtensions podcast -- www.extensions.in.th/postpod/extensions.xml -- (and type or copy that only, with no "http" before) complements the written column: for those who want to read and listen at the same time (to help with learning English); or for those who prefer information aurally. Sitting in Bangkok traffic can be tolerable and productive.
See also Part One: Sound Input
---

For further information, e-mail to Graham K. Rogers.
Back to eXtensions
To eXtensions: Book Reviews
To eXtensions: Year One
To eXtensions: Year Two
Back to homepage