eXtensions
CDMA connection service for locals in Thailand
By Graham K. Rogers

In January this year I was loaned an Airplus wireless modem by a rental service aimed at visitors to Bangkok. Connections were through Hutch. After playing with this for a couple of weeks, I was interested enough to buy one of my own. WiFi is fine if you are in range of an antenna, but not all of us have such access all of the time.

The Hutch site was poorly organised. It was tortuous tracking pages about the modem: English pages were in Thai (then) and to access those links I had to change the "th" to "en" to see English pages. DTAC, True and TOT also suffer from similar mysterious links.

I printed the Thai page with the fees (below) and visited Hutch in Central Pinklao where there were brochures for the modem. I was told, "No have." I took the modem out of my backpack along with the web page.

I think that I was told that there weren't any. They had run out. They did not know when there would be any more.

The lady made no concession to my not being a native Thai speaker, unlike the nearby DTAC shop where there is an English service and the manageress is always charming.

A few days later in the Siam Hutch shop, a clearer picture emerged when I was helped by a Thai friend who later confirmed the situation with Hutch. The few modems had been sold out. They were expecting more, but not for at least a month. I was concerned by this apparent ordering oversight by a company in the telecommunications business here where a strong subscriber base is essential.

I decided to wait and see, but commented in a podcast. A Thai user, who told me he was fed up with being put on hold at Hutch, told me he had bought the modem from U-Call, a company in Vipavadeerangsit Road.

I sent e-mail one evening and had a reply before 9am the following day. They had the modem and would deliver it to me. In fairness, I mentioned I was based out at Salaya. A few minutes later, Choompol Charungvat from UCall telephoned and we agreed that I would meet his representative on Saturday morning outside the Apple shop in Siam Discovery.

I took along the usual copies of documents and was delighted to find that the courier was early. I handed over the fee for the modem, and signed up for a limited service of 100MB per month (at 399 baht). Among the offerings is an ulimited amount of data for 999 baht.

I installed the modem on the Mac in a few moments. It was as smooth as the first time I had done it. The Mac does not need any drivers. There is a downside to this as the Mac cannot use the voice service or SMS: there is no software provided (the Sim card can go in a phone of course). By Monday evening, we were online. It has proved itself useful, for example, when True WiFi was having an off-day in the Paragon Center.

After that first article, I was contacted by a Windows user in Prachuab Khirikan: just within the Hutch service area to the south. His on-line access was limited by the need to drive to town. The device was a workable solution.

Hutch was able to track down one device for this customer at the end of February and he also found that there was a promotion running from January to December. I had not seen that on the site.

He took the unlimited package and tells me that with the antenna some two kilometres distant, the signal is strong enough. He is happy that the device is small, for portability. As far as the connection itself is concerned, we have another satisfied customer, although he too (like many) mentions the poor personal communications between Hutch and himself and within the Hutch organisation.

There are now several users of this wireless modem who are satisfied with the ability to connect anywhere within the service area, as well as a number of visitors to the Kingdom who are can access the Internet while paying fairly moderate fees to Display International .

The service is there. It works. Hutch just has to import the devices it advertises and make them available. Companies like UCall are successful because they work for the customer.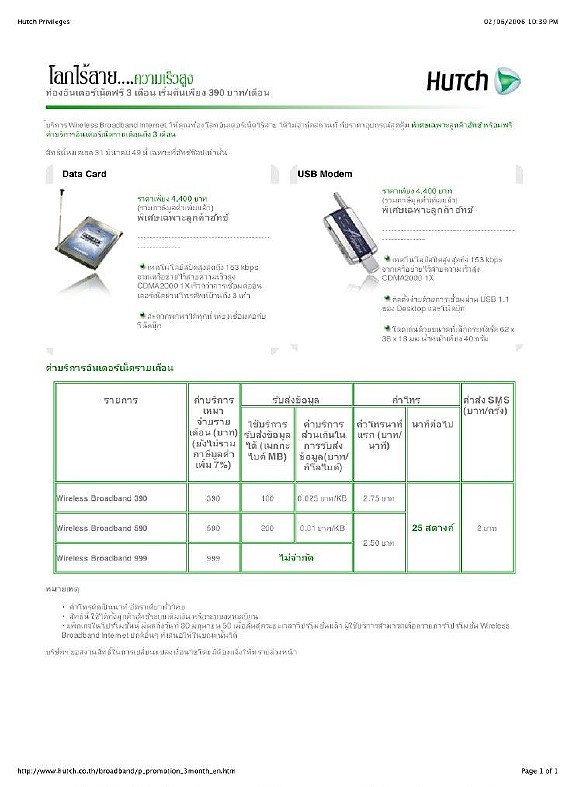 ---

Maccenter is planning a series of workshops, in English, on some components of iLife (iPhoto, iMovie and GarageBand) at TKPark in May. Anyone interested should contact Noppadon Lertussavavivat at noppadol@maccenter.co.th for more information.
---

For further information, e-mail to Graham K. Rogers.
Back to eXtensions
To eXtensions: 2004-05
To eXtensions: Year Two
To eXtensions: Year One
To eXtensions: Book Reviews
Back to homepage