eXtensions
CDMA connection service for visitors to Thailand
By Graham K. Rogers
If you visit a hotel in Bangkok any day of the week, it is no surprise to see that there are a considerable number of visitors to the capital. While a great many are on vacation, it is important to remember that the City of Angels is also an important business centre. Move a little further to the east and Pattaya, I am told (I have actually never been), is also full of visitors.
Business visitors are likely to bring laptops with them. Increasingly these days, those on R & R may also bring laptops with them. Some Bangkok hotels average 700 baht for 24 hour, in-room Internet access. One hotel also quoted me 290 baht for one hour. For business, this might be acceptable, but not all visitors come expenses paid.
Two years ago I reviewed the flexi-keyboard. Martien Vlemmix the concessionaire, contacted me recently and offered me a device aimed at the visitor who wants an Internet connection but is unwilling to pay the hotel rates. This system also allows the user to connect elsewhere without having to track down local access. While not a device locals might use, visitors are not familiar with the infrastructure in the same way.
The Airplus wireless modem is a CDMA device (Code Division Multiple Access), using Hutch. I am told it is more secure than GSM and GPRS. Speeds of 153 Kbps are claimed.

The service rents out the modem at 119 baht a day. There is a deposit, although the device is locked so that it can only be used for data (no SMS or voice) and will not work outside Thailand.
I was lent one of the devices and played with it for a couple of weeks. It came with Windows install disks. I had already seen the Thai PDF that Hutch had put together for OS X users: the CDROM stayed in the box. I am told that a PDF in English is being prepared.
The modem plugs into the USB port and within a few seconds OS X recognises that a new device has been attached. Network Preferences displays "Location" and "Show".
Most will use the location, "Automatic," which does not need to be changed. My own set-up gives me several locations so I can avoid disturbing my normal settings.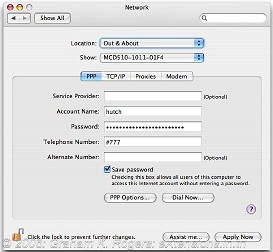 "Show" displays the Network Status button. Open this button to see the new device (MCD510-1011-01F4). First to be configured is PPP where account details are entered. The telephone number is #777 like the Verizon CDMA network in the USA.
Null Modem 115200 selected via the Modem tab. Press "Apply"; clicking the button marked "Dial Now" opens Internet Connnect where the new device is now displayed. If the modem icon is in the menubar, future connections can be started from there.
I first tried it in a classroom out at Salaya and there was sage approval from the students. We found that using a second USB device needed the extension cord provided as the unit is wide. Its length also means that it sticks out so may be vulnerable in the wrong hands.
As I had been told that it will work in a car, I tried on a 79 bus with one of the more exciting of the drivers. A fair connection was made of about 6KBps (48kbps). I was able to view several web pages and check e-mail, however I spent a lot of energy keeping my PowerBook from dropping on the floor. In a limousine, the ride would be smoother.
At home on both the PowerBook and eMac, I downloaded software at 14KBps, peaking at 18, which is closer to what one should expect in normal use.
Information about the service is at www.24online.in.th and the company is mainly targetting Pattaya and Bangkok. The service is limited to areas where Hutch signals are available. This includes Kanchanburi in the west, Trat in the east and as far south as Prachuab Kirikan, with Ayutthaya, Lop Buri and Suphan Buri also in the list of 25 provinces covered.
I enjoyed the additional freedom such access gave, especially after my Bluetooth use in Tak some weeks ago. I am spoiled with a home ADSL link and an office network that sometimes works properly. I use Wi-Fi access points I have found, some of which are free. The Airplus does work out cheaper than the True Wi-Fi that I access sometimes (600 baht for 300 minutes), but that is an emergency connection for about 10 - 20 minutes at a time.
Not all users of Macs or Windows machines are totally technically adept, so technical assistance is available, especially for the install. As the Windows installation takes up 10MB and needs a CDROM, it is useful to have this help. The Mac installation was just "follow the numbers".
And just for effect, this is sent [to the Bangkok Post] from the back seat of a 79 Bangkok bus, in darkest Bang Khunnon.
---

For further information, e-mail to Graham K. Rogers.
Back to eXtensions
To eXtensions: 2004-05
To eXtensions: Year Two
To eXtensions: Year One
To eXtensions: Book Reviews
Back to homepage