eXtensions
An Office Suite to Suit in OSX
By Graham K. Rogers
It was once common to have productivity software which was not integrated: Wordstar or Word Perfect, with Lotus 1-2-3, plus a database program, each developed by a different company. Later such programs became wholly integrated, for example Microsoft Office, which in its latest version (v.X) is also available on the Macintosh platform. I have not been able to find it here, although I have a 30-day trial version on CD-ROM.
A check of the Internet shows that it is priced at a whopping $499, although I did find one site where the price was $459. Some users in Europe and the US are lucky enough to find Office thrown in as a deal on a purchase of new hardware, but this is rare in Thailand. The high cost here makes it prohibitive for many home users, while several people I know are refusing to use the latest products from Redmond because of draconian licensing rules.
I have been trying out alternatives.
Appleworks (v 6.2.x) along with much other free software, comes with the iMac. It has six components: word-processing, spreadsheet, presentation, database, drawing and painting. It would seem to be a strong contender but has several weaknesses. The word-processing module will open and save in MS Word format. Trying to set up tables and insert images had me pulling my hair out on a couple of occasions.
The spreadsheet is one of the poorest I have seen -- almost impossible to copy formulas between cells, and pages divided only by lines. It was the weaknesses in this module that sent me hunting for alternatives. I consider presentation software to be essential in an office suite. Appleworks does this job barely, but files created are not compatible with the MS .ppt format and such files cannot be opened in Appleworks.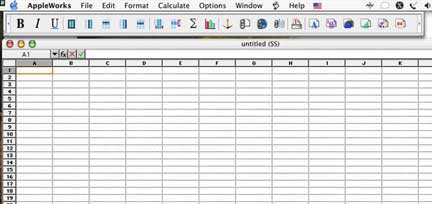 As Mac OSX is Unix with a pretty interface, it is possible (under certain circumstances) to run Unix and Linux software in OSX. It is possible to do this at home, using a program called Fink but you need to have some Unix skills; or you can do it the easy way, like I did. There are actually two suites based on open standards. Both are downloadable if you have the time (or a fast Internet connection).
Open Office is a free download. It is available for 10.2.x at http://www.openoffice.org/. This includes word processor, spreadsheet, presentation and drawing programs, but even the website text admits that this is not a straightforward installation: Unix skills are advisable. The developers add, "Work is continuing to create a stable, bug-free port based on OpenOffice.org 1.0.1, which will include both the XWindows version and a Mac OS X Quartz/Aqua graphics version."
I took a different route with OpenOSXOffice (v0.8). It includes Abiword and Gnumeric as core programs, with the graphics program, Gimp, plus the bonus of LaTex, a powerful text editor that a colleague had used to write his PhD thesis. I ordered this online for a total of $50. Two CDROMs arrived a few days later. To make this Unix software work with OSX, it comes with a Darwin interface (Darwin being the Mac Unix kernel) that runs inside OSX. This is the same method that is used to allow Pla Dao for the Mac to run in its early stages of development.
Abiword and Gnumeric look the part with plenty of bells and whistles. With Abiword, however, creating a table was not easy. Gnumeric was far stronger than the Appleworks spreadsheet and alllowed all formulas to be used and the functions in cells to be copied to other cells. I did have problems opening a number of .xls files.
Another weak point at this stage in development is printing. Although LaTex would print directly to a networked printer, the other programs within this suite could not (nor would they print to a USB printer). A file can be saved in PDF format -- integrated into the Mac OS -- and printed. This was not going to be a recipe for efficiency.
The really strong point about Abiword was the number of file types that could be used (and in which files could be saved). I was pleased to see that included was the Palm book format, although this would not handle images. OpenOSX Office, does not include presentation software.
These two Unix-based suites are most certainly usable at this stage, but only for someone who is interested in rolling their sleeves up and perhaps even writing some code. As both Open Office and Open OSX Office are projects in a state of constant development, I look forward to the time when they -- and the localised Pla Dao -- are more user friendly. They are indications of the way to go. I am sure they will be valuable additions to the market.
A few weeks ago, in the Apple discussion forums, someone mentioned software by the name of ThinkFree Office. This is a suite of word processor, spreadsheet and presentation software, all in Java. I downloaded the 30-day trial version (22.1MB) and was really pleased with the way that Word files could be opened, including Word 2000 files that students sent. The word processor has a full range of tools and does everything asked of it.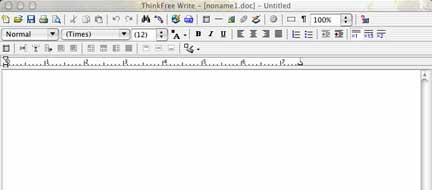 The spreadsheet opens and saves .xls files and has all the functionality required. It is not a lightweight and was able to handle a file of 1MB sent over the Internet.

I needed to manipulate some data and the Help files gave me the answers I needed.
The presentation software was also just what I wanted and handled presentations I had created in .ppt format with little trouble. With any platform or program interchange there are bound to be a couple of glitches, but with ThinkFree Office there were, mercifully, few.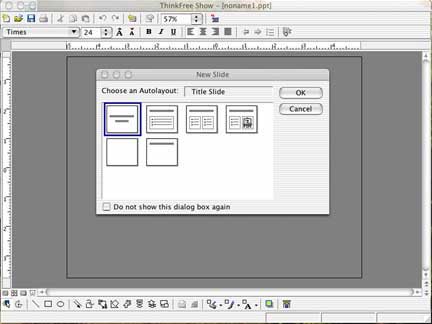 Responses from the company were rapid and all problems were quickly solved. Larger organisations would do well to take note that such assistance goes a long way when users make decisions on purchases. The other factor in such decisions is price. ThinkFree Office comes in at $49 (10% of Microsoft Office). This includes a year's online secure storage -- to make files available online -- plus unlimited updates and assistance The licence covers one person, not simply one machine. This compares extremely well with Microsoft's approach to licenses.
I downloaded the full version (29.1MB) late one evening -- it took about 90 minutes. There is an alternative download method: an installer, which then retrieves components bit by bit: recommended for those with dial-up lines.
My final choice is not really Mac software, but is for the Palm. I had to wait until the company had a version compatible with OSX. Documents to Go is a utility that allows transfer of .doc and .xls from the computer to the handheld. The data can be manipulated and can even be created on the Palm, although trying to copy formulae to multiple cells is a little difficult with just the pointer. The original DataViz software had come with the Palm installation disk but was not for OSX so I left it off. When DataViz let me know that the OSX version was available, I needed the serial number of the software to purchase the new version at the update price ($29). The only way to get this was to install the earlier Palm desktop (which I was unwilling to do).
Like Think Free Office, the asssistance provided was first rate. The helper, André, registered me almost immediately and I was able to purchase the software which includes an image program too. For those who use PC, Documents to Go includes presentation software: I am told that Dataviz is working on this for the Mac. The software comes as a download if you wish, but the company also sends a CDROM as a matter of course.
Note: In April 2003, I reviewed the installation of Open Office using the X11 window.
A reader suggested that snippets of information on Mac events might be useful, especially for those in the provinces who might not have access to all resources.
Snippet 1: Apple has just released its update to OSX 10.2.2 which is avalailable via Software Update or the Apple website.
---
For further information, e-mail to Graham K. Rogers.
Back to eXtensions
Back to homepage