eXtensions
Spoiled for choice: A pod for all Seasons
By Graham K. Rogers
I had been promised that I could try out the Apple iPod shuffle, but when I met Mr Noppadol from Maccenter, I was handed a 1GB shuffle, a 6GB iPod mini and a 30GB iPod photo. With my own 15GB third generation iPod, that made four in my bag.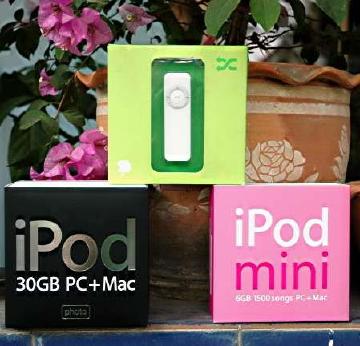 Although the shuffle had been used for demonstrations, the others were still in their see-through wrapping, with the installation software untouched. I knew from an earlier try-out (Database: 22 Dec 2004) that the mini would plug right in. I was a bit wary of the iPod photo. I began with the shuffle. iTunes and the software for my own iPod were ready for each iPod, but I did not need the installers.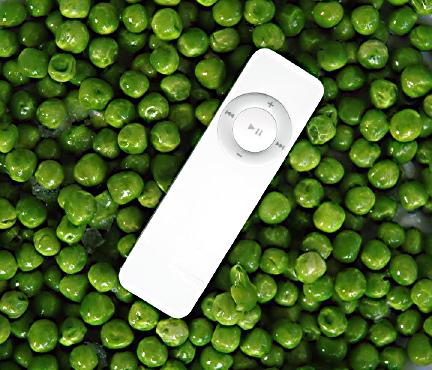 The iPod shuffle has no hard disk -- it is flash memory. Instead of a connecting lead, the base is removed exposing a USB (2.0) plug for a standard port. The narrow eMac port-design hinders this, but I use a USB hub anyway. iTunes started and the device was recognised. The interface displays a different panel allowing the user a choice of where to select music from, and then to select randomly. It is advertised as accepting 240 songs. This one took a little over 210 because some of mine are not 3-minute wonders. Several -- Mahler, Wagner, Verdi et al -- were in excess of 15 minutes.


I had wondered about the random selection feature, but it was not disturbing; at times it was a pleasant surprise. Who wants to sit on a Bangkok bus listening to an entire symphony? A few minutes of Beethoven, a touch of the Rolling Stones, an interval of Barbra Streisand, all topped off with U2. The shuffle holds 14 hours of this and I set it up so that each time I synchronised, "Autofill" installed another random selection.
I was listening to music I had forgotten I had. And the lightness: with the lanyard round my neck and the Pod in my shirt pocket, I almost forgot I was carrying it. At home, I also connected the Creature speakers for real volume. This one goes on my list of desirable hardware.

The iPod mini went in next. This has a one-inch hard disk. Like the iPod photo (below), it comes with a USB 2.0 connector, but I used my own Firewire connector. That is now an extra (Griffin are also producing one).
What is to say? It was recognised, it synchronised all of my tunes and produced music in the order I wanted from my playlists. This iPod mini was in the new pink colour --there are also blue, green and silver (gold has gone). Although not as light as the shuffle, the mini is much less weight than a standard iPod or the iPod photo. It will also fit in a shirt pocket. After installing the music, there was still some room for files.

I was careful with the iPod photo as its picture-handling was new to me. Once more, zero problems. My iTunes and iPod installations recognised it and music was synchronised. I was then given the opportunity to add images from iPhoto: the facility is built into iTunes. The uploading of something like 2,500 photos took a few minutes. Subsequent music synchronisations also updated the image collection.
The screen, even when scanning the menus, looks far nicer than the usual iPod monochrome. Pictures were sharp and clear; but they were also small. The first view is of a selected collection -- something like 50 tiny images in the 1.67 inch screen. Click on one and the single image is shown. Once set up, it will run a slide show.
On the iPod this was restricting as three images were displayed: current, last and next. It should be remembered, however, that the slide show should really be displayed on a television (or even with a projector) using an additional iPod photo AV Cable. There is now third party software to enable PowerPoint and Keynote presentations to be run from this device.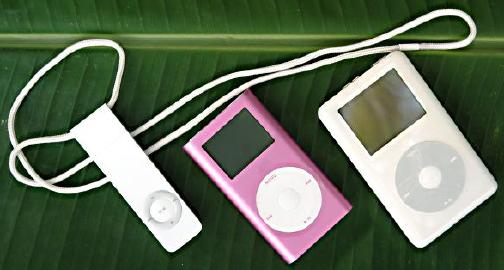 When it came to synchronising data (calendar, phone numbers) using iSync with my own iPod, Palm and telephones, I found that the mini and photo had been automatically added as recognised devices. I later removed them from my configuration.

Music reproduction on all three devices was surprisingly good. I do not have a musical ear, but with these and my own iPod I am now hearing sections of music that I had never heard before: the iPod does a better job than the standard home stereo and my Sony Walkman of the late 70s.

The shuffle is light and contains enough music for a day; the mini has plenty of room for a fair-sized collection of CDs; and the iPod photo (about as heavy as my iPod, both with 1.8 inch hard disks) does the music and all my photographs with room to spare. Each of the iPods examined here has its own niche. I would be satisfied with four: the three reviewed and my workhorse Generation 3.
---

For further information, e-mail to Graham K. Rogers.
Back to eXtensions
To eXtensions: Book Reviews
To eXtensions: Year One
To eXtensions: Year Two
Back to homepage