eXtensions
iPods: Music for all Tastes.
By Graham K. Rogers
When Apple announced a music player with a hard disk in late 2001, I was a sceptic. Why would Apple risk such a sideline, especially so soon after dumping the Newton: who would want one anyway?
Within a few months, I did. Not only was the iPod a winner but the "halo effect" has increased Mac sales. iPod sales are currently around a million a month and expected to rise to over 20 million a year. The gamble has paid off. Apple has hit the right buttons with this, which infuriates many critics: the number seems to vary in proportion to rising iPod sales. Those who actually use them have a different idea.
In an essay on US design, Paul Graham writes, "I just got an iPod, and it's not just nice. It's surprisingly nice. For it to surprise me, it must be satisfying expectations I didn't know I had. No focus group is going to discover those. Only a great designer can." As well as design there has been much thought about the entire concept, with some luck along the way.
---
Put the mouse over each picture (more release images).

On Friday 3 December 2004 the iPod U2 and the iPod photo (40GB and 60GB) were introduced in Thailand at the Bed Supper Club, Sukhumvit 11. The iPod photo is a fabulous development of the range and, while iPods can carry much data, being able to show pictures on the small screens or (better) on televisions, expands possibilities for users. Prices are high, especially with the current rate of the dollar: the 20GB U2 iPod is 20,500 baht; the iPod photo has prices of 28,600 and 34,900. I expect street prices will drop.

We are now on the fourth generation of iPod. There are also the iPod Mini, the iPod U2 and the iPod photo. This shows images on a colour screen and can display pictures on a TV set. All now use the click wheel. iPods were always white; but the arrival of the Mini saw a range of pastel colours; the U2 iPod is a semi-sinister red and black: signatures of the band members are engraved on the back. There is also a version made for Hewlett-Packard which is almost indistinguishable from the standard G4. Music (and data) is stored on a 1.8" hard disk (1" for the Mini) and there is a buffer of around 20 minutes to compensate for vibration.




What lifted sales of iPods was the announcement by Apple that it was entering the music business with the iTunes shop. Now with a claimed one million songs, it was initially only for US consumers. It has now expanded to Europe and elsewhere. Japan and Singapore are rumoured to be on the list, but with the reputation here for piracy, who knows if there will ever be an iTunes shop in Thailand.

A major catalyst in the growth is the development of accessories (over 300), by companies independent of Apple, and particularly by Belkin and Griffin. Apple has not been idle and released iPod socks (one size fits all Pods). Accessories are listed on the iPod/iTunes web-pages. There are also two books from O'Reilly: a "Missing Manual" (reviewed April 2004), and iPod and iTunes Hacks.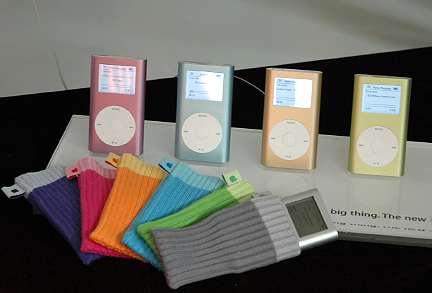 iTunes is the essential tool for the iPod on both Windows and OSX. Some have dismissed this application because there is no access to the iTunes shop from Thailand. A holder of a US credit card (or from another country with an iTunes shop) in Thailand can do this, however.
I copied my collection of CDs to the computer and the music appears on my iPod. There are several choices of file formats including MP3, AIFF and WAV. Music and speech files are updated on the iPod when I connect. A CD can be transferred in under 20 seconds. Within iTunes is the iPod-management software.
I have a pile of 62 CDs beside the computer -- jazz, classical, rock -- and have bought more music in the last few months than the previous five years. The 691 songs use 3.26 GB on my 15G iPod. I could play music non-stop for 2.5 days. I use some disk space for file backups and my iPod is now bootable. With the right (Belkin) hardware, I could download images from my camera. My current music collection would easily fit on the iPod Mini.
I have stopped carrying the Palm around as the iPod contains all of my contacts and all of my appointments, although there is, of course, no Bluetooth connection to the Internet that the Palm provides. I shall have to learn to set up the mobile phone for that.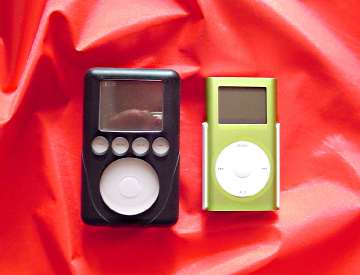 If I were to choose between the various iPods available, I would be hard pushed. While the iPod has the attraction of spare disk capacity, the iPod mini is smaller, lighter and cuter: try putting a normal iPod in your shirt pocket. The U2 iPod has a certain attraction in terms of elitism, although my clean white Pod is covered in a black iSkin anyway. The iPod photo has both novelty value and some serious possibilities: music, photos and disk-space.
---
Note: At the release I was told that iPod Socks were not slated for introduction here. However, this week (21 December) I saw some for sale in Phantip Plaza.
Also at Phantip (and elsewhere) the generation 3 iPods are being offered at reduced prices (I hear of a 15G for around 10,000 baht), which is to be expected with the newer versions available. However, there are reports in other countries of shortages on the approach to Xmas/New Year.
---

For further information, e-mail to Graham K. Rogers.
Back to eXtensions
To eXtensions: Book Reviews
To eXtensions: Year One
To eXtensions: Year Two
Back to homepage