By Graham K. Rogers
---
<! ----------------------------------------------------------------------->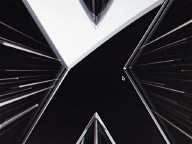 A busy couple of weeks with the start of a new semester and taking stock of the new Apple operating system release, have kept me away from the city centre, apart from quick forays to buy food essentials.
It is now the start of the Thai cold season: they call it "Winter", but for most westerners it is still hot with lows of 22 degree Celsius currently, although in the northernmost parts of the country it is getting as low as 10 deg. which has everyone running for several layers of clothing.
This is when you tell the longtime westerners and the tourists (apart from the red faces, the hats and the maps): people like me are more comfortable in long pants and a shirt over a tee-shirt if casual. The tourists are dressed minimally and still look hot.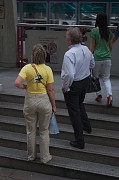 On the way into the city this morning, the bus went through an area that usually has many tourists but few were around today. An older couple rode the bus, but often there are several westerners and young Japanese.
In most areas, traffic was dense quite early today and the iPod is becoming an essential accessory. Common with many Asian cities, buses are filled to capacity and any ideas of personal space must be left by the roadside. This is where the ability to shut out the rest of the world with what, really, is an impersonal music player helps greatly.
I went first to Central World as I need some glasses. This time of year it has a "beer garden". It was the first to do this as far as I am aware, with the huge space out front of the mall allowing hundreds of people to sup and drink in the cool of the evening. Other malls have followed suit as is always the way here.
Today there was also a stage and a music festival was being set up. The quantity and quality of entertainment, away from the girly bars (and the boy bars) is quite good these days and the enthusiasm for having fun -- sanook -- is undiminished by anything the politicians may do (and they do much).
At Central World, I had a quick look in the iStudio on floor 2 there which was fairly quiet, with a couple of westerners looking at MacBooks and some other customers in the iPod section. While gathering price lists, I saw that there was a small selection of Mac games available -- this is so in other iStudios -- which is a better situation than in the past.
Everything concerning Macs is better than in the past and the last five years have seen major changes here.
I walked along to Siam Paragon and was filtered through the standard metal detector with the Garret wands on the tables. Heaven knows what setting they have it on as I always get through with my camera and my aluminium notebook. Security guards at Central World are a bit more picky, but the Paragaon centre Security are somewhat pragmatic.
The iStudio in this mall is right next to the Paragon Mall's own computer section and there are Macs on sale here too, although they have no price lists a customer can take away, nonetheless, the prices are similar except for the MacBook.
iStudio outlets are showing these at 45,900 baht, 54,900 and 62,500 for the three models, while the Paragon shop has these at 43,500, 51,500 and 58,900 baht. The sheets from one iStudio had had the lower prices deleted and the new, higher prices written in.
I was told in one of the shops I went into, that the sales of MacBooks right now were good, and that also Leopard disks had sold really well too (that was still at 4,790 baht). With the dollar in a gentle slide downwards, the same import taxes, and no specification changes to the MacBooks in the immediate past, I am wondering why there should be this increase at this time, although I was told (and my source is nameless) that these MacBooks now come with a free Wireless Mouse. These are shown as 2,580 baht in one shop.
I think there is a mis-judgement here.

Other computers -- iMac and MacBookPro (see table) -- are within the same range (the Paragon shop has a 90 baht differerence shown). I was also told at one iStudio that the new Apple keyboards have just come down in price, with the larger USB version (with the number pad) at 1,940 baht (previously 2,590) and the smaller Bluetoooth keyboard (minus the number pad) now at 2,790, down from 3,490 baht.
As a note, the Mac minis now seem to have been reduced to two: 1.83GHz with Combo drive and 2Ghz with Superdrive. Cinema Display prices have also been adjusted upwards.
While wandering round the iStudio in Paragon, I had a look at the books section. They do seem a bit thin on Missing Manuals there right now, but I did find a new book on the iPhone and the iPod touch, in Thai. When I picked it up the sales assistant, who had tacked herself onto me when I first entered, moved closer and helpfully mentioned that it was not in English and seemed alarmed when I went to buy it (I have Thai friends and my students would always like a look).
Unfortunately, cash-flow problems intervened. The shop has a policy of not selling things by credit card for a value of less than 500 baht (some retailers insist on adding 3% to the bill to cover charges) and we are having a thin month. The book was 199 baht and I have plenty of other uses for my cash right now.
For the price, this is a useful little book, at least as far as the iPod touch goes, although I do know that plenty of iPhones have now found their ways to Bangkok.


I also had a look in the iStudio that is next to Starbucks in the Siam Discovery Centre. It looks as if their display outside the shop is here to stay and that is a real customer-catcher with the Macs and iPods (including the iPod touch) full face. You just cannot miss these.
It was pointed out to me that some iPods have been "reduced" in price; specifically the iPod shuffle (now 3,890 baht) and the 4G iPod nano. If you look at the last time I checked, when I went round several shops a couple of weeks ago, this is a price increase.
Maybe she just said, "New price. . . ."
Current prices then:
iMac, 20", 2.0GHz
47,900 baht

iMac, 20", 2.4GHz
59,990 baht
iMac, 24", 2.4GHz
72,990 baht

MacBookPro 15", 2.2GHz
75,900 baht

MacBookPro 15", 2.4GHz
94,900 baht

MacBookPro 17", 2.4GHz
105,900 baht

MacBook, White, 2.0GHz
45,900 baht

MacBook, White, 2.16GHz
54,900 baht

MacBook, Black, 2.16Hz
62,500 baht

Mac mini, 1.83GHz Core 2 Duo, Combo
23,590 baht

Mac mini, 2.0GHz Core 2 Duo, Superdrive
31,590 baht

Cinema Display, 20"
25,000 baht

Cinema Display, 23"
37,500 baht

Cinema Display, 30"
75,000 baht

iPod touch, 8G
12,590 baht

iPod touch, 16G
16,790 baht

iPod Classic, 80G
10,390 baht

iPod Classic, 160G
14,590 baht

iPod shuffle, 1G
3,890 baht

iPod nano, 4G
6,390 baht

iPod nano, 8G
8,590 baht

Airport Extreme Base Station
6,850 baht

<! ----------------------------------------------------------------------->