By Graham K. Rogers
---
<! ----------------------------------------------------------------------->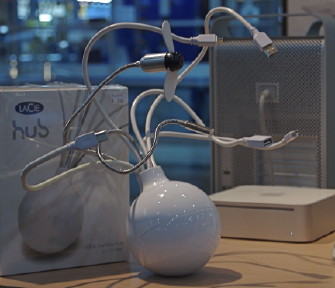 Tuesday this week was a religious holiday in Thailand, so not being at the day job and not being Buddhist, that gave me some free time to have a look round some of the other parts of the City of Angels that I do not normally have the inclination to visit.
A leisurely ride into the city on an air-conditioned bus ended at Siam for me when I jumped onto the BTS elevated system, usually called the Sky Train. My pass just had enough credit and at Thonglor station, I added 100 baht to top it up again. Soi Thonglor used to be a really busy soi that didn't go anywhere. It took a century before someone had the bright idea of putting a bridge over the canal at the end and link the Hi-So area with Pethchburi Road, with consequent traffic chaos there instead of the rabbit warren of back sois that abound.
I jumped on a motorcycle taxi and reminded myself why, after a 5 minute white nuckle trip why I stopped riding myself. For 15 baht, it is a cheap way to get the heart running and the blood flowing in the veins. It may also sometimes be a good way to get the blood flowing, which is why I stopped.
Thonglor as an area and a road is noted for high class restaurants, bars and high priced living accommodation. There is even a high class vet down there somewhere. As part of the continuous upward mobility, a small arcade was built at the entrance to Soi 15 with a few boutique shops, another restaurant, and one of Bangkok's increasing number of iStudio branches. This is run by Copperwired, who also have the Central World iStudio and the branch in Siam Paragaon.
As the area has a high non-Thai population, there are several languages spoken here and many shops will have people who communicate in English and sometimes other European languages, as well as Japanese and Chinese. The iStudio here employs a number of people whose English is good but the most popular is Pornthep who not only understands the way we speak, but also the way we think.
It was his day off. Never mind, I was able to chat to another member of the staff who recognised me and saved me the bother of collecting all the price sheets: he went and got them hiself. Nice touch. He confirmed that Leopard was to be available in the shop on Friday (this being Thailand, nothing is sure until it happens).
After a quick look around I was off to Thonglor where I grabbed another 15 baht of terror as far as the Sky Train. I headed back along the line as far as the Asoke station as this is one of the few interchanges with the MRTA system that runs underground.
The walk to the subway start is short enough, although everyone's bags were being checked, but with all these stations there is another huge trek to get to the platforms. As I was not sure which station I needed (I use this system so rarely) I had to buy a ticket instead of using the automatic ticket machines that operate in Thai and English, with any Thai money (coins or notes) and with the subway token give change: correctly I might add.
I only needed to go two stops. Another trek on arrival brought me to the entrance to the Fortune Town mall. When I first came to Bangkok, this was a large, empty plot at the intersection of Din Daeng and Rachadapisek Roads, Rachadapisek itself was a fairly quiet, but new and wide road that was just starting to grow the earliest restaurants and bars. Now it is one of the busiest roads in Bangkok.
Fortune Town itself looks a little seedy in places: floors and walls need to be livened up, but many of the shops themselves are newly decorated and bright. In here though, starting on the 3rd floor is the IT Mall and, while not quite the size of Phantip Plaza, it does an awful lot of business in its own right. As I arrived on Floor 3, there was a new outlet, Pro Solutions, I had not seen before.
It is a venture by an established (Apple-related) company here, Digitron. It seems to be a reseller but it is also a training establishment offering courses from Bqasic OS X right through to Final Cut Pro. There were price lists visible and computers on display, but it was closed for the holiday (22 - 23 Oct).
The IT Mall itself was not as busy as Phantip Plaze usually is (that is what puts me off going there) and its long, thin shape on only the couple of floors, does give it a different dynamic. There are lots of accessories available. I found a couple of shops offering the iPhone: that is part of that 250,000 not using AT & T, I guess. The wealth of accessories here is worth commenting on, as only a few years ago it was difficult even to buy something as simple as a printer cable here.
The center area had a fairly large show of used PCs and some stock that needed moving. I noticed, for example, a section of PC cases all priced at 390 baht ($12). Just past the center area was the first of the iStudio outlets: this one run by SPV. When I last came here it was done in Apple white, but now it is in a more subdued and mellow wood finish with some black shelving.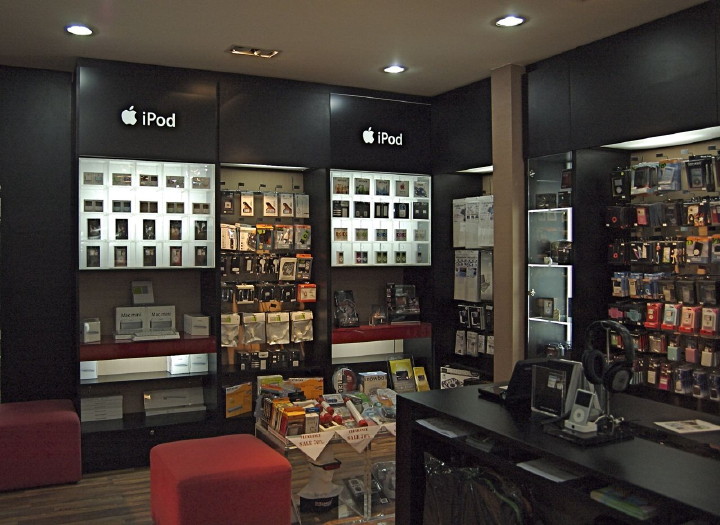 iStudio interior: SPV Fortune Town

One of the staff recognised me -- we had first been introduced at the Tiger launch -- and all the staff were cooperative. I noticed, for example, the same LaCie multiple connector that I had seen at MacWorld (priced at 3,100 baht here). They dragged it out of the display case and set it up for some photos.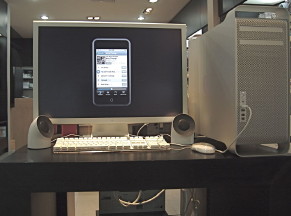 I was also shown some LaCie Firewire speakers set up with a 30" Cinema Display and a MacPro. Compared to the JBL Creature Speakers that I have been using for a couple of years, these smaller units gave a far richer sound. At 4,900 baht, they would make a good replacement for my aging units. I admit to some bias as I have always liked LaCie products and reviewed the Porsche hard disk that I bought some months ago: good design, problem free, reasonable cost.
Being able to take photographs in a Thai store is unusual as culturally, Thais fear this. I am able sometimes to take pictures in the Copperwired shops, but experience tells me to ask each time. Here, I was able to snap away quite happily. The price sheets were a bit of a let down, as these were not high quality and poorly Xeroxed.
On the way to the next iStudio, which was also run by SPV, I went up to floor four and past a Benq outlet where my attention was grabbed by the boxes and boxes of LCD monitors stacked there. A couple on display had the prices and I mistakenly thought the first was a 15". 17", the helpful young man said, which meant I was even more impressed by the price of 5,850 baht; the 19" alongside was priced at 7,950 baht.
The iStudio on the 4th floor was a little smaller than the unit downstairs and slightly box-like. They had a smaller stock and the prices were the same as the other outlet. I did notice here a couple of Wacom graphics tablets that I had not seen downstairs. The 6 x 8 USB tablet was 15,900 baht, while the 9 x 12 version was 20,500 baht. I also saw the Airport Extreme Base Station here at 8,900 baht.
That made an interesting comparison when I reached the next shop, iStore, which is not a proper Apple retailer, but has been in Fortune Town for years. The Airport device here was 7,490 baht. It is possible that the owner gets at least part of the stock from Hong Kong (another retailer is rumoured to be a regular visitor to Singapore). iStore had displays packed out with accessories but I saw no Macs, apart from an older G4 on the floor.
As I walked in a white rabbit ran acros the floor -- seriously -- which made a change from the usual fluffy white pampered dog one might find in some shops here: not the iStudios, I should make clear. It did however set the scene. The shop had no price sheets, but did let me take one of their own away with some alterations made in pen.
The sheet was a bit confusing as it is still showing old stock, particularly with the iMacs. There was a direct comparison with the MacBookPro and all prices in this shop were in the region of 1,000 baht more, which was unexpected.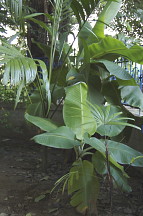 I left Fortune Town by the nearest exit, which was a mistake as I ended up with a fair walk in the sun. A security guard at this subway entrance asked me to open my bag and explained he was just not alowed to do this himself (which I prefer). The Mac was not a security threat.
Phaholyothin Station is the correct destination for Central Lad Phrao (not Lad Phrao Station), but it is still a lengthy walk in the subway to the exit and then another couple of hundred metres in the sun across a footbridge to a road narrowed by ever-present street-sellers.
Central Group are also in the process of remaking the entrance, so there are more delays as Thais are not particularly noted for lane discipline (on foot or in cars).
There are now a couple of IT areas in this huge mall, with the basement area dedicated to games and related products. The main area is on floor two, where there are a few computer shops, some telephone service providers and several banks. When I lived in the area several years ago, there were no computer outlets here at all -- just the occasional in mall demonstration -- so the entire market has grown from zero.
The iStudio, this time run by Com7, the same company that has the branch in Central Pinklao on my side of the Chao Phraya river is fairly new here, but was quite busy. This branch is on floor three and almost directly opposite the escalator, so it cannot be missed.
This store was also out of price lists, but I did get out of one of the staff here that Yes, Leopard would be here on Friday (I was told at the other that it would perhaps be arriving some days after the US release, despite the display on the iStudio website. I was also told that, on Friday at this shop there were to be demonstrations of the product pre-release sometime in the afternoon. An interesting feature here (this is not the US remember) was a Smart Bar, like a Genius Bar in a real Apple shop.

From Lad Phrao, I headed back to the MRTA and changed for the BTS to get me back to Siam where first I went into the Siam Discovery Centre and found that the iStudio there, which was slightly busy, still had the same scrappy Xeroxed sheets as a week ago. The girl on the displays between the shop and Starbucks next door, stopped what she was doing for long enough to hand me the price lists, but was then nose down back to her MacBook.
It was a bit diffferent in my final call, the Copperwired iStudio in Siam Paragon, where a member of staff latched on to me and then trailed me round. I know that they do this to be helpful (girls selling shirts do this in the departments stores too), and there is a certain security aspect in this behaviour too, but I want to browse (or buy shirts) without someone jumping in every time I look like I might be thinking about a product.
Prices here were unchanged from last week as well, but the setting here and the amount of stock does make this one of the more attractive outlets in Bangkok. I also trust the technicians here. Along with SPV, Copperwired probably also have the widest selection of accessories, particularly for iPods.
This was a busy day, but reasonably productive and I guess I just have the shops at Phantip Plaza to look at, as well as one or two retailers not in the mainstream.
In the main, prices were the same at all iStudio outlets and also the same as they were a week ago. There was one difference at SPV with one MacBookPro some 90 baht more expensive, but this could conceivably have been a typing error: a 9 instead of the adjacent 0.
Oh, and one more thing. I am not going to say where I got the information, but in one of the shops I was given the Thai price of the Leopard release on Friday: 4,790 baht, which is lower than I was expecting.
Edit: Early Wednesday morning, I was told that the release of Leopard has been delayed here until Saturday at 12 noon.

Current prices then . . .
iMac, 20", 2.0GHz
47,900 baht

iMac, 20", 2.4GHz
59,900 baht
iMac, 24", 2.4GHz
72,900 baht

MacBookPro 15", 2.2GHz
75,900 baht

MacBookPro 15", 2.4GHz
94,900 baht

MacBookPro 17", 2.4GHz
105,900 baht

MacBook, White, 2.0GHz
43,500 baht

MacBook, White, 2.16GHz
51,500 baht

MacBook, Black, 2.16Hz
58,900 baht

Mac mini, 1.83GHz Core 2 Duo, Combo
23,590 baht

Mac mini, 2.0GHz Core 2 Duo, Superdrive
31,590 baht

Mac mini, 1.66GHz Core Duo, Combo
18,900 baht

Mac mini, 1.83GHz Core 2 Duo, Superdrive
21,900 baht

Cinema Display, 20"
23,290 baht

Cinema Display, 23"
35,900 baht

Cinema Display, 30"
71,590 baht

iPod touch, 8G
12,590 baht

iPod touch, 16G
16,790 baht

iPod Classic, 80G
10,390 baht

iPod Classic, 160G
14,590 baht

iPod shuffle, 1G
3,450 baht

iPod nano, 4G
5,990 baht

iPod nano, 8G
7,990 baht

Airport Extreme Base Station
6,850 baht

<! ----------------------------------------------------------------------->