eXtensions - Sunday 2 April 2023
Sunday Notes: WWDC; UK CMA Wings Clipped; Another app Moves the Goalposts; Analog Camera Updates
By Graham K. Rogers
---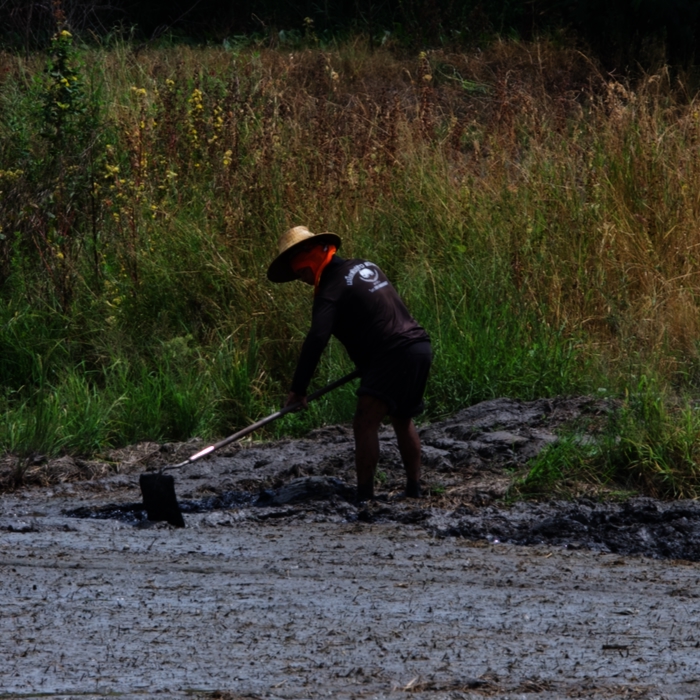 Apple released dates of WWDC and included an image: excitement follows as it is parsed and pundits make counter-claims. What will Apple announce at WWDC over and above software? The UK CMA missed key timing requirements in its enquiries about Apple and Google and erred in law. A recent camera announcement was sadly a student hoax; but other new 35mm film cameras may be on the way.

I was going to upload this item on Saturday, but with that being 1 April, it would probably be lost among a load of news that wasn't. Instead I waited until Sunday, when in theory there is no fake news, although that now seems to be an all-year-round phenomenon and not just reserved for the one day each year.
It is now April and that means we have just had the announcement about Apple's WWDC that as usual is to run in June: 5-9. Covid forced a change on Apple for the last 2 or 3 years, although last time there were a number of invitations to a hybrid event. I had email a couple of days ago with an image that immediately said to me: Apple Glasses.
Several other sources made the same connection, except for Ming-Chi Kuo who suggests the device will probably not appear at WWDC (Hartley Charlton, MacRumors), although in January he was sure they would (Eric Slivka, MacRumors). Now he cites in-fighting at Apple, which was initially reported by Mark Gurman, followed by other sources. This suggests that delays "have likely pushed mass shipment of the device back to the end of the second quarter or into the third quarter".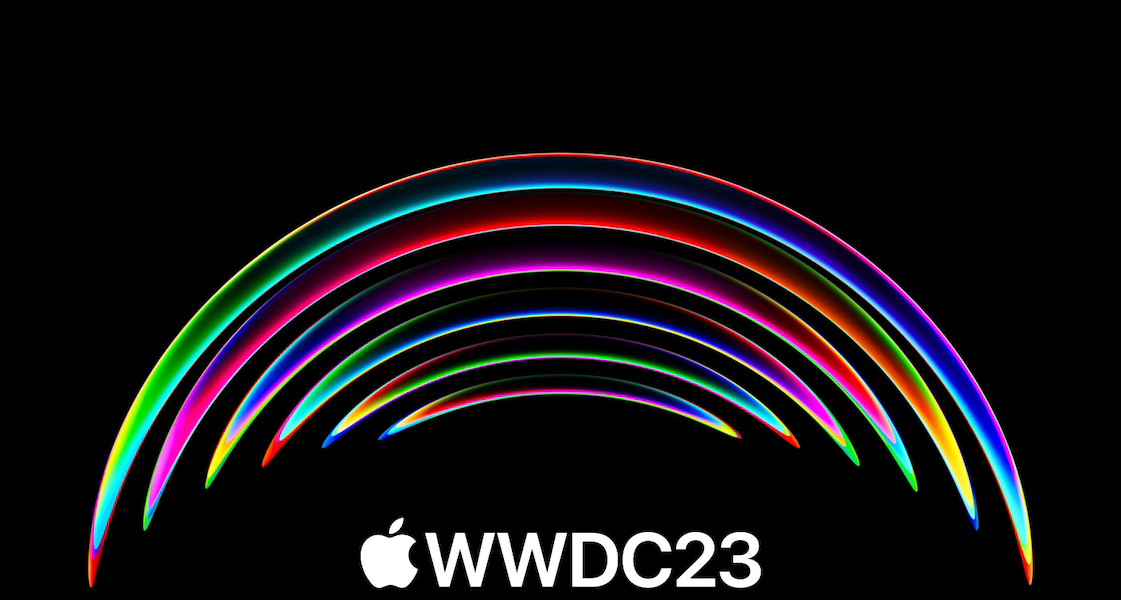 A local developer (Bonku) was invited to WWDC last year and sent me lots of photos while he was there (with permission to use them). That easing of restrictions is expected to continue. What Apple needs is a large media contingent as well as live attendees. It has run well with the online developer sessions, which helped many who would not otherwise be able to afford the journey (or the hotels); but as someone who has been to WWDC on a number of occasions, this does work much better with people and an appreciative audience.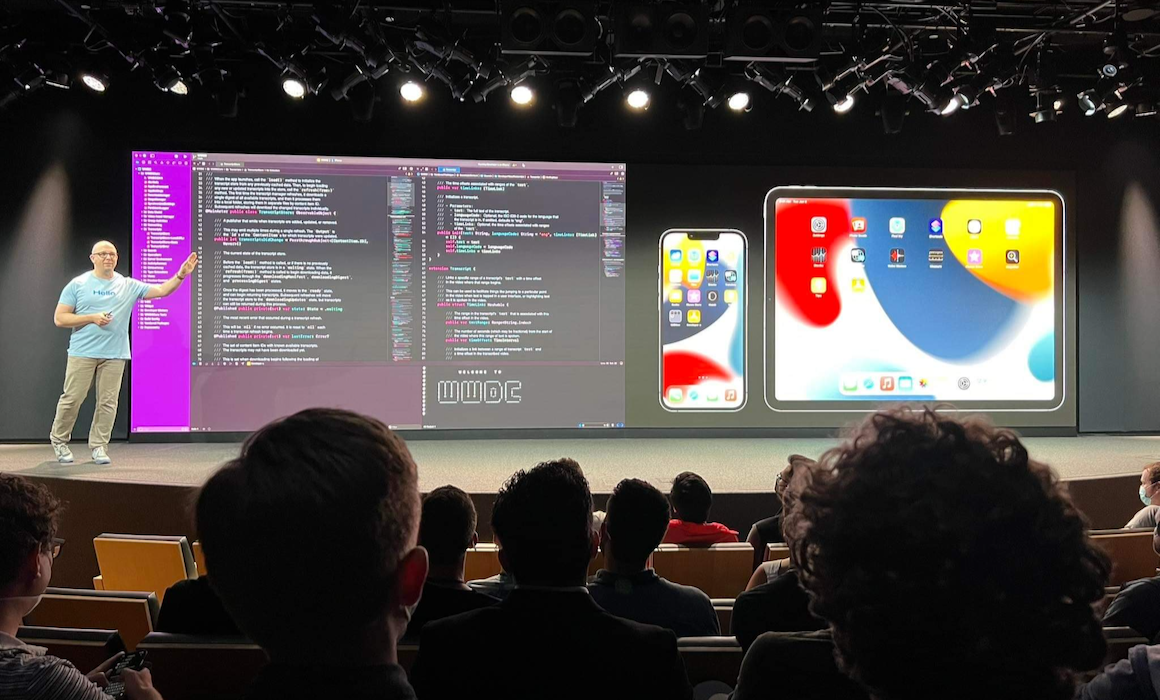 WWDC 2022 - Image courtesy of Brian Triya (Bonku)


There is also the question of what will be announced. Almost certainly there will be information about updates to iOS, iPadOS, WatchOS and macOS, including what the new name will be (if Apple continues with names). Current versions of these were all updated this week, arriving Tuesday morning here. Many hope that new devices will be announced at WWDC, including Macs, and especially a Mac Pro. A potential announcement could concern the VR/IR goggles that have been under development for some time, although the rumor sources have sowed some doubt about what these will do. There have been stories about a lack of apps, no real purpose, and their readiness for the market.
Despite there also having been rumors about a disagreement on the release between Tim Cook and the engineers at Apple on the question of readiness, this week it was reported that some of the top Apple management went to an event at the Steve Jobs Theater at which the goggles were demonstrated. This is a likely to have been one of those situations during which there would have been questions pitched so the device is still under some form of development. Some are reported to have been skeptical (Palash Volvoikar, iMore), but this seems to be more pundit-speak than based on concrete evidence.
A comparison was made with the Apple Watch which did not have a well-defined purpose when it was first released. Like the iPad, as developers produced new apps for it, the Watch began to have some more definition and became core to the health program that integrates with the iPhone and external sources, such as hospitals and university surveys. When I met Dr Richard Milani here in August 2016 he outlined some of the ways even back then in which patients had been helped by using HealthKit tools.
He was particularly keen to discuss the ways in which the use of HealthKit and related devices are able to improve post-operative care. At that time he was looking to the future and had in mind several ways in which the Apple Watch could assist patients. We are now several years forward and the device has developed a number of other features that have helped patients, doctors and researchers. There is more to come.
Home blood pressure monitoring and (invasive) blood-sugar level checking

While non-invasive testing for blood sugar levels was a dream even then, the ways in which monitoring is now done have been improved, but the possibility of a check that does not involve the drawing of blood (however small the sample) is expected to be some years off still.
At the same conference that I met Dr Milani I was able to try out a version of Microsoft VR goggles. Admittedly it was early days, but I could not make them work effectively and the limited vision area available to a user seemed a serious restriction: how to view files in the virtual area above when the space seemed too small and none of it was all that clear anyway.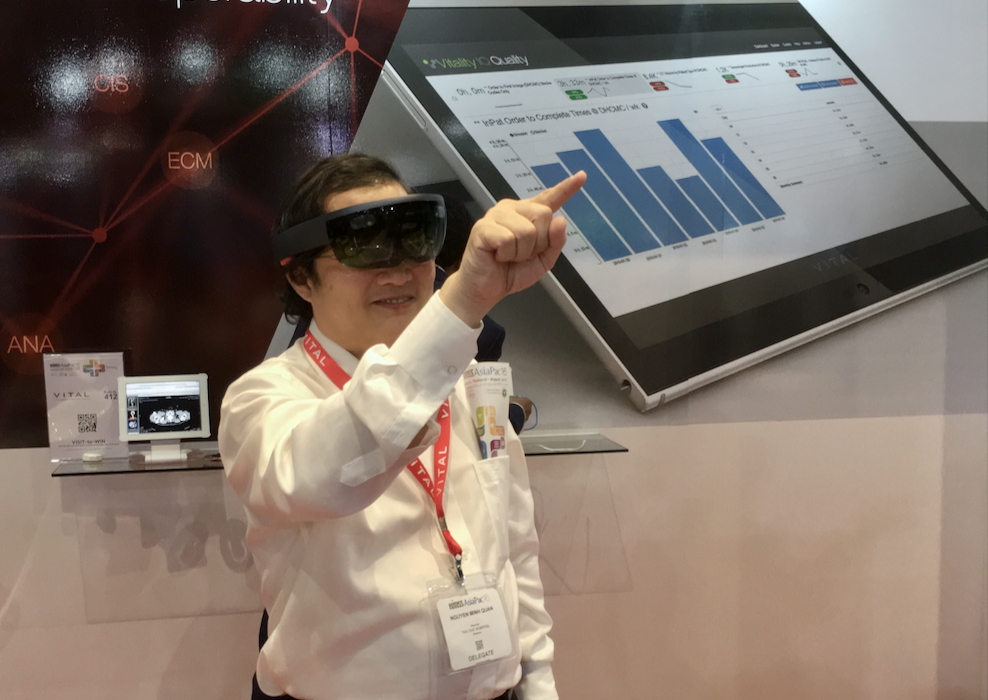 Some months ago there were some alarming scenes at an Apple store in Hingham, Massachusetts, when a vehicle crashed through the windows killing one person and injuring several others in the store at the time. In follow up reports in the days that followed, the driver was identified and the early information was that his foot had become stuck in the pedals. I thought perhaps between two pedals with the sparse information at the time. I had seen this after an accident on a 3-pedal (manual) car, which traps the driver with the forces involved in an accident. I had not seen this as a cause of an accident, although wet shoes slipping off brake or clutch pedals have caused problems. With the accident at Hingham I was guided only by what information was available online. If that were the reason for the accident, it would minimise the criminal risk to the driver.
However, the Plymouth County District Attorney's Office has now been indicted by a Grand Jury on second-degree murder and other charges (Dennis Sellers, AppleWorld Today), which strongly suggests that either in interview, through the vehicle examination, or because of other evidence (witness statements, defendant interviews) they have sufficient to prove this in court and the jury thought that there a case to answer.

Last year I was critical of both the EU and UK examinations of Google and Apple with regard to the ways that the respective online stores were administered. Particularly with the UK report, it gave the impression of post hoc, ergo propter hoc decisions. The authorities had decided, particularly in the case of Apple that there were monopoly practices, but dismissed any contradictory input from Apple, paraphrased as, We note Apple's input but dismiss this.
The probe appears now to have been shut down (Juli Clover, MacRumors) by the UK Competition Appeal Tribunal (CAT) because the CMA "missed key timing requirements" and erred in law. Some of those EU enquiries conducted by Margrethe Vestager and her commission have also been found to be wanting when tested in the courts. Needless to say, the CMA says (at this stage) that it will appeal.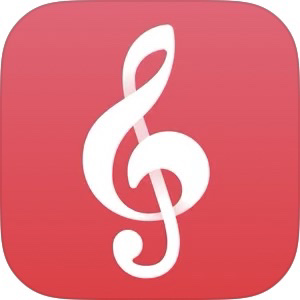 As well as the OS updates this week , Apple quietly released its new Classical Music service. I did not realize at first when, on Monday, I looked at the Music app on the iPhone and saw some unusual suggestions, related to a search I had done. Later in the day I saw a message from Apple to tell me that the Classical App was ready for download but those (like me) with automatic downloads would already find it installed (it was). I had a look but it may need some familiarity before I can get the most out of it. MacRumors (Joe Rossignol) carried an explanation about it which linked to an Apple support document, but the reader comments were quite interesting.
I hope that Apple takes note. One reader commented on problems with search. Another suggested an iPad app too (the mini iPhone one is really not the best experience. A third commentator loved it and wondered if anyone had tried it on the Mac, although another comment said this would not work. In a press release, as reported by Stephen Warwick (iMore), Apple has a,lso confirmed that this new app will become available "soon" for those using Android devices too.
With the updates this week there was information about a "hover" feature that worked with some devices, including the iPad Pro and Apple Pencil 2 that I have. However, it was not until Friday when Keynote, Numbers and Pagers were updated that the feature would work with them. I had wondered why I had been unable to use it. However, I have still not been able to make the feature work, despite turning on Hover Text in Accessibility. A box appears on the screen, but I am fairly sure there should be more. I will wait until someone produces a YouTube video and then I will see what I have missed when trying to make this work.

In an email this week I was told that an app I have been using since 2017 is about to switch to a paid model. Cardiogram has helped me monitor heart rate during the day and, just as important, at night as well. It integrates with the Apple Watch to take readings and, along with the Apple Health app has given me feedback on what I am doing right and (sometimes) where things could be going wrong. I will look at the terms to be offered before making a decision, but along with many other users they have been able to use my data, as other apps (and Apple) have done in order to make some health predictions.
Because I joined the surveys that were done with the app, I am told that the free membership will continuing for a few more months, but eventually I will have to decide on the true value of this, or consider alternatives.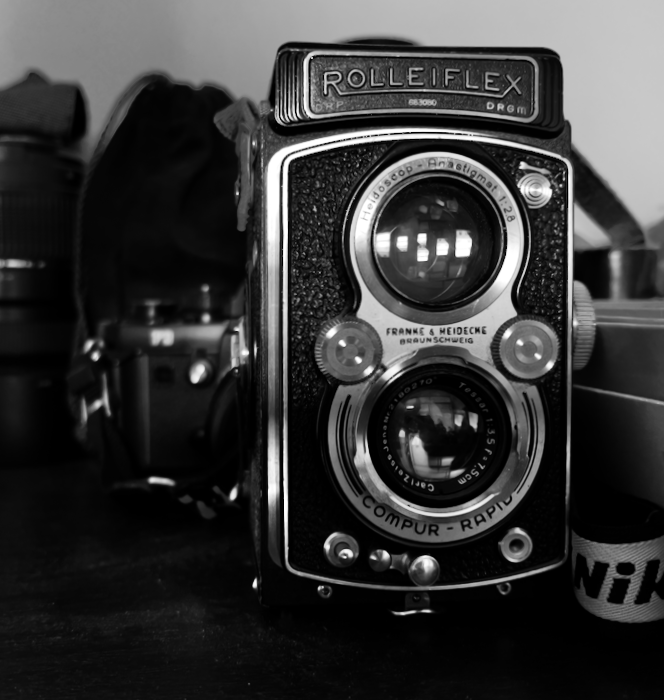 In the last online comment I discussed a couple of rumors concerning new cameras: a 35mm Pentax; and a digital Rolleiflex Twin Lens Reflex camera, which sounded rather odd. The original article on the DTLR by Jaron Schneider was skeptical, but this was followed up a day or so later by Bellamy (Japan Camera Hunter) who noted that, despite interest, the account had suddenly disappeared.
A day or two later, Pete Coco on FStoppers confirmed that not only had it all been a hoax, but that a student named Josh Knox had set it up as part of a "study on the world of product pirating and the spread of misinformation on the internet". It sounds like it worked. What Knox did not know when he set it up was that the Rollei name was still owned by someone and once he realized, the information was deleted. Pete Coco thinks Knox deserves an A for the idea.
Another camera that has been floating around in the rumors for a while is a 35mm device from MiNT Camera. PhotoRumors has a PR report from MiNT showing that they have been working on a 35mm compact camera for a while.
On the other hand, despite many new films arriving each year, which gives me some hope for the future of analog photography, Jaron Schneider (PetaPixel) reports that Fujifilm Japan has stopped accepting orders for some films, "due to a shortage of raw materials." Schneider notes that "some of these films have already been discontinued in the United States. Fujicolor Superia X-Tra 400, and Fujicolor 100, for example, are no longer available."
Graham K. Rogers teaches at the Faculty of Engineering, Mahidol University in Thailand. He wrote in the Bangkok Post, Database supplement on IT subjects. For the last seven years of Database he wrote a column on Apple and Macs. After 3 years writing a column in the Life supplement, he is now no longer associated with the Bangkok Post. He can be followed on Twitter (@extensions_th)
---

For further information, e-mail to
Back to eXtensions
Back to Home Page

All content copyright © G. K. Rogers 2023