Saturday Notes: OS Updates, Product Releases, Changes and Comments
By Graham K. Rogers
---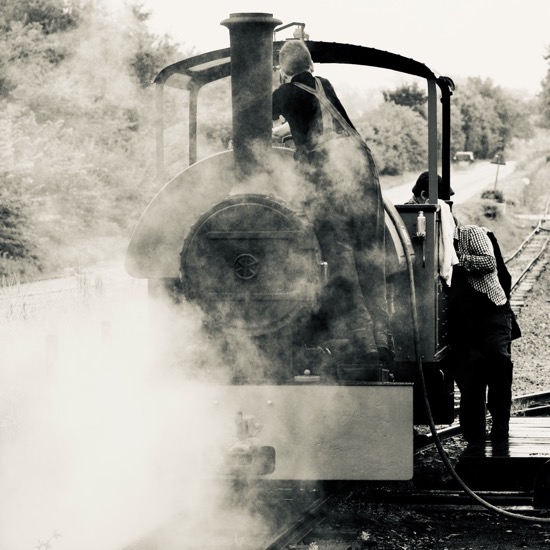 Updates appeared for all Apple operating systems this week, apart from Monterrey which is expected in a few weeks, perhaps at the same time as new Macs. Safari was updated separately. The EU wants us all to use USB-C: Apple objects. The email Tim Apple sent to staff about leaking was leaked.

News reports in the last few days tell us that the iPhone 13 and the iPad mini have begun to ship and are arriving in customers hands. There will be lots of "out of the box" comments. Early comments mentioned that Apple had not compared the A15 to the A14 but output from other handset manufacturers.
It was suggested that the relative increase in power was lower than usual. Jason Snell (MacWorld) comments on this: the real point is not the total power potential, but the built-in features and what the whole system on a chip (SOC) is able to do. This ability to add features that other chip makers would not have (at least not right away) was discussed back when the first A-series chips appeared in the iPad. This flexibility was amplified when the iPhone 5s used a 64-bit version of iOS for the A7 leaving other handest makers months behind. The M-series SOC was a development of the A-series and there is more to come.
iPhone 13 and iPad mini - Images courtesy of Apple

The iPhone 13 should be available for order next week here (1 October), but the iPad mini still shows "Check back for availability". With news that orders for this updated device - that is seeing some good reviews - are beginning to slip, I am less upbeat about when ordering for this may open. On a positive note, on Friday morning Apple sent me three messages: next episodes of Ted Lasso and Morning Show, and the arrival of Foundation on Apple TV+.
I watched all three, starting with the feel good Ted Lasso, which is beginning to have some undercurrents. I followed that with the current episode of The Morning Show which has a fair balance of behind the scenes angst. Just imagine what GBTV was like. As Friday evening wore on, I settled down for a look at just Episode 1 of Foundation, which may actually run up to 80 episodes. The one word that kept popping into my head was "scope" - it is after all about a galaxy. It seems a slow burner, which some early viewers turned into, "slow". Instant gratification it is not and much groundwork was laid down in that first look. I will return later to the other 2 episodes currently available.

The EU has released a document that outlines its intention that all mobile phones will be moved to the standard of USB-C cables 2 years after the planned legislation is passed (Matthew Weaver, Guardian). Apple is still using the Lightning cable (and port) on the latest iPhones, as well as the latest iPad (Generation 9), but all of its other devices (apart from accessories) use USB-C. I have long hoped that the iPhone would switch to this connector type, so was a little disappointed with the iPhone 13 inclusion of Lightning. Apple is not happy with the new EU approach which is designed to reduce electronic waste: chargers are also banned from sales of new phones, although Apple has already switched to not supplying these (to great criticism when it was announced). Other handset manufacturers have followed this practice.

I use USB-C for almost every connection these days and even bought some spare Thunderbolt 4 cables to make sure I had optimum potential: looking to the future. I was interested to see the data transfer speeds of the respective cables and found this on Pitaka
It's known to all that Lightning cables transfer data at USB 2.0 speed, which is 480Mbps/60MBps while USB-C can handle USB 3.0 speed, with transfer speeds as fast as 5Gbps/640MBps (USB 3.1 Gen 1), or 10Gbps (USB 3.1 Gen2), and Thunderbolt 3, the superset of USB-C, is capable of 40Gbps.
Theoretical transfer speeds with Thunderbolt 4 are said to be up to about 3,000MB/s (Zeus, Windows Central). Apple insists that the EU approach will stifle alternative development, but it is difficult to see how this is much more than territorial protection: Lightning now, another proprietary cable later. I am all for this move and would be happy to see USB-C for all devices. It is not as if current devices will stop working of course, and any transition will take a while as Michael Simon (MacWorld) explains.

Apple released its iOS 15 update on Monday (Tuesday here and a number of other countries) which also meant a release of iPadOS 15, along with updates to tvOS and WatchOS, but not macOS. That is on the coming soon list, but I would guess this may be tied to a product release. There has been much speculation about new Macs and this is to be expected, particularly with the count down to the end of year holiday season, which for Apple starts with Thanksgiving on Thursday, 25 November. Subtract a week for deliveries and another for orders and I guess there would be an announcement about new models around 9 November at the latest. As that is over a month away, if Apple has these in production, there could be an announcement by mid-October. I am hedging my bets here, but this is no more accurate than Wall Street analysts and rumor mongers. It is based on simple analysis and previous history.
Just after I had started the install process for iOS 15, there was a micro power-cut here: less than a second, but enough for the WiFi router to restart. I looked at the iPhone and it showed Update Requested as it had before. I tried to make the request again, then restarted the device, with no change. However, when I connected the power cable (it was already fully charged) there was a note that the request had failed. I started again. Ankur Thakur (iDownloadBlog) has a series of suggestions for what to do if the download gets stuck, although thankfully I did not need to go as far as resetting the Network settings.
The download was quick enough, although Preparing Update went on for several minutes. Eventually the Verify panel appeared and I clicked on that. I also updated WatchOS to version 8.0, but had to remind myself that this still needs the Watch itself to be on charge, even if it does have full power. As soon as I fixed that, the download began. I will deal with tvOS later. The Watch update brought some changes, especially to workouts and I am still looking at others.
The shortcuts to specific apps, via the button on the side (not the crown) had been changed and the regular breathing app was not shown. It took me a while to find that and it now has an additional Reflection mode that tried once and may not worry about again, although it keeps pestering me late night and early morning. The breathing part had also been changed with a different moving icon.
The original display had been used since this app first appeared and was a stable feature. Not now, there is a moving icon that varies its display and is not uniform all the time. Rather than allowing me to relax for a minute, this has disturbed me. I will doubtless become used to it, but why fix what is not broken?
During the upgrade to iOS 15 I had a look at the Terms & Conditions, actually taking time to read through the new iCloud T&C, which were also sent by email. I requested the whole T&C (iOS, iCloud, et al) as well. I always ask my students about these conditions that we all agree to, but none read them and nor do the majority of users. We agree, for example, not only to the revised T&C but any future changes that Apple makes. Other companies have almost identical conditions. With time pressure, it is often hard to read such legal information when an update is pending, and here it can be more difficult. In the past, one section was entirely in Thai, so I could never hope to understand that, but clicked Agree anyway.
Although there are some interesting new features with iOS 15, some of these are either not yet available, or not available for earlier iPhones, particularly those with pre-A12 Bionic chips. Joe Rossignol (MacRumors) has the details, which begin with "Portrait mode in FaceTime, which blurs your background and puts the focus on you" and includes the interactive 3D globe in Maps. This is on my iPhone 11 Pro. Two new features that I had been keen to try out were the ability to copy text from images, and the new information panel (metadata) in Photos: long overdue.

Apple also released a major update to Safari for those with Big Sur and Catalina. That can be found in System Preferences > Software Update. At 121 MB it was not large and only took a minute or so. I quit Safari first, updated then restarted the browser. A panel with the new features, including Tab Groups appears. I used the feature in History that allows me to Open all pages from the last session, and I was back to normal working in a couple of minutes from starting the download.
It will help me organize teaching better as the groups synchronize over platforms. I often download a series of pages for a specific subject, as well as my day to day interested. I normally have these organized by pages: one for my interests, one for the graduate class, another for the undergraduates. When not in use I save these in the Dock on the Mac but this has also meant I may have to move tabs from one page to another as I find more information that might be used in class. Using groups should alleviate this.
The Safari update with iOS 15 changed the shape of the tabs. The Groups feature on the iPad Pro seemed easy enough to work with: creating a group, working with the tabs within the group and switching between groups. I had also made full use of the feature that showed all tabs created and this does not seem to have changed, although on the iPhone, this is now the same as the iPad rather than the "fan" display before, which I prefer because of the limited space on the screen. On the iPhone, the update to Safari also moved the search bar to the bottom of the screen, which I hated: Settings > Safari > Tabs. There are some other new controls in the Safari section.
There have been a lot of changes on my devices this week. Some were reset in the updates and I keep having to find the right settings to put the features back to how I like them. One new feature I do like is Translation. When highlighting some text, we usually have options like Select or Select All and Look Up, but an additional option allows the user to translate the text selected. Unfortunately although it makes the offer, this feature does not do Thai, at least not at the moment.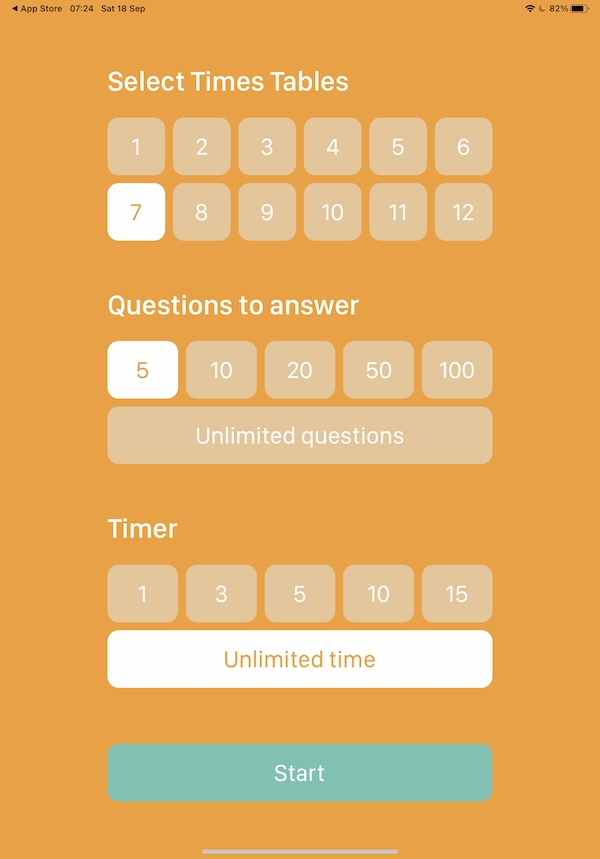 I kept to information around Apple's recent event last time, but there were a number of items that I had already bookmarked, such as a simple app that was created by a columnist on iDownloadBlog because there was no other app that would fit the bill for his young child.
One of the basics of mathematics in the UK when I was first at school were the times tables: 1 through 12. These were learnt so thoroughly by rote that I never forgot and as soon as a pair of numbers are mentioned, say 7 x 9, the answer (63) appears in my head.
It is easy now, but not when you are starting as a 5-year old. Sébastien Page (iDownloadBlog) decided to make his own app for the purpose: a straightforward app that runs through each of the multiplication tables. It is also interesting to read his demands and the parameters he set while he was working on the app, even the colors were chosen as part of a strategic decision-making process.
There are tests that can be timed or untimed, with selections of how many questions are in the test. Simple and aimed at the one task. Times Tables - Multiplication is a useful app for those with youngsters beginning with maths.

In the past couple of weeks I have mentioned the litigation that is being prepared against Apple with regard to some of the new 13" M1 MacBook Pro computers that have cracked screens. I damaged the screen of my previous (Intel) MacBook Pro, but that was clearly my fault and I paid for the replacement. While that was going on I also picked up a basic MacBook Air and had a lot of good use out of it in the year or so I owned it. I gave it to a friend who was suddenly in need of a computer, so it went to a good home.
Why some of the new Macs are cracking the screens is a mystery right now, although I expect Apple is looking into the precise history of the models affected. Mine is not and it was one of the first shipped here. Whether or not a specific batch of screens, or some specific Macs were assembled with some odd fault, is not known at the moment. Nonetheless the lawyers have developed the complaint against Apple and Sami Fathi (MacRumors) reports that they are now suing Apple for false marketing and fraud.
My first instinct there is that that one is not going to stick. For every damaged screen, there are hundreds (or more) that are fault-free. Tacked on to the fraud are "fraudulent business practices, misconduct in customer support, and violation of consumer law" which are more an attempt at leverage. I have been watching Suits on Netflix so am now an expert at law, and this looks like a tactic that Harvey Specter would use to encourage early settlement from Apple's coffers. I do not think that is going to work. Rather than the gospel according to Harvey Specter, Sami Fathi looks at a number of aspects that both sides have already presented in this class action lawsuit.

The iPad mini has begun deliveries and early reports are positive (see below). It is apparently highly popular and orders are reportedly now being pushed back to November. The iPad mini is still not shown as available to order here of course (Joe Wituschek, iMore). That has me in a slight difficulty. This week a friend messaged me asking about new iPads as his was now too old and needed urgent replacement. On a tight budget, the iPad mini was too much for him (he does have a MacBook Pro too) and like the new Generation 9 iPad this is not available for order here at the moment. I thought for a few seconds and offered my older iPad Pro (with A-series chip) for a price somewhat lower than the new iPad.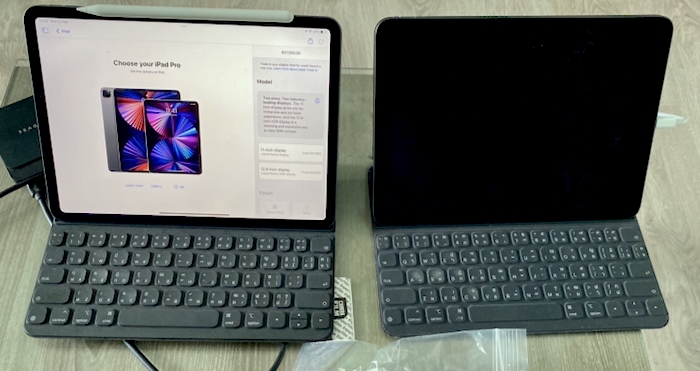 iPad Pro - new and old

As he was visiting Ratchaburi for work with a colleague, he would be passing my location on the trip home, so I suggested collection that day. That was agreed. I installed the iPadOS 15 update and reset the iPad. He was late. He always is. But I handed it over and gave some quick instructions as well as information about what the latest update can do. I was still using the iPad Pro (as well as my M1 iPad Pro) on a daily basis.
For basic writing and internet work it is fine. It may be a little slower for photo-editing, but this is not a serious defect, even with the large RAW images I use. With my spare iPad now gone, that leaves me open to the iPad mini. I had been thinking about this since it was announced, but had a problem justifying it to myself. Now I can, once it becomes available here. With the delays I may well see the iPhone 13 first.

Apple has had a problem with leaked information for a while and it has been particularly obvious for the last couple of years. It spoils the rumor game because, if the information is coming from internal sources, it ceases to be a rumor. With the original iPhone, the speculation was fun, but it is less so now, particularly with some of the rumors that are based on limited supply chain information and seem aimed more at stock price movements.
Apple too is annoyed, although the failure of some rumor-mongers with the recent Apple Watch announcement put a smile on my face. I am wary about my own speculation and work with known facts and history to comment on probabilities. In an email this week, which was ironically also leaked, Tim Cook wrote to Apple employees telling them that this is not part of the Apple and leakers have no place at the company (Hartley Charlton, MacRumors). That is sort of ominous but with any company there are non-disclosure agreements. I dug up my notes on the 2007 iPhone event for a class this week and found a non-disclosure agreement tucked in the pages. A few years ago I asked about sharing that with students in my Ethics and Morals class, but it was suggested that the agreement itself was not for disclosure. I kept to that.
Graham K. Rogers teaches at the Faculty of Engineering, Mahidol University in Thailand. He wrote in the Bangkok Post, Database supplement on IT subjects. For the last seven years of Database he wrote a column on Apple and Macs. After 3 years writing a column in the Life supplement, he is now no longer associated with the Bangkok Post. He can be followed on Twitter (@extensions_th)