Monday Diversion: Notes on iPad Pro Delays; MacBook Pro Coolness; The iPod Touch Lives
By Graham K. Rogers
---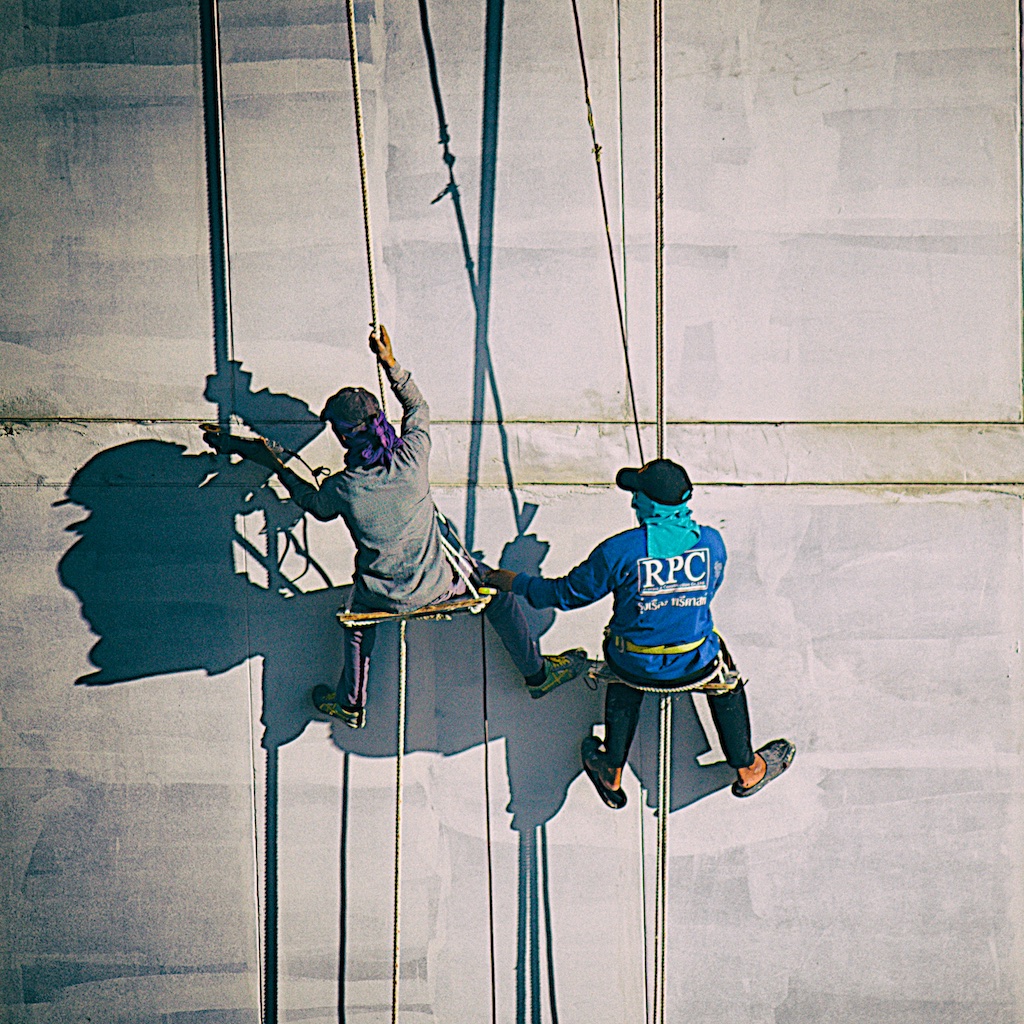 Some iPad Pro delays extending to July. The cool M1 MacBook Pro. The machines stopped last week albeit only for a few hours. Apple surveys on the Apple Watch here and in Brazil. Colors for the future MacBook Pro. The Gates divorce turns in a different direction.

I am even more pleased about having choosen the 11" iPad Pro over the 12.9" version as there are now reports that delays on delivery are now extending to July (Joe Rossignol, MacRumors). I was never even thinking of the larger version, but that will be a shock for some customers. There had been warnings this could happen because of screen manufacturing problems, but this is not what Apple wants to hear. Several sources are also reporting that Walmart has dropped $139 on the 11" version. Several large retail outlets in the USA offer Apple products at discounted prices, but this is something that never happens here for current devices.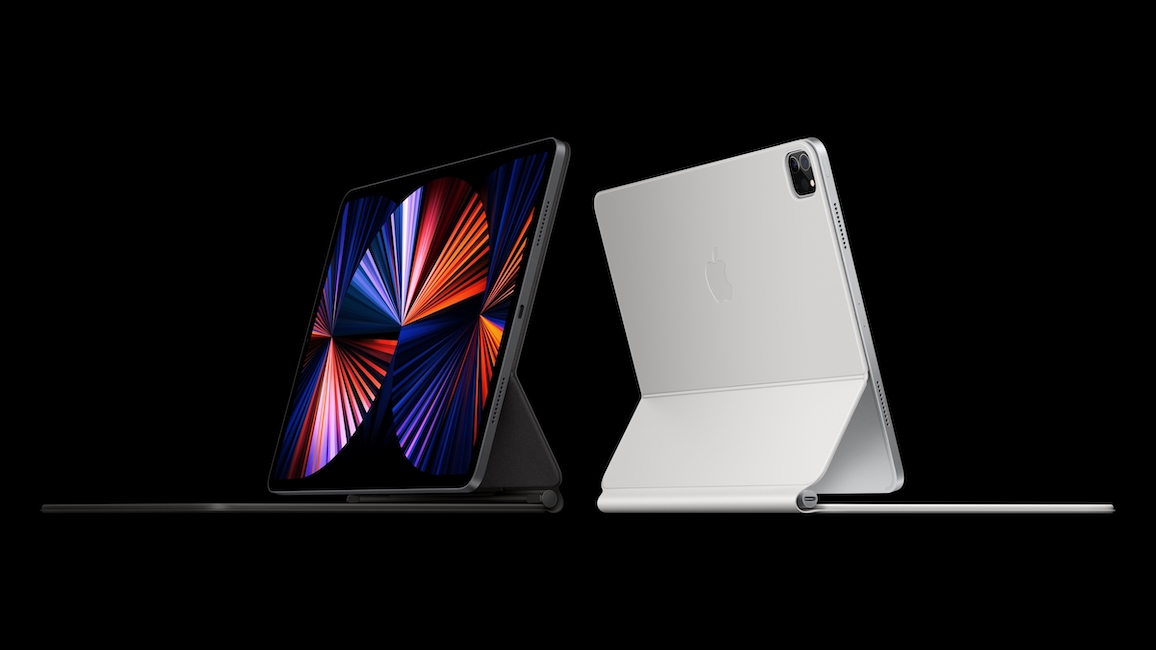 M1 iPad Pro - Image courtesy of Apple

I keep checking the local online store and neither the WiFi+Cellular iPad Pro, nor the AirTags are offered for order at this time. The AirTags are available in a number of countries and some are dissecting them to see what Apple has built in to the devices. One has not only managed to hack into the AirTag, but also reprogram the device (Malcolm Owen, AppleInsider). This can change the specific functions available and is a security problem for Apple, although doubtless they are examining the exploits revealed so far and hopefully will come up with a fix or two.
AirTags - Image courtesy of Apple

I really enjoy the M1 MacBook Pro, although to tell the truth there are few obvious differences from my previous (Intel) Mac. If Rosetta 2 is being used, I don't know. Although some photo-editing work is faster I do a lot of the early adjustments on the iPhone or iPad Pro. One thing I do notice is the heat; or rather a lack of it. The surface feels cold even though I am working on it now, admittedly only typing.

While the fans in the previous MacBook Air (Intel) would race away after a lot of RAW importing and editing with Photos, I cannot be sure if I have ever heard the fans. In the last 30 days it has reached a maximum of 38 degrees and peak load was Saturday morning when I was probably watching a news video on Twitter. I take these figures from iStat Menus that I have used for years on a variety of Macs.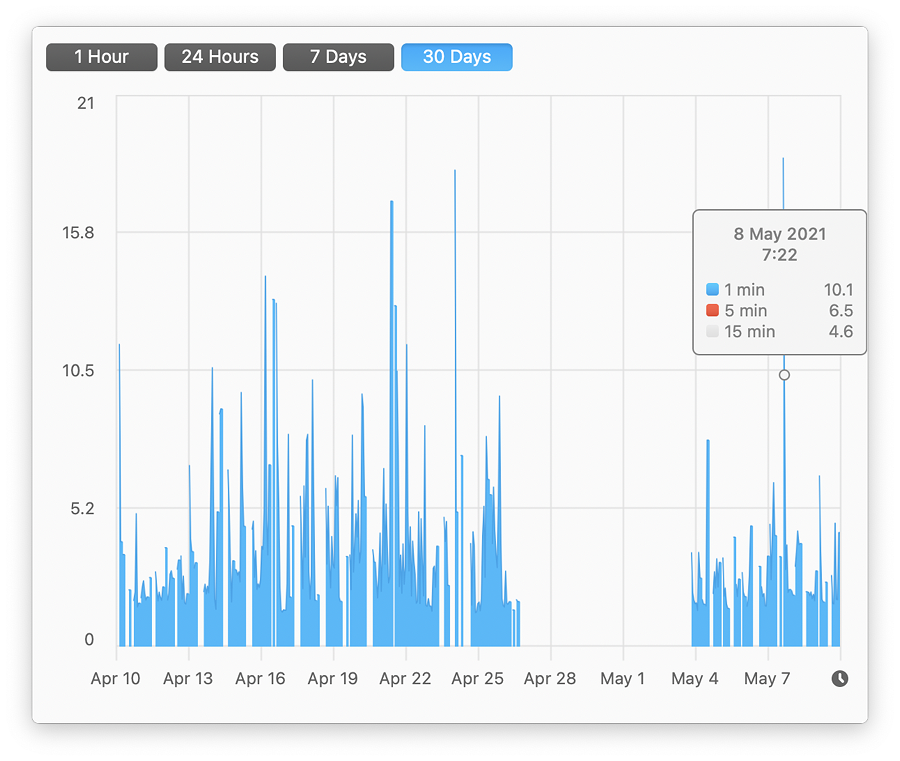 iStat Menus Display

Last Tuesday, which was a public holiday here, there was a series of downloads from Apple. I had updated all my devices, apart from the Apple Watch, which I save for the evening. Within a few minutes of uploading the files for the Tuesday Notes the power cut. It had been raining for a while, but loss of power is rather limiting. Fortunately the devices were charged and I had a 4G signal so could read in the fan-less heat. I was reminded of EM Forster's The Machine Stops and a couple of days before had read a comment (Ben Wright, Prospect) linking the existence in times of lockdowns with Forster's short story.
My Internet provider sent a message to tell me that the power was out courtesy of the Metropolitan Electricity Authority and it would be back at about 9:30pm. I was not happy. In the end it took 3 hours for this outage to end, with the power returning as it was becoming dark. All the devices were reactivated with the WiFi taking longest. I made some tea and updated the Apple Watch.

I recently linked to an article that suggested Apple was looking into blood pressure, blood-glucose and alcohol levels detected by a future Apple Watch. I was all for the first pair, but les enthusiastic about alcohol levels for reasons I set out then. Tyler Lee (Übergizmo) discusses a customer survey that was sent out by Apple that seems to have focussed on the blood glucose monitoring feature. The article suggests that this could be further along the road than had been thought. The survey went to customers in Brazil and I just remmebered I have had Watch survey in my inbox for a few days. It went through a whole series of questions on health, general usage and related products. There was one question on blood-glucose but that referred to 3rd party device use.
There have been a number of rumours about future versions of the MacBook Pro with the M2 chip. After the colour options of the iMac, there is a question about whether any upcoming Macs would go for the same variety. That would be nice, but if this were the case, why were the current releases not available with such color options, or the upcoming iPad Pro (still in the preparing stage and not yet out for delivery).

On Monday this week an Opinion item by José Adorno on 9to5Mac caught my eye: Let the iPod touch rest in peace - or upgrade it now. I had several iPods early on, and in 2008 bought the iPhone lookalike after pushing the manager of Apple in Thailand about the availability. Users of version 1 of this could update to V2 using a download from the iTunes Store, but at that time there was no iTunes Store here. I saw him in an Apple Store in San Francisco just after the announcement and he assured me he would be in contact when we returned to Bangkok.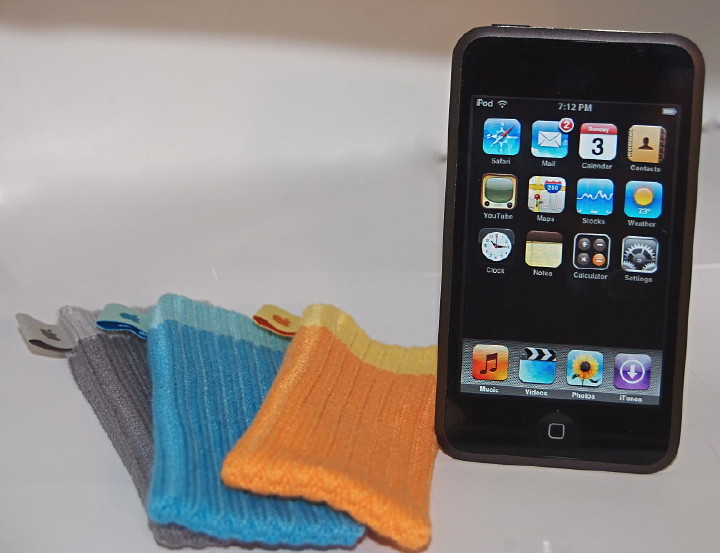 It was almost an iPhone, at a time when the iPhone itself was still a year or more to arrive here. It did not have calls or messaging, and depended on WiFi; but I had my music and a nice interface. In early 2008 there was not much that could be done here, but in the middle of the year, the App Store was made available to users here. With a trickle at first, then a great flood of useful apps (some less useful) things began to look up here. The image I use was taken when it arrived when I also had some Apple socks. I miss those too.
I was not sure if the iPod was still available, but as Adorno writes, while it is not publicized by Apple it is still on sale. I checked in the online store here, and there it was although I could only find it using the search facility. It has the A10 fusion chip and starts at just under 7,000 baht, with the cheapest iPhone (SE) starting at 14,900 baht. With the features, the apps, iCloud and the wider availability of WiFi now, there is a lot more that can be done with this.

Announced by a lot of happy users, and by Twitter, it is now possible to show large images in a message and not have them cut off as before. Like a lot I was often disappointed by the mess this made of my photographs or other images when I posted them. Users had to tap on an image to view it full size, but many would not bother. Now the previews can be seen properly.

There is more news following the surprising Gates divorce announcement last week. Only this week it is curioser and curioser as Melinda was in touch with her lawyers a couple of years back. This was apparently as a result of Bill's contact (or relationship) with Jeffrey Epstein, after his conviction (Daniel Politi, Slate). Bill was apparently also a passenger on the Lolita Express: Epstein's plane that has carried many rich and famous people to and from his island in the sun.
That in itself is not a link to impropriety, nor is inclusion in Epstein's Black Book. Both Epstein and Gates were billionaires and there may have been some charitable connections, although this is an unlikely reason for a divorce on its own. There have also been a number of questions over the years about just how Epstein earned all that money.
Graham K. Rogers teaches at the Faculty of Engineering, Mahidol University in Thailand. He wrote in the Bangkok Post, Database supplement on IT subjects. For the last seven years of Database he wrote a column on Apple and Macs. After 3 years writing a column in the Life supplement, he is now no longer associated with the Bangkok Post. He can be followed on Twitter (@extensions_th)