By Graham K. Rogers
---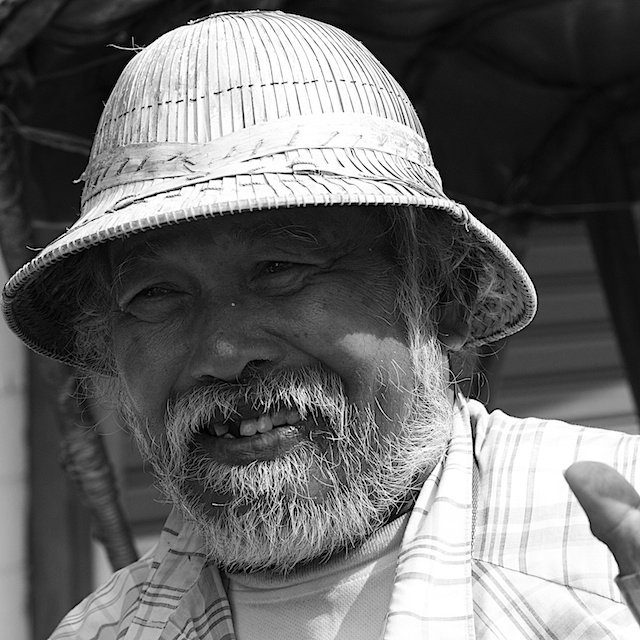 Towards the end of last week, the 9.7" iPad Pro went on sale in Thailand, a few days after its release in major American and European markets. Initially, only the three WiFi versions are available, but WiFI+Carrier models should be out in a week or two, depending on regulator approval. A similar delay occurred in 2014 when the iPad Air2 was released.
I have been using the 128GB WiFi model for the last few days. Like its larger sibling - the 12.9" iPad Pro - there are some surprises. This is a usable machine. My biggest problem is checking my bag to ensure it is still there: I am so used to the weight of larger devices.
I was sceptical when the big screen iPad was announced as were many others. As soon as I had my hands on one in late November I was surprised by just what I could do with it. Its 64-bit A9X chip is reported to run at 2.24GHz: faster than some computers.
Early critics claimed that it was not a feasible productivity device with the lack of desktop class apps. These types of comments are from the dinosaurs. Microsoft, Adobe, Apple and Google (among others) produce iOS apps - some specifically for the iPad Pro - and data is available via their cloud services. These major developers are shifting more to subscription services so data is shared between devices.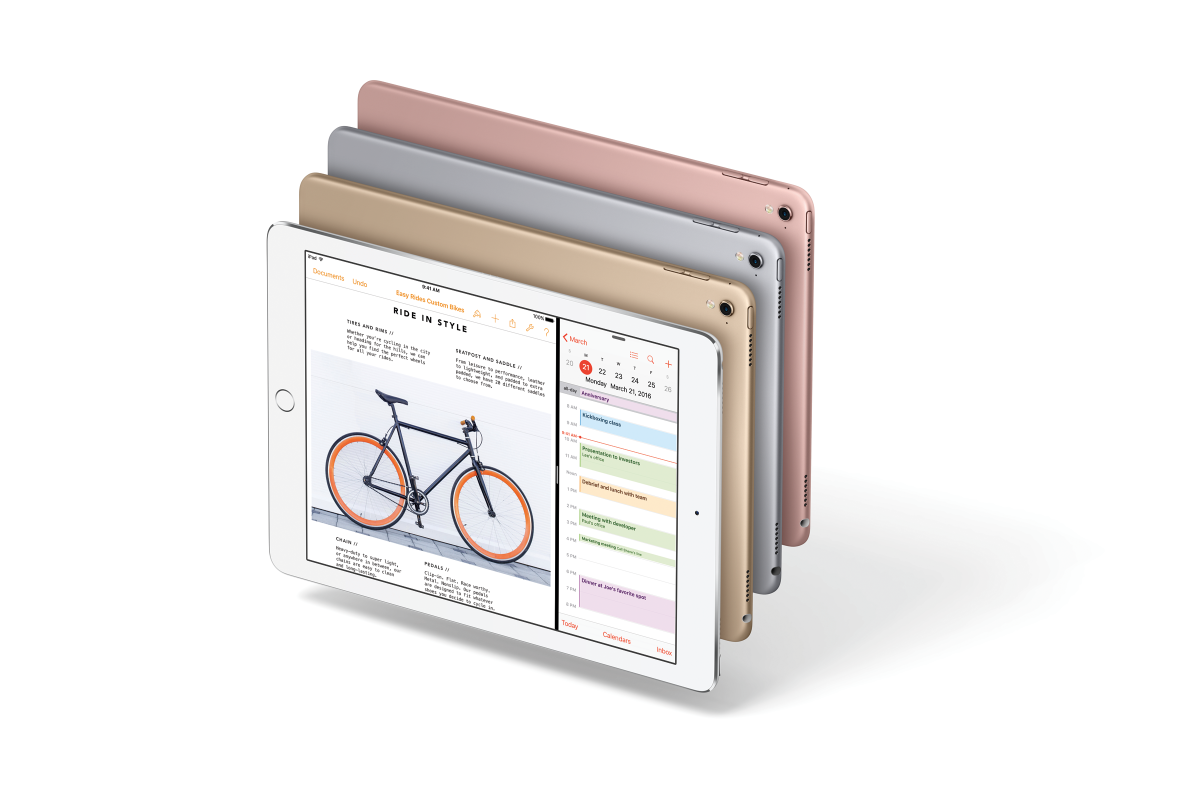 9.7" iPad Pro in Different Colors - Image Provided by Apple

The 9.7" iPad Pro has the same dimensions and weight as the iPad Air 2, but has the A9X chip with a slightly lower speed (2.16GHz) perhaps to reduce heat in the smaller shell (MacRumors). This provides almost the same power as the 12.9" version, but in a highly portable form. In practice there is no noticeable drop off in performance.
While there is similar power output, the smaller iPad Pro has a couple of extra features. With the iOS update to 9.3 Apple introduced the Night Shift feature which changes the display in the evening, reducing blues: the light emitted is easier on the eyes. With the iPad Pro, an additional feature called the True Tone display adjusts output depending on ambient light so that whites are displayed more suitably.
The size of the 12.9" iPad Pro meant that it was a little unwieldy for taking photographs. The 9.7" format is already widely used so Apple has used the same camera components as in the current iPhone 6s models (and iPhone SE): 12 megapixel iSight Camera and 5 mp Facetime camera (for selfies).
There is some reduction in specifications in the Lightning connector. The 12.9" model connects at USB 3 speeds, while the 9.7" model has the USB 2-speed Lightning port. I used the device in a class on Friday and had no problems connecting to a VGA projector, but speed of downloading photos was clearly different.
I used a set of 30 RAW images from my Nikon DSLR (22MB each) downloading them first to the 9.7" iPad Pro, using the SD card to Lightning adapter. For this device I turned WiFi off as I did not want any interference from iCloud synchronisation. Displaying thumbnail images, then importing took 1 min 7 secs. I deleted all the images and repeated with the 12.9" iPad Pro. The same 30-image import took 44 seconds. As expected the larger device with USB 3 capabilities is faster.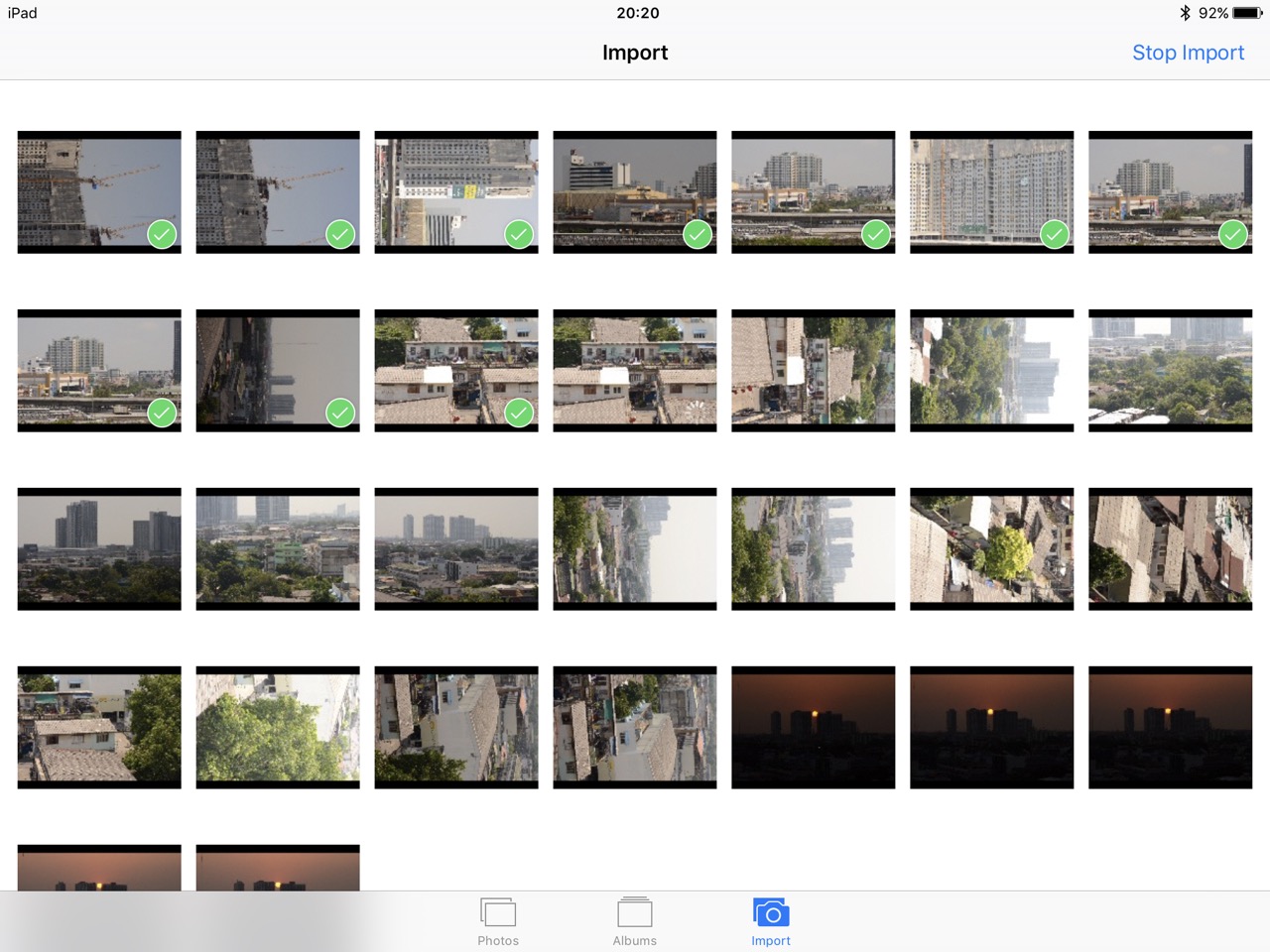 Importing RAW Photos on iPad Pro

Once the 9.7" device had been set up, data from my cloud accounts, including photos and music, were available to me. I was able to start work on the device while the last of the apps was arriving. I did add a couple more to take advantage of new features and the Apple Pencil.
MyScript Smart Note - Spidery Writing and Language Selection

I was impressed with MyScript Smart Note which allows me to take handwritten notes which can then be exported to text or other file formats. This initially worked better with the Thai writing of colleagues than with my untidy scrawl, but the app can be trained. It also works with Chinese: there are some 60 languages in all. I will look at other features and apps next time.
A second device needs a second Apple Pencil (3,900 baht) as these are paired uniquely. It is possible to un-pair then pair to another device, but this takes a couple of minutes. I am also using a Smart Keyboard (5,700 baht). This is smaller to fit the dimensions of the new iPad Pro. It is made of the same dielectric material and allows me to use the same keystrokes as on the Mac.

The larger iPad Pro weighs in at 723 grams with cellular capabilities, while the 128GB WiFi version I have is some 437 grams (444 grams with cellular capabilities). There are 3 versions of the 9.7" iPad Pro, which comes in rose gold, gold, space gray and silver: 32GB, 22,900 baht; 128GB, 28,900 baht; 256GB 34,900 baht.
See also:
Graham K. Rogers teaches at the Faculty of Engineering, Mahidol University in Thailand. He wrote in the Bangkok Post, Database supplement on IT subjects. For the last seven years of Database he wrote a column on Apple and Macs. He is now continuing that in the Bangkok Post supplement, Life.