By Graham K. Rogers
---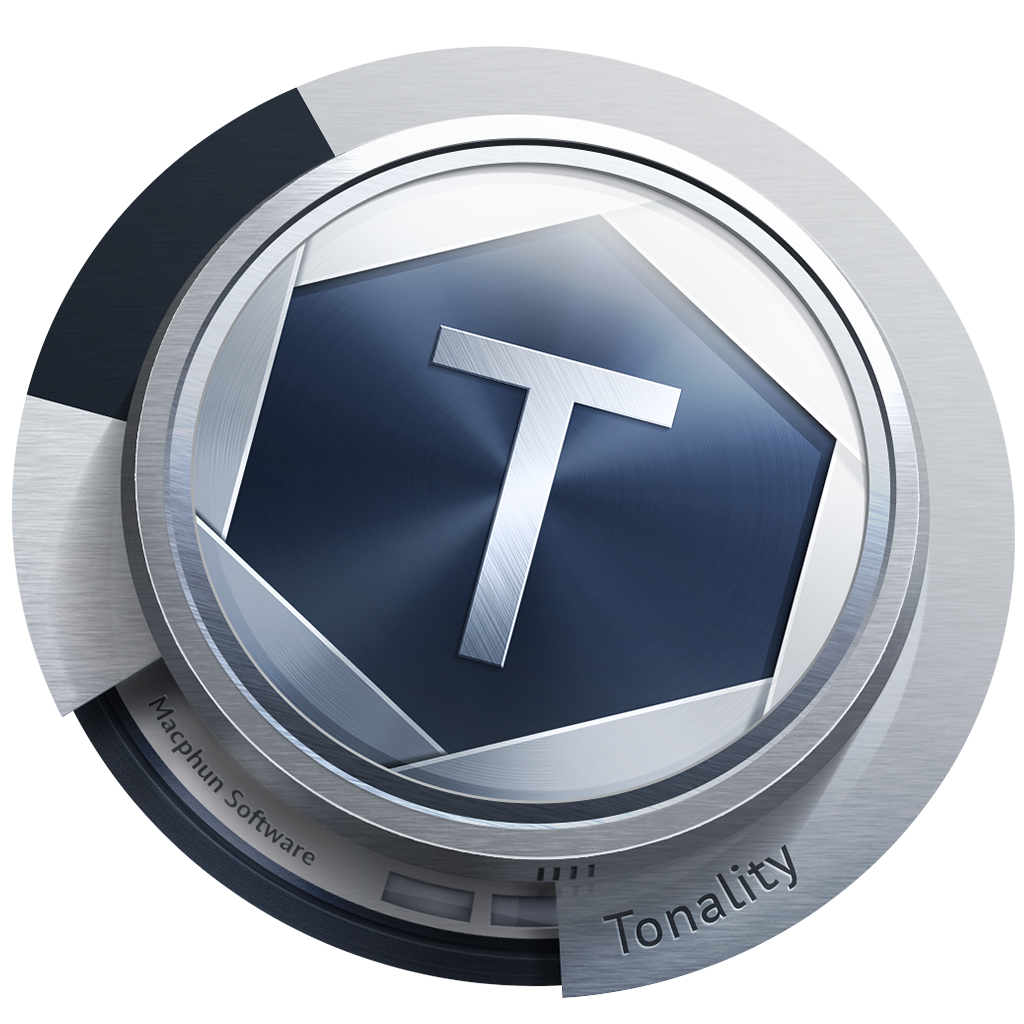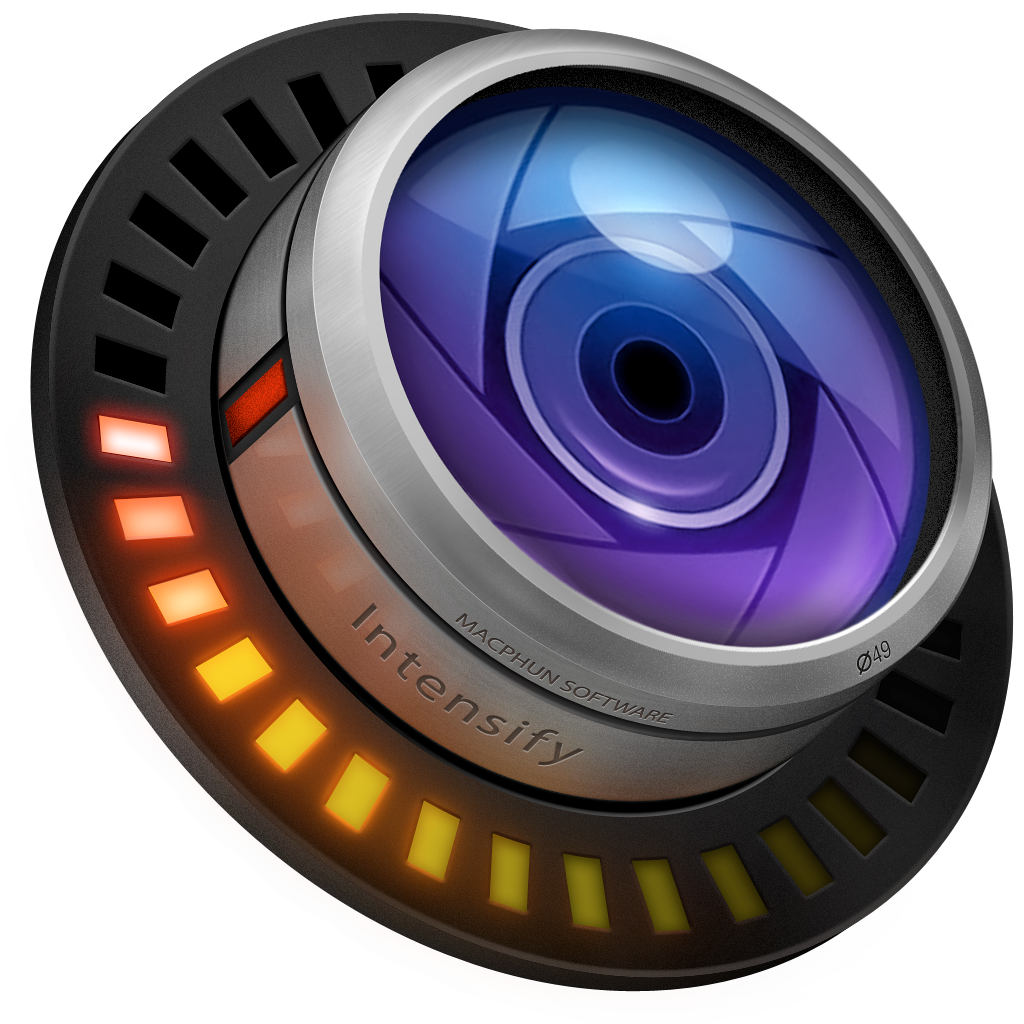 One of the changes I had been looking forward to with the release of OS X, 10.11, El Capitan, was an increase in the features that Photos would have. I have long been a user of Aperture, so the news that support for that application is to cease eventually, means that someone like me will need to find new workflow software or work in Photos. I did some research into alternatives to Aperture last year. I will probably take a hybrid approach: part Photos and part Phase One's Capture One Pro 8.

Photos began by being a basic application that could replace iPhoto but would not be any substitute for Aperture. However, the attractions included iCloud synchronisation of images and a reasonable set of editing tools, similar to those in Photos on iOS devices.
Like its iOS cousin, users could make adjustments to an image by using a series of image sliders; or could select specific features to adjust. In the case of the Color adjuster, these are Saturation, Contrast and Cast. In addition to these image adjusters and sliders, other useful tools, like White Balance, Sharpen and Vignette (and others) can be added. These are not available in the iOS app.
What the iOS app had that Photos on the Mac did not was the ability to edit images within Photos using a 3rd party application. On my iPhone I make use of a number of these apps: editing occurs without leaving Photos and the adjusted app is saved within the Library. Users can always return to the original image of course.

Now that El Capitan is available Photos has been updated to provide several editing options: Enhance, Rotate, Crop, Filters, Adjust, Retouch; and now More, giving us extensions, taking us back to features that were used in pre-OS X MacOS (and why I named the site eXtensions). With the release of the OS X update this week, the first of the 3rd-party applications to take advantage of this new feature (which can apply to other applications - not just Photos) arrived with an update to Tonality from Macphun.

As we use our devices, we become familiar with certain apps and tend to favour specific developers. One of my favourite for iOS apps is Michael Hardaker for his series of high-quality photo apps, similar to medium format cameras. The top of the range for me is 645 Pro Mk III, with which I can save TIFF images on the iPhone.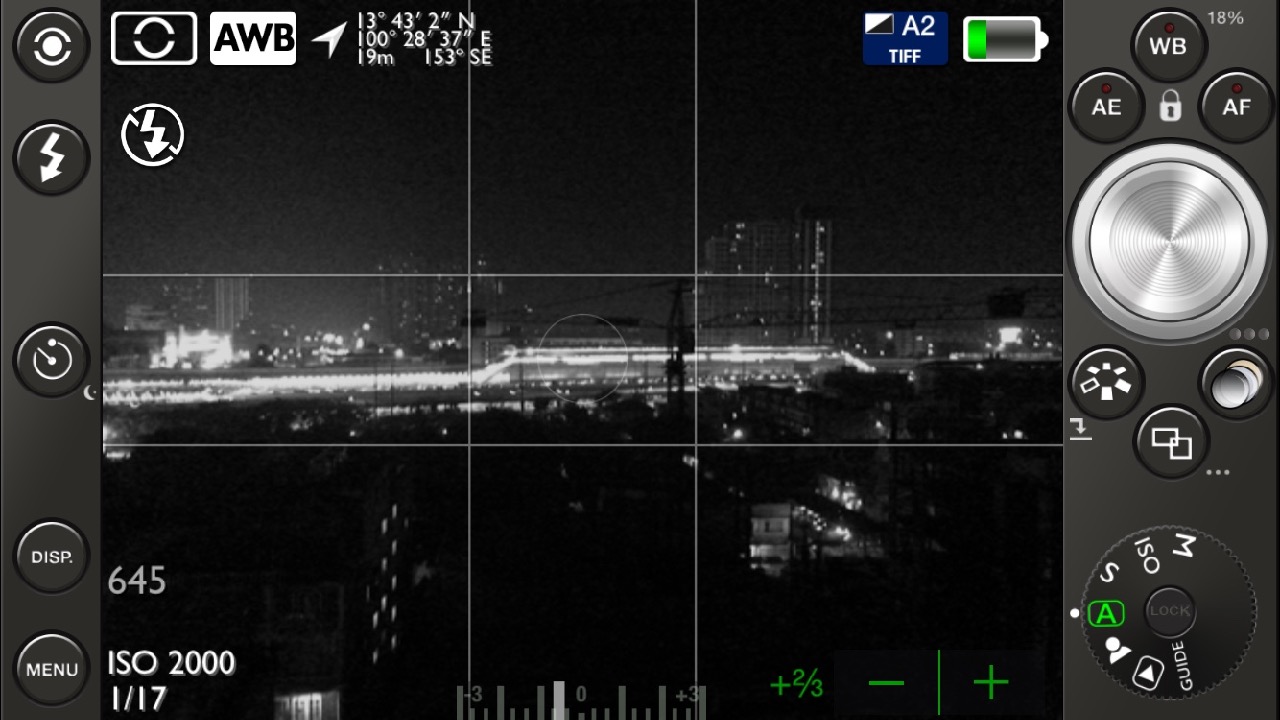 Another favoured developer is Macphun and I had a number of iOS apps from this house, before I bought some for the Mac. Of special note are Cartoonatic, FX Photo Studio and Color Strokes. It was the last of those that was I installed on the Mac first. I later followed that with Focus 2, and then Tonality when that was released. As the Pro version of Tonality included a plug-in for Aperture, I bought that and have edited several Aperture images over the last couple of years using that.
This week, Tonality was updated and the new version includes an extension for the new version of Photos. The first time I used this, I clicked on the More icon in Photos on the Mac and a tiny panel appeared with "More", similar to the same feature on iOS devices. However, instead of showing a list of available apps, clicking on More opened System Preferences, Extensions in the Photos panel where an unchecked box was show next to the Tonality entry.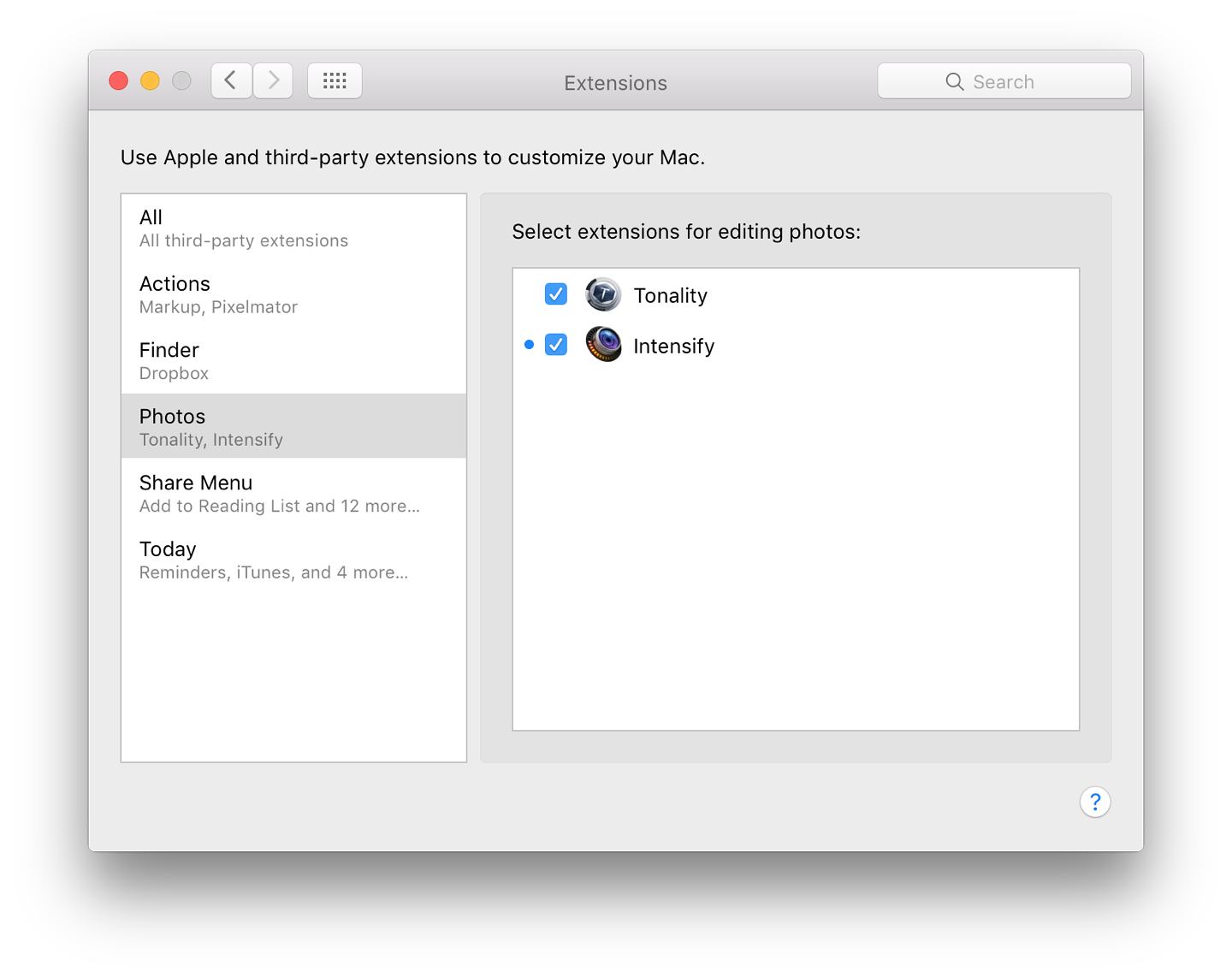 Without having previously opened Tonality, I was able to edit images within Photos, with a Tonality panel open, rather than having a separate panel, as with Aperture and the Tonality Pro plug-in. In some ways this is better as a user experience, although this process changes then saves the image within Photos. With Aperture, a duplicate image is created before editing begins. Nonetheless, the original image is still available and, as with other editing changes in Photos, the user can always return to that original and start again. Photos also has a command to create a duplicate image.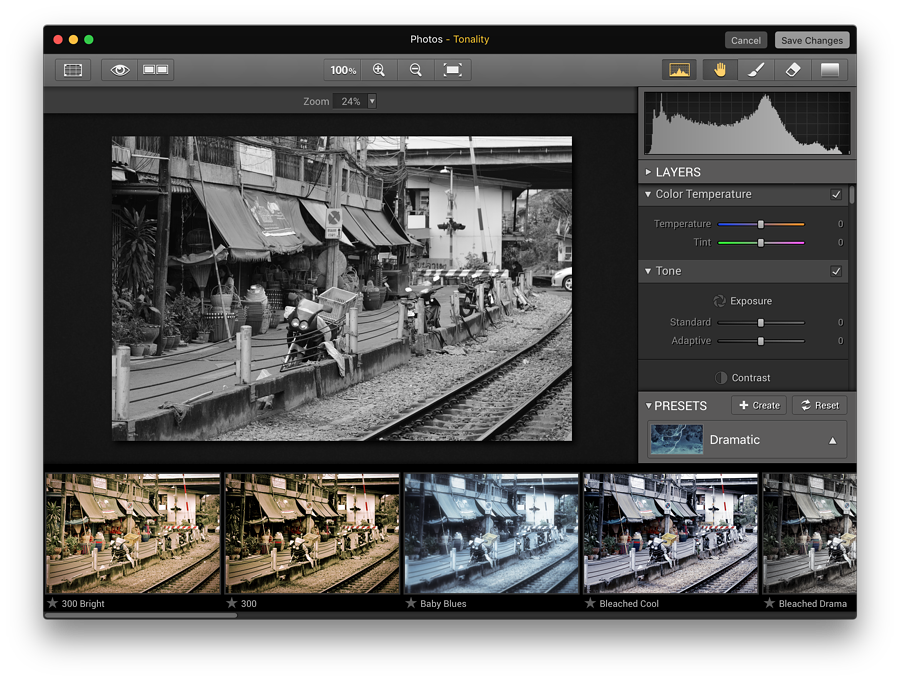 There are also a number of other useful tools in Tonality including Compare, so that the original can be examined alongside the edited version, as well as a brush mode and erase tool.
This one app shows the way that the use of extensions will greatly improve Photos as an editing application as Apple evolves its other features. An example of this development is the ability to copy and paste locations (like Lift and Stamp in Aperture) on to images: one or many. Rather than copying GPS coordinates, the user copies the text location and pastes that into the images to be updated. The map then searches for the location and drops a pin (which may need to be moved for accuracy).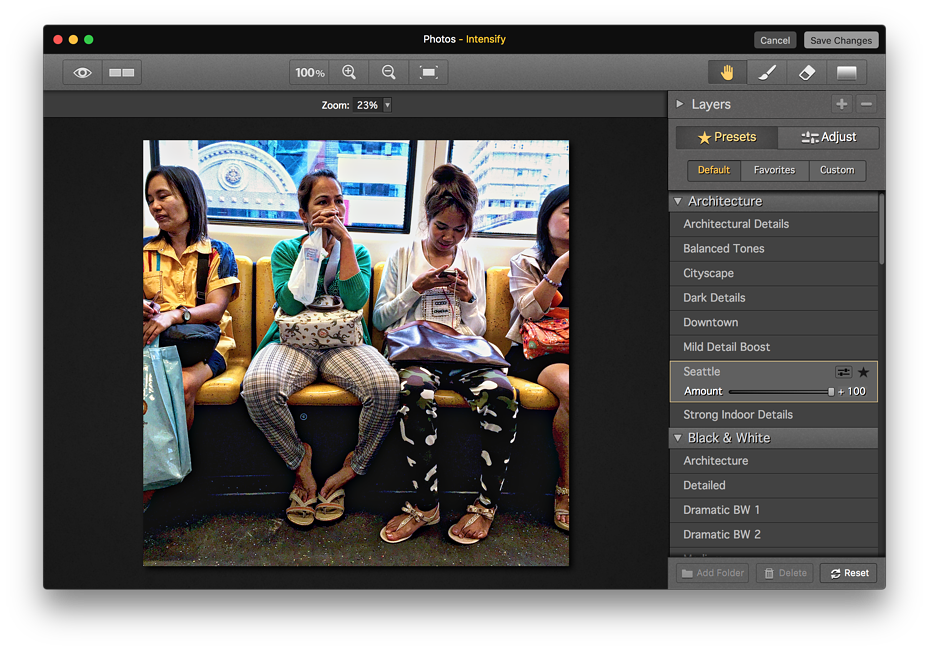 Happy with the way Tonality was working with Photos, I looked at the other Macphun apps updated. Focus 2 and Color Strokes which I already have (and which were not updated) do not have extensions. Macphun provide this feature in Noiseless, Snapselect, Tonality and Intensify. As the latter seemed to be most suitable for my current needs, I downloaded this ($14.99) and without opening the app, added it using More in Photos, in the same way I had for Tonality. Within a few minutes I asked myself why I had not downloaded this months ago.
The interface is slightly different to Tonality where thumbnails of images appear beneath the editing panel showing the effects before they are selected by the user. The way Intensify works is similar, so I was up to speed quickly. Although there are screenshots on the Mac App Store pages, and on Macphun's own site, these are unable to convey the effect that users may experience when applying these filters to their own images.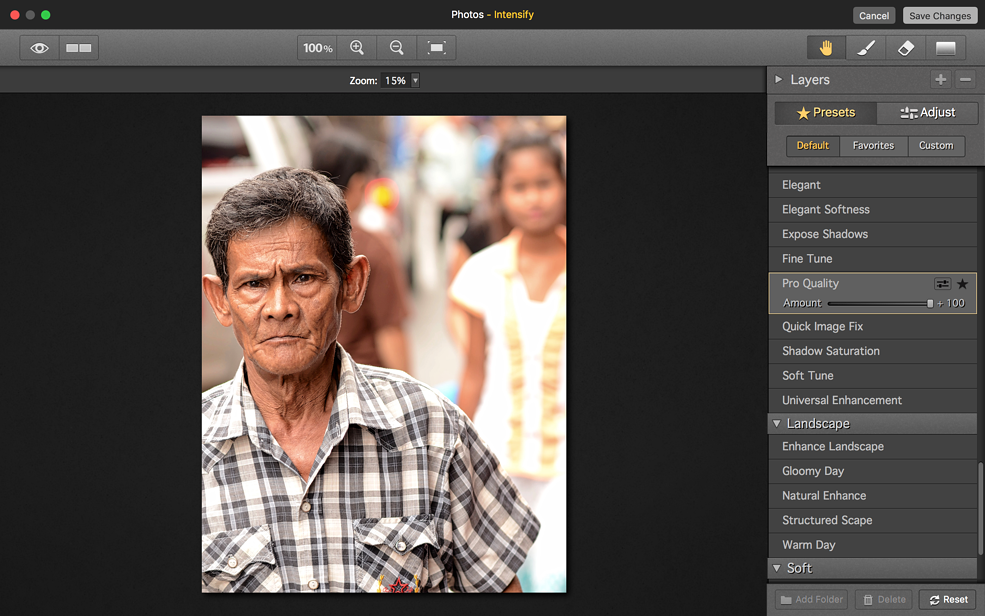 Like Tonality, although ordered in a different way, the effects are grouped in sets: Architecture, Black & White, Creative, Detail Enhancement, Image Tune, Landscape and Soft. Although the groups and their filters were all displayed when I first opened Intensify in Photos, a triangle allows the filter sets to be hidden. For example, a user may decide to work only with the 9 Black & White filters.
Clicking on any filter, changes the image in the main panel and also widens the filter to show a slider (more or less of the effect) and two icons: a star, to select the specific filter as a favourite; and an icon to access the Adjust panel. This opens a set of 8 separate toolsets for even more fine adjustments. Also available are Favourites (the starred filters) and Custom, so that users may create their own sets of specific adjustments.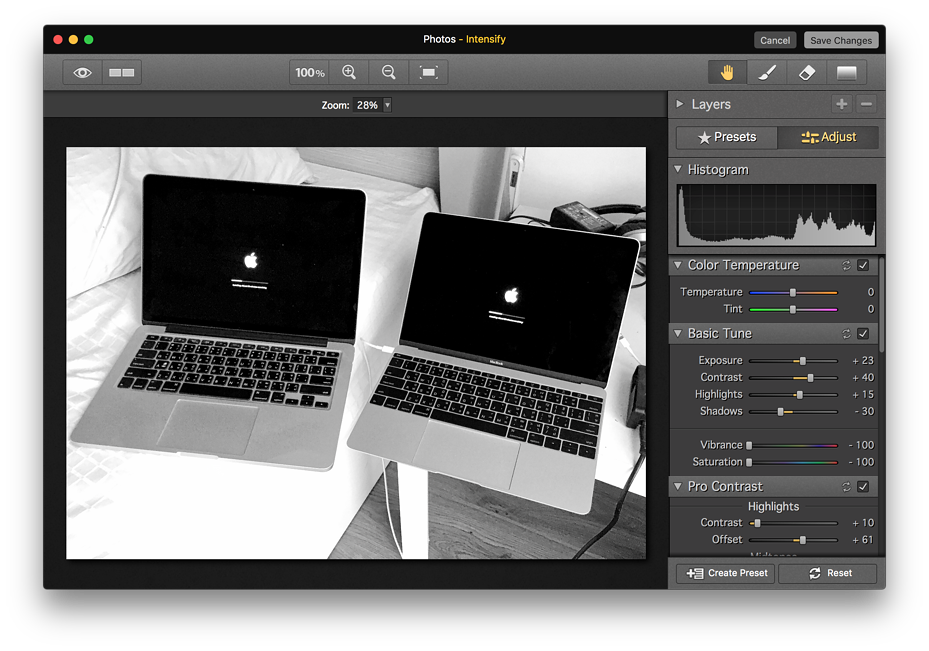 When done editing, the image may be saved in the same way as for other editing sets in Photos or editing may be cancelled. It is also possible to revert to the original image at any time.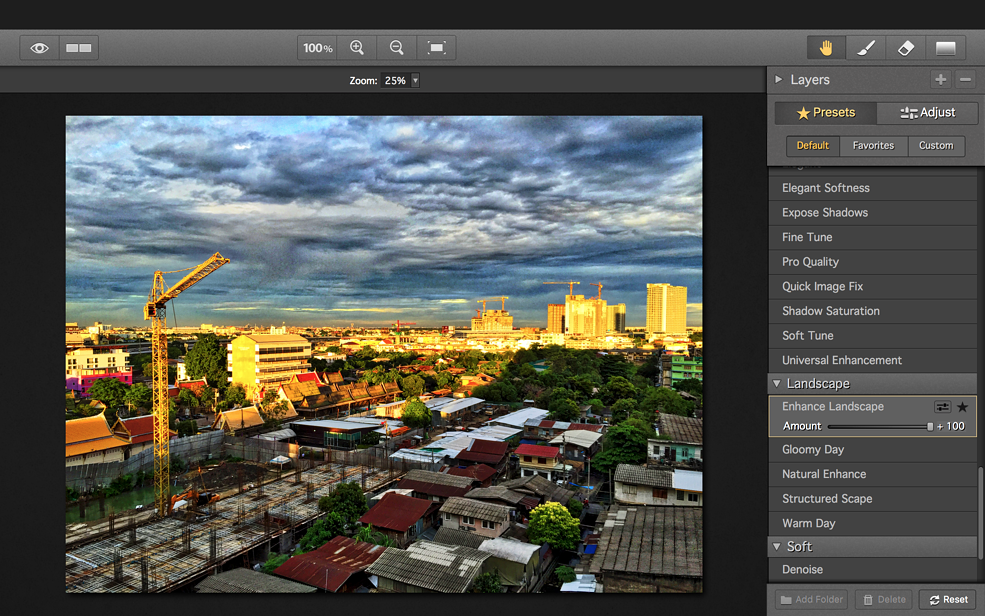 The use of particular filters is often a personal choice, as with any image editing; here too, some filters are better selected for specific tasks, such as exterior shots with clouds, or for portraits. The use of particular filters (I quickly began to add some to Favorites) allowed me to bring out details I had not been aware of in the original import, particularly with clouds and reflections.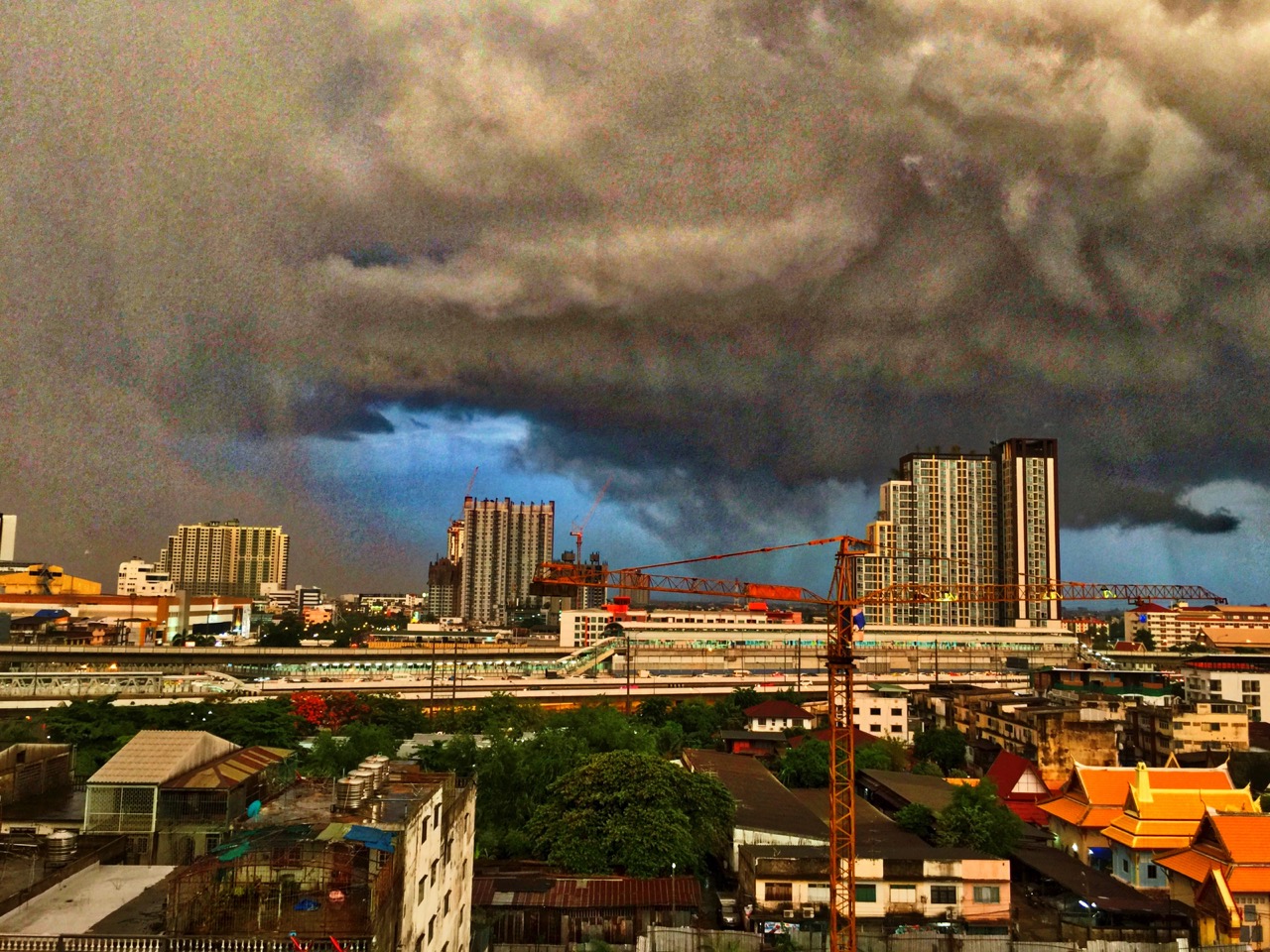 Although some of the images in my Photo Library have been imported from the DSLR Nikon I use, most are from the iPhone 6 I have at present. I have been pleased with output from the camera since the iPhone arrived, but the way in which Intensify and Tonality are able to extend editing show what a good job the team at Macphun have done with these applications.
And of course, Apple's ongoing job to improve and evolve Photos has taken a long step forward with these new capabilities.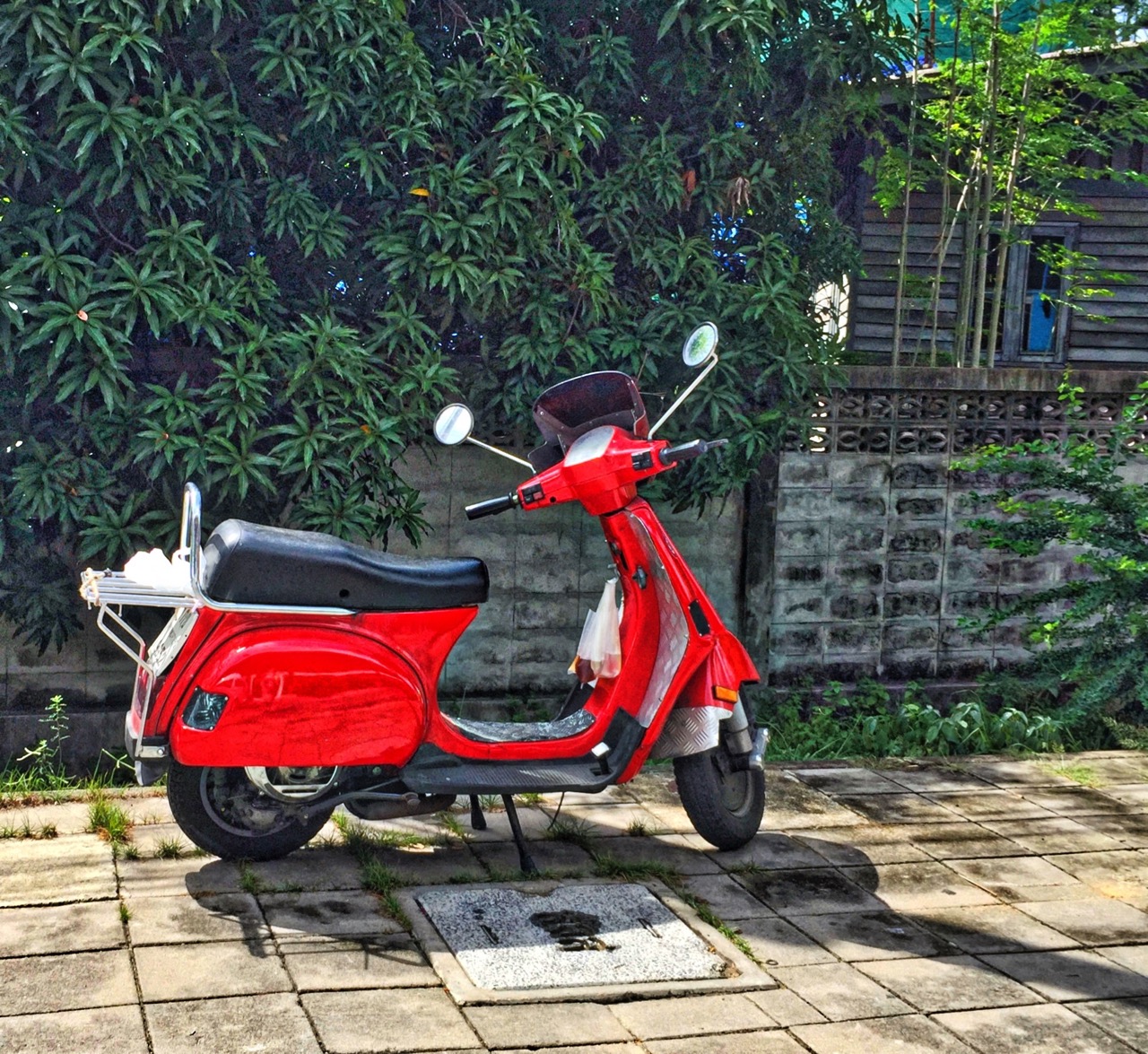 Graham K. Rogers teaches at the Faculty of Engineering, Mahidol University in Thailand. He wrote in the Bangkok Post, Database supplement on IT subjects. For the last seven years of Database he wrote a column on Apple and Macs. He is now continuing that in the Bangkok Post supplement, Life.