<! ----------------------------------------------------------------------->
---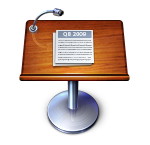 While some were disappointed with MacWorld, updated software in particular showed how Apple continues to develop and improve the applications. Both iWork and iLife were updated and while iLife is to be released at the end of January, iWork was immediately available. I downloaded the 30-day trial version. It installs in a folder alongside the previous version.
When the trial version of Keynote is opened, we may either buy or try. The purchase can be made online. We then see a panel with a selection of themes: now 44 up from 36 previously.
Also new in this Theme panel is the ability to see a selection of the slide masters giving an idea of how slides may appear with images, graphs or text. This has been borrowed from iPhoto: in Events running the mouse over the top image will reveal others in the selection. A similar feature is now found in numbers and for several of the 180 plus templates in Pages.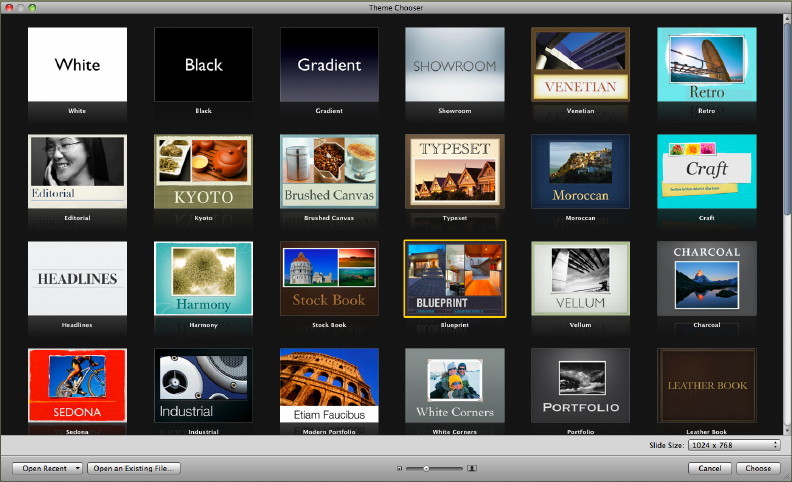 In the keynote Theme panel we may either create a new presentation from one of the themes or click on a button to open an existing presentation or use the File menu. A double click on a theme will also create a new presentation. Once in a presentation, it is easy to change the theme by using the themes icon on the toolbar, which itself can be modified with a wide range of tools.
As before, many of the fine-tuning aspects of Keynote are effected using the Inspector. Some of these attributes include the way a slide, or the sections on a slide appear on the screen, and Apple has added several more effects here, including Perspective and Reflection, which use similar effects to some found in the new iPhoto slideshow.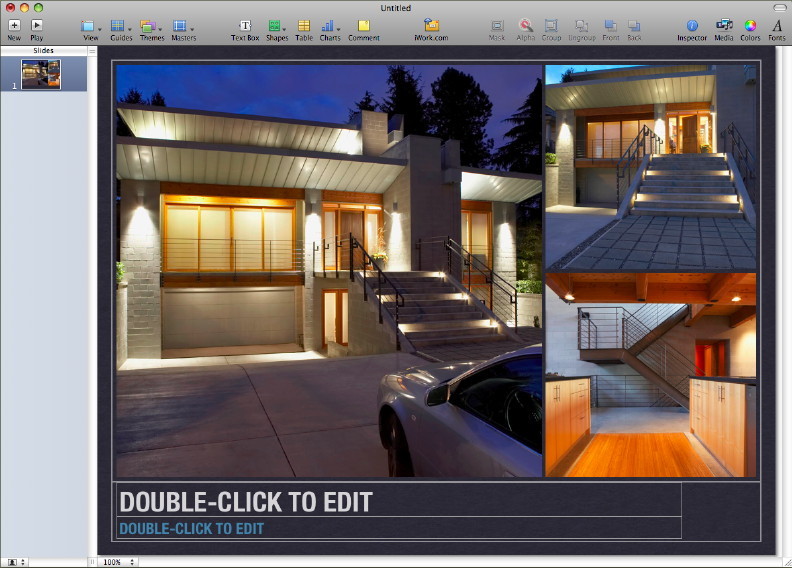 Three additional features expand the value of this suite: iWork.com; support for 3rd party applications, like MathType and EndNote; and a Remote control app for the iPhone or iPod touch.
If we collaborate on a project (writing, spreadsheet or presentation), we need to communicate with other project members to share ideas or suggest changes. Many use simple email, but the number of files and versions can grow and it is easy to lose track. With iWork.com we can share and suggest amendments online, using a browser. Should a hard copy of the file be needed, these can be created in several formats, like PDF or DOC.
An icon is available on the toolbar of each of the parts of iWork (if not immediately visible it may need to be added from the Edit Toolbar item in the View menu) and this links to the iWork site. A panel appears for creating the initial account, but I was able to use my Mobile Me details. This service is currently available as a beta, and is expected to be a subscription service when it is known to be stable. I tested this initially with a presentation and sent the link to another email account I use, so was able to view it once uploaded (the 20 slides were an upload of 10.4MB).


Once uploaded, the account holder can view by logging into iWork.com while those invited are sent email with a link to the page. I tried in both Safari and Firefox and there was no discernible difference in the slides or the information sidebars: the display was similar to the MobileMe Gallery. We can downloaded as PDF, Keynote or PowerPoint. The account holder also receives email notification but viewing the pages and comments requires a login with password.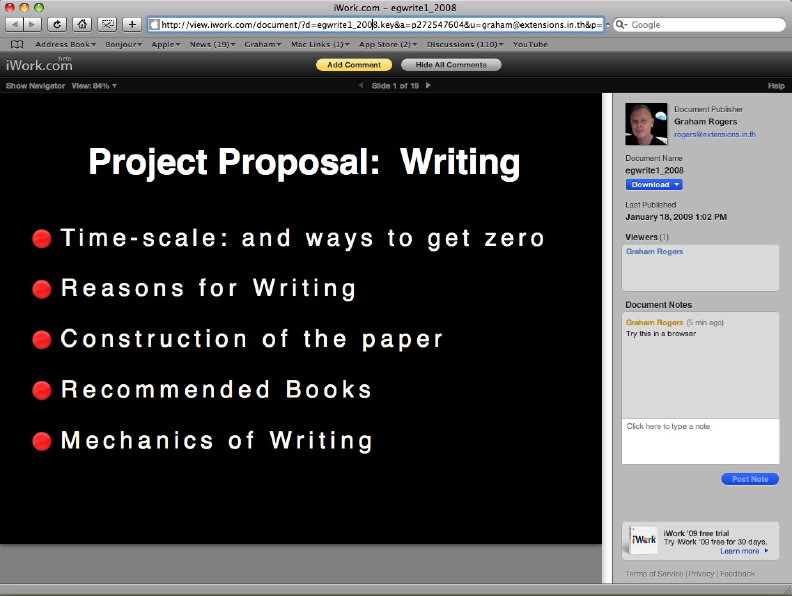 The support for applications like MathType is now available throughout iWork. When Phil Schiller introduced the product he referred to Pages only, but I have been informed that it is not restricted to this one module. I will cover this in greater detail later.
While my Macs do have remote control devices that I use for presentations and other features, Apple added a new feature to Keynote with Keynote Remote, a $0.99 download from the App Store [not free as I wrote in the Post article], that links to a presentation and allows control of the display via WiFi from the iPhone or iPod touch.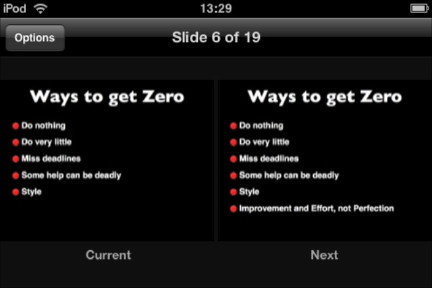 Normally this will work via a router, but if this is unavailable, it is easy to set up an ad hoc wifi network on the Mac to link the iPod or iPhone directly and control the presentation that way. Slides may be viewed on the device in landscape or portrait mode: landscape shows the current and next slides. Swiping the screen changes the slide, forward or back. While images are displayed, any video files included in the presentation appear on the iPod as a black rectangle. Font size may be a problem if too much text is included on a slide.
I used Remote, a new theme and some of the latest transitions in a class just after returning from Macworld. It was clear from student responses that Keynote retains the wow factor.