<! ----------------------------------------------------------------------->
---
It is still early days for iPhone app developers here. While some apps are of a fair standard, and True as iPhone distributor has a few, there is still a long way to go. As there are now more than 35,000 apps, comparisons are there to be made. Having seen good output from Thai programmers, once they get to grips with Apple's Developer Kit, there will be more to come.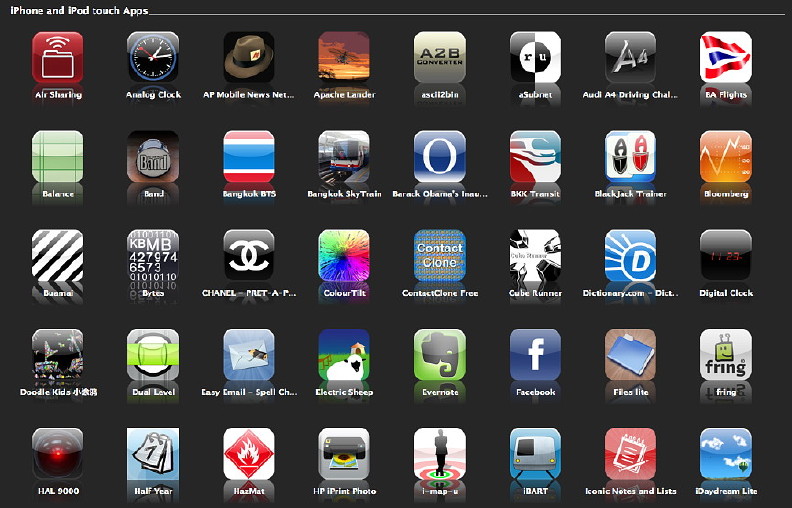 I looked recently at three apps for transport in Bangkok. One was by Derrick Gooch who has other apps for download. The first is for those who can read Thai and it accesses news feeds from the Daily News. A simple interface lists the items: 20 were displayed on my screen. Tapping on any one brings up a browser display. It is then possible to navigate through the online newspaper. It behaves like Safari, including enlarging images, but does not work in landscape mode, nor is it possible to open further browser pages.

Nonetheless, here is a locally produced app that does one thing and does it well. Of other newspapers, I see that only the Nation Group has an app [Updated this week to version 1.0.3]. This accesses three Thai and one English language source to display RSS feeds with either an icon or an image to the left of the text.
There are four sections (Top Stories, Breaking News, Business, Politics). Each displays ten items with a refresh icon at the bottom of the screen. Clicking on the item, downloads a story in a browser-like interface with controls for text size, forward and back buttons, email (this sends a URL) and a Twitter link.

An app that was briefly listed as top download in the Thailand app store is Thai Pray, by Thai-G.com, which uses an interface similar to Derrick Gooch's "Daily News" app: only this lists prayers. When one is selected the full sermon scrolls down the page. I cannot read Thai but customer reviews are positive and many users expressed thanks to the developer.

Derrick Gooch has two other apps currently available: a book entitled "Autobiography of a Yogi"; and an app for making hotel searches and bookings in Thailand, "Thailand Hotels," which is useful for those visiting the country. The main panel has several search criteria: Quick Search, All destinations, and Bangkok. A section below those, focuses on the five most popular destinations including Hua Hin and Chiang Mai.

Clicking on any of these accesses Safari and links to Derrick's web pages at spasinbangok.com to display a list of places to stay. Each item has a photograph and basic details as well as a star rating. There are also five additional links: Info, Room, Facilities, Map and Photo. To the far right of each entry is a starter price with a button for online booking.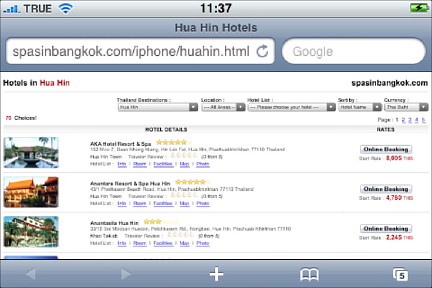 This takes us to a page with a range of prices (seasonal variations) and a form that enables a user to select a period for the stay and then pay online. This is by far the best of Derrick's apps and shows how easy it is for a developer to leverage the platform in terms of sales.

I still think it is a great drawback that there is no official Thai keyboard for the iPhone. Many users here will want to send SMS messages and email, although it has been possible to read Thai characters since the 2.0 firmware update. It is expected that when the 3.0 update is released there will be a solution that will provide a Thai keyboard.
There was an app that could be put on to "jail-broken" iPhones about a year ago, but this first required a Russian keyboard to be installed. Nonetheless, it did work and users I spoke to were quite happy with it. There is now an app, called Thai email Keyboard, but it has had several negative comments posted in the app store, including the point that the original development on the keyboard was done by someone else. Apps are submitted directly to Cupertino and the local office has no control over authorisations.

I found this app hard to use and not all keys registered every time. Sometimes there was a lengthy delay before the character appeared onscreen, leading to some frustration. Thai friends tell me that all the characters are correctly displayed. Once the message is composed, the device switches to the mail app and English can be added but Thai cannot be edited at this stage, only deleted.
Customer reviews are mixed, some expressing the idea that it would be better as a free app. When I bought it as a look-see it was $0.99 but is now listed as $1.99. It does only work with email while the keyboard I looked at last year on a colleague's unlocked iPhone worked with all apps.

Some apps only work on iPhones. In coming articles I will describe my early tenure of the device.

See also iPhone Apps for Thailand (1)

<! ----------------------------------------------------------------------->