<! ----------------------------------------------------------------------->
---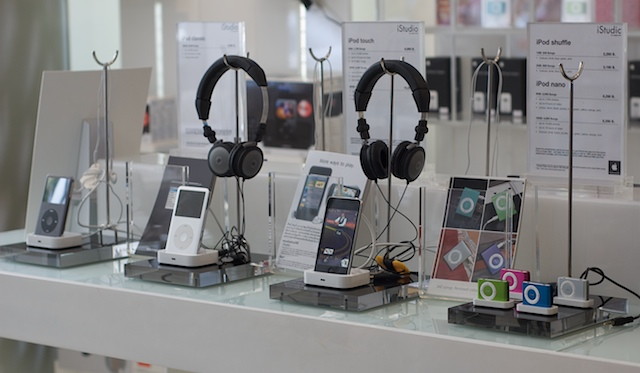 In the next few months, there will be a number of changes to the Apple retail stores in Bangkok, particularly with the iStudio operation in Central World. Instead of one space, this will expand to 550 square metres: an area equivalent to four shops. There will be more space to display products and better facilities there, including a small lecture space as in Apple stores in other countries.
The iStudio store in Siam Discovery Center is slated to move to a location with larger space available as well; and there is a firm plan for a new iStudio in Siam Square in the area that was Centre Point.
With most of the heavy seasonal shopping already completed, today being new year's eve, a lot of people will be shopping for the lighter presents. In some cases this may mean a lightning visit to one of the stores that sells the iPod. These are on sale in a number of outlets including the iStudio stores that are situated in a number of locations in Bangkok and the provinces.
There are four iPod models ranging in capacity from 1G to 120G with different feature sets in between. There is free engraving when bought online which takes 24 hours, but if it has to be in the loved one's hands today, then the retail store, with no engraving, may be better. Also, with the online store, there is a link to ordering for corporate purchases. Gift packaging and message cards are also available.

The iPod shuffle has always been one of my favourites. Apart from its small size and weight, which means it can just be clipped onto my shirt or jeans, the whole point about the shuffle is its randomness: I synchronise with iTunes to update from my music and the iPod selects the order. The iPods like the touch or the latest nano also have a similar feature in Genius which takes one tune and produces a selection.
There are two versions of the shuffle: 1G for 2,290 baht which can hold 240 tunes and 2G at 3,190 baht. There are four colours for those in the shops plus the (Product) Red version online for the same price.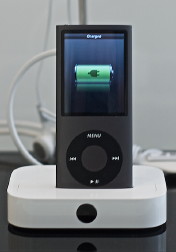 The iPod nano is the smallest iPod with a screen, which despite the size, is fine for viewing movies. This is helped in part by the crispness of the image. A friend has the nano and uses it for this daily. As well as the music and video capability, there are some games installed on this, plus a feature which allows recording of sound.
Two versions are on sale in Thailand: the 8G at 6,290 baht and the 16G at 8,290 baht. Like the shuffle, the (Product) Red version is also now available via the online Thailand Apple store and a part of the sale price for these goes to an organisation (Red) that fights AIDS, tuberculosis and malaria in Africa.

The iPod Classic is the evolution of the original iPod: the one that people said would never sell. It handles music and video as well as having applications installed for contact information and calendars among others. There is now one version, in two colours -- black or white -- with 120G hard disk. Both are 9,990 baht.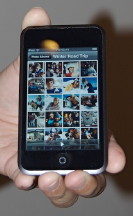 My favourite iPod of all -- at least until the iPhone arrives (and look out for information on this) -- is the iPod touch which works for me as music player, video viewer and PDA, plus its many functions, like email, web surfing, and the ability to use most iPhone apps, which have revolutionised what the iPod is. Indeed, one of my all-time favourite games, which I have had on PC, Mac and Palm arrived this month: SimCity. I snapped that up for its online price of $9.99 (about 340 baht).
Like the nano the Generation 2 iPod touch also has the feature to record sound if a microphone is attached. That 3G iPhone has its own external microphone of course. There are three versions of the touch here: 8G for 8,890 baht, 16G for 11,490 baht and 32G for 15,290 baht.

All of the stores these days carry a wide range of accessories and spares for Macs and iPods: connectors, software, input devices like mouses (yes, that is the plural for the computer device) and tablets, as well as bags and iPod socks. Among these accessories are the different types of headphones. Bangkok takes a toll on these and the Apple ones do wear out or discolour: from Apple white to Bangkok black. The latest Apple headphones with the microphone are listed in the online store with a longer shipping time than the usual 24 hours, but (when I checked the day before writing this) are not yet in the stores.
Next week, I will try for some analysis and prediction of Apple's last keynote speech at MacWorld in San Francisco. I wish all readers a happy new year.

<! ----------------------------------------------------------------------->