<! ----------------------------------------------------------------------->
---


I was in the San Francisco Apple shop last month looking at the iPod touch and wondering whether to buy at that time. I was not sure if it was the newest version.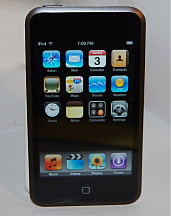 There was a voice behind me: "Don't buy that now; wait 'till you get back to Bangkok." It wasn't my conscience, or anything mystical. Khun Therdsak Skulyong, the head of Apple's operation here had crept up behind me.
When payday arrived at the end of January I went to the iStudio in Fortune Town where there was a 16G iPod touch waiting for me. I needed to make sure that it was indeed the latest one, so we split open the seal and checked the icons. Mail was there, along with Google Maps. We were in business.
When I reviewed the iPod touch last August, although it was possible to access the Internet, I said it lacked Mail to make it truly effective. That has now been added and with several other changes this device is considerably more useful.
I waited until I was home for two reasons: I wanted the synchronising computer to be plugged in and not be running on battery power; and to set up the WiFi, I wanted a system I could trust.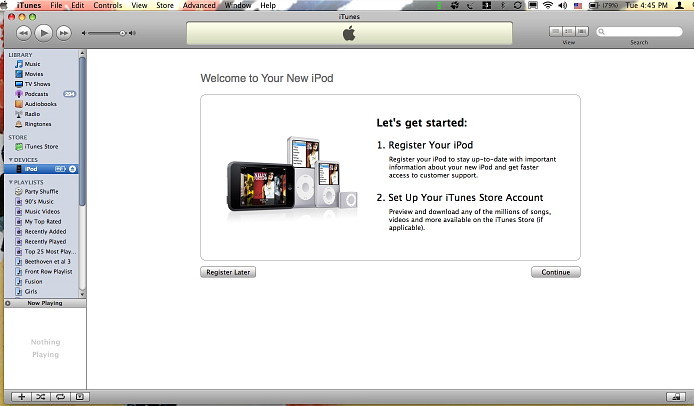 After registering the device with Apple via iTunes, that first synchronisation took about 30 minutes. I put all my music on, then selected the other panels in iTunes and synchronised podcasts, photographs, contacts, calendars plus about 30 10-minute videos that my students had created as project work. When all the data had been transferred, I had just over 1G of space remaining, which was about what I had planned: that earlier 8G iPod touch was not enough for me.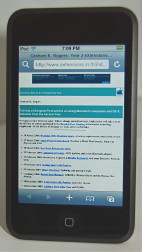 An error occurred with Coverflow. Instead of album covers, stills from video podcasts were shown. A check in the Apple forums revealed that this was a known problem. Following a suggestion, I removed the music and video podcasts, then added them again. That did the trick and Coverflow now works as designed.
While looking in the iTunes, touch "Information" panel, I saw that this was larger than for a normal iPod. When I scrolled down, three more sections were revealed: Mail Accounts, Web Browser and Advanced. Using these I could transfer settings from the computer to the touch. I had been worrying about a long session with the keyboard to set up mail accounts: this completed the operation automatically. Once I had joined the home network, I was able to browse and collect email.
Sending mail was not so straighforward. The settings for one account were not accepted (although they do work on the computer) by True's servers. To get round any such problem, I activated a g.mail account which worked first time. There are also settings for Yahoo!, Hotmail, dot Mac and AOL.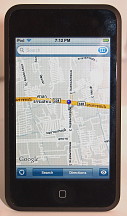 In that earlier review another shortcoming was the inability to add data. At that time, like ordinary iPods and unlike the iPhone, it was read-only. Now this is possible for both the Contacts and Calendars. Information is added to the computer's Address Book and Calendar applications when the touch is synchronised.
A user can also write notes, which can be either kept on the touch or sent via email. Further useful additions include weather and stocks widgets. We can look forward to more when the software developer kit is released.
Google Maps is weak here. The application is designed for the USA where it works well. Finding a location did not work for me even though it was possible to bring up maps of Thailand and satellite images. In his presentations, Steve Jobs searches for Starbucks branches -- plenty both in San Francisco and around Siam. Here however, the application could not track down any branch of the ubiquitous coffee house.

Although I was able to set up the touch with my home network and with a somewhat difficult office system, getting online when out and about was not always easy and requires patience. In Siam Center, for example, the device could see several networks, including a True system, but I was unable to join this with the weak signal strength. I had had problems in the same location earlier in the week with my MacBookPro.
In Pinklao, I was able to identify several networks and did join the True service there which in the past has been less than perfect. Typing in the long account information was tedious. Once set up with a network's settings, the iPod touch joins automatically: I turn it on in the morning and it collects mail while I eat breakfast; or I walk into the office and I am instantly online.
The new applications have turned the iPod touch into a far more useful device and I am now using it as a PDA: one that, of course, also does music and videos.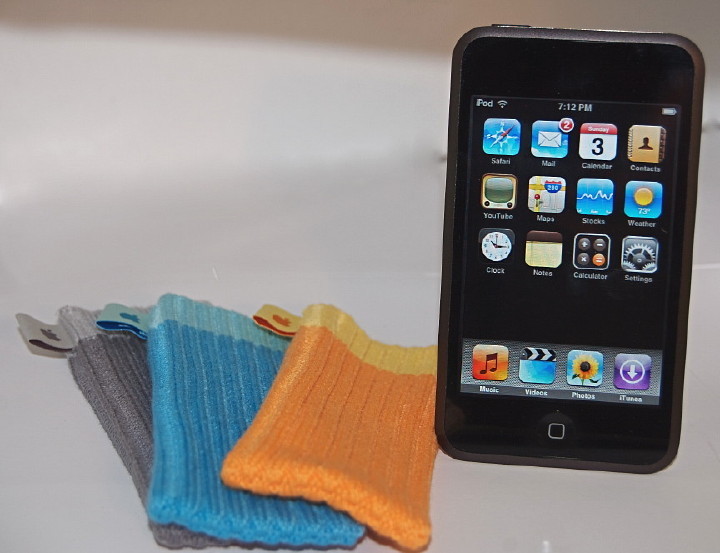 <! ----------------------------------------------------------------------->