<! ----------------------------------------------------------------------->
---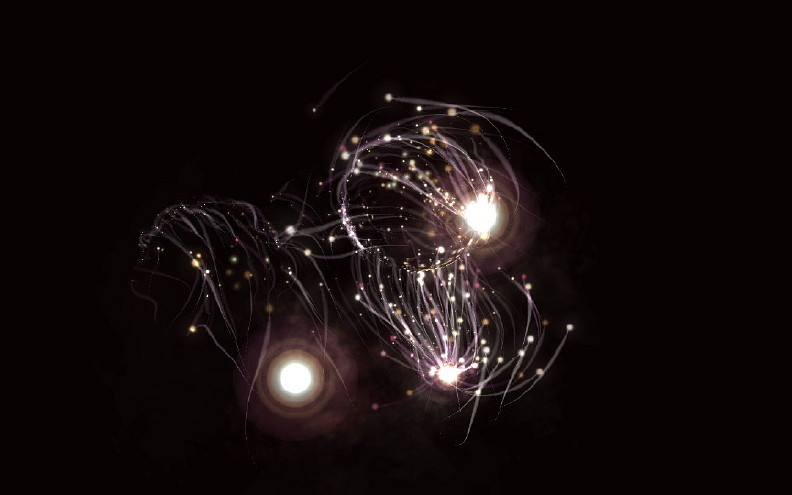 On Wednesday 19 September, as expected, a healthy Steve Jobs announced new iPods and related software. These iPods have already arrived in Bangkok at prices that compare well. I will look more closely at these next week, but as an interesting point, the new iPod nano has speaking menus for the visually impaired.

Software centered on iTunes (including QuickTime and Front Row). The iPod touch software was updated to version 2.1 (iPhone 2.1 followed later) and took advantage of changes to iTunes, now version 8.0, as well as other improvements, like email handling. The Vista version of iTunes was re-released at the weekend after USB drivers were updated.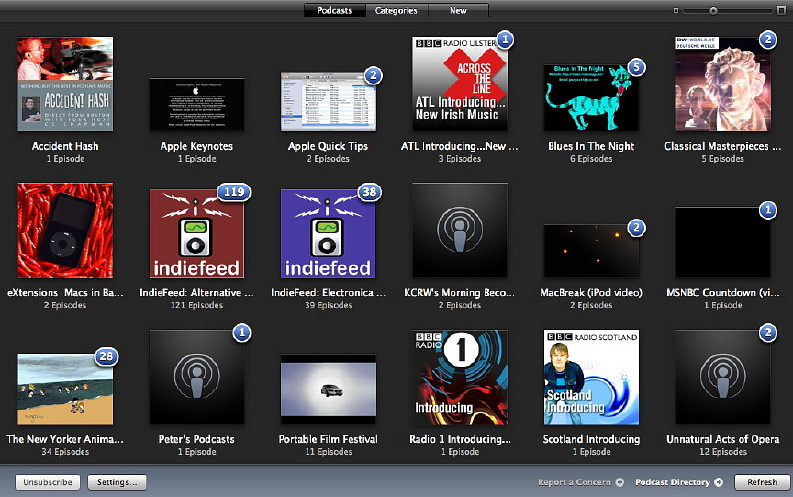 iTunes has new screen displays that look like iPhoto Events and dynamic new Visualiser formats. The icon colour was unchanged, surprising some. The main change was a feature Apple calls Genius. Parts of this are unavailable for users in Thailand, however.

This feature does add more to iTunes tools. If you think this is just a music player, you are missing most of the integration tools that work with computers, iPods and with iPhones (should Apple ever release these here).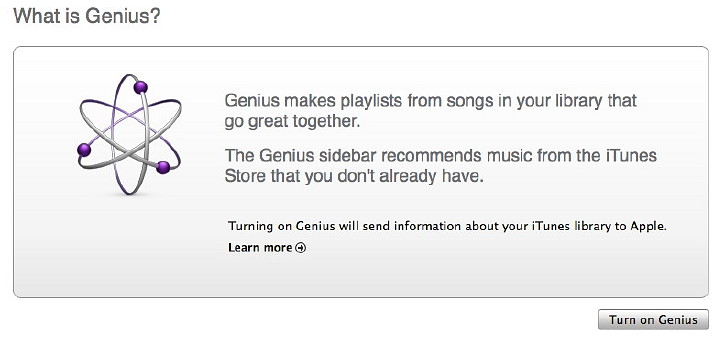 Genius creates playlists when the user highlights a single tune and clicks on the "atom" icon at the bottom of the screen. The feature produces a list of 25 songs that are related, perhaps by genre, by beat or other criteria. This can be changed to 50, 75 or 100 in a toolbar that appears.

A single click has Genius create another list or refresh the selection. Genius can also send data to Apple to produce suggestions for suitable purchases. This feature is not available in Thailand.

In iTunes 7 there was Mini Store which offered ideas about iTunes purchases to users. This was easily turned off. Genius initially seems as if it might be similar, but goes considerably further with its main task of creating playlists from music in the user's own collection.

When I had installed the new version of iTunes, I clicked on the icon in the sidebar to the left and I was asked to register. As I already have an account in the Thai App Store, this was accepted. iTunes gathered my music information and sent this to Apple. After some calculation -- some algorithms are involved -- it delivered my Genius results.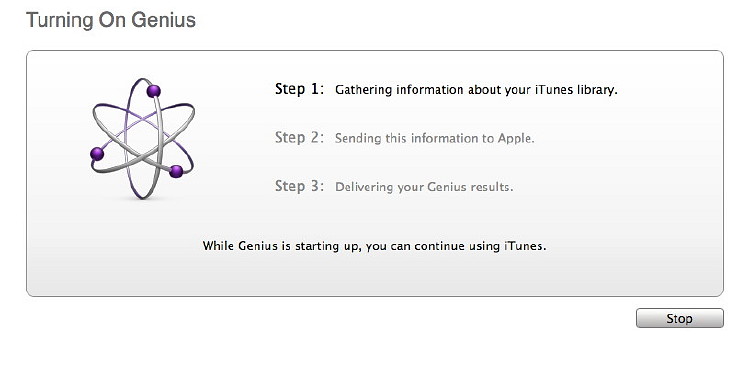 As to the data that is collected, Apple tells us that no personal information is retained. Until I have information to the contrary, I will take that at face value. A number of sites have examined this feature and none has sounded the alarm bells.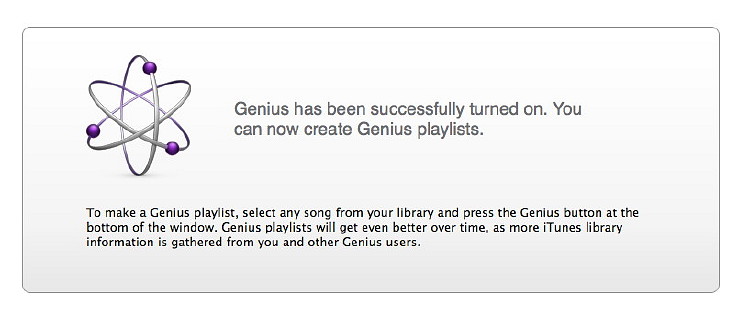 This creation of lists on the fly is also available on the iPod touch via the 2.1 update although is limited to 25. Larger playlists created in iTunes can be saved and synchronised to the iPod. Genius only works on the iPod if it has been activated in iTunes first.

When a song is not recognised, a panel appears which suggests an item in the revised Store menu which updates the information. Even when the song (or a selection) has been updated, Genius may still not be able to create a playlist. I have several albums, that have been bought legally from online sources, that were not recognised. This is probably due to different metadata (CDs and downloads). On the iPod touch, in such cases, a panel told me there were not enough related songs to create a playlist.

I tried Genius on several occasions in the first few days. Normally, once I have listened to downloaded podcasts (iTunes now allows individual settings for these), I hunt through playlists, select a few artists then look for some more.

Using Genius playlists brought out some of the tunes that must have been hidden in dark corners. There were some pleasant surprises when I first tried it out: no items felt out of context. One or two tunes were repeated in the initial lists, but this improves as we use the feature. A tune that initially failed to create a list on the touch succeeded after updates to data in iTunes.


The Genius sidebar to the right accesses the iTMS and compiles a list of music similar to any one of the tunes we select in the music library that can be bought online. It does not work for us in Thailand. I tried switching to the U.S. iTMS, but it recognised where I was.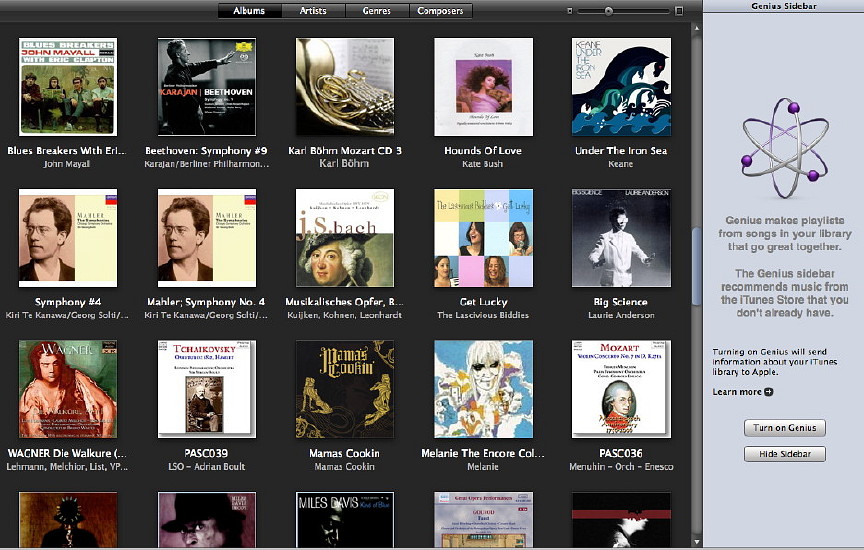 It is partly a method to promote sales. It also provides assistance to a user whose playlists need refreshing, like mine. I must admit, my playlists are in need of a total reorganisation and rebuild: this would give me some ideas. It is a shame that it is so closely linked to the online music stores that it is inoperative if there is no account. It is also a pity that this function requires an account when many can use it only for its prime function of creating playlists.


<! ----------------------------------------------------------------------->