<! ----------------------------------------------------------------------->
---
With my extended look at System Preferences in OS X, I am having to backtrack a little this time. I knew I had delayed discussing Quick Time preferences, but I also omitted the important section dedicated to Parental Controls.
Sadly, these days, while the internet has developed into a fabulous resource of news, research sources and information, it has also become a risk for the same young users who could benefit most from its use. Some parents are rightly concerned about what their offspring are viewing and who they are in contact with. We are reminded of the Peter Steiner cartoon from New Yorker, "On the Internet nobody knows you're a dog."
While parents should work with the very young in their online discoveries, those who are a little older value their independence and privacy. They can feel inhibited and resentful if they feel they are under observation. Parents have to perform a balancing act between that freedom and the protection of their sons and daughters from the malign influences that may exist online.
Although there was some ability to limit user access in OS X versions 10.2 and 10.3, Parental Controls arrived fully as part of the standard setup for home users' Macs with OS X, 10.4, Tiger. With the preferences, it was possible to restrict access to any applications and also specified URL's: in essence allowing access only to approved sites.

With OS X, 10.5 Leopard, this facility has been considerably revised and strengthened. As well as the ability to prevent use of certain applications, the limits that may be set to URLs include both specifics and types of sites, while email access (sending and receiving) can also be controlled. Logs of such activies may also be monitored. On top of these restrictions, is the ability to limit the number of hours that the child's account is used, including beginning and end times. This will help those families with those addicted to playing games non-stop.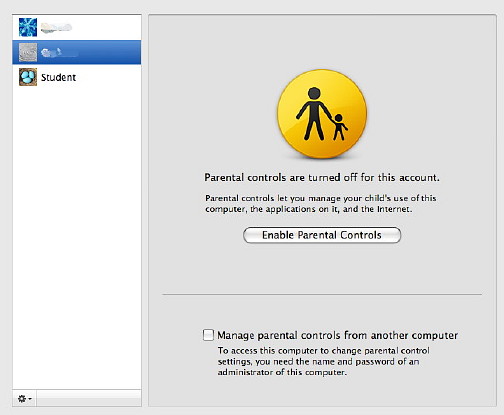 Parental Controls is off by default and does not apply to an Administrator account. When the preference is opened, other accounts are shown in a panel. When one of these is selected the controls can be activated. The panel then displays five buttons: System, Content, Mail and iChat, Time Limits and Logs. Using the "gear" icon that accesses shortcuts for actions, settings for one account can be copied and pasted to another.

The first button (System) controls the Finder and applications. It is in two sections. The upper panel turns on a simple Finder: in the account a basic panel displays icons for permitted applications. When parents work in that account, they can turn on the full Finder with an Admin password.
The lower panel controls programs that may be used (with or without the simple Finder). By default, all are allowed. By unchecking boxes any or all may be deselected. At the bottomm of this panel are four checkboxes to allow the user to administer printers, burn disks, change the password and modify the Dock, if the parent allows this.

The Content button controls what children may see. The top panel restricts access to any profanity in the installed dictionary: there are terms that some would find offensive. The other part -- perhaps the most important -- is web restrictions which are in three parts: all allowed; limited access, which tries to use recognised content filters, and can be customized to allow certain sites that are erroneously blocked; and, allow access only to specific sites (a "whitelist").
For more information on restricting internet access, there is a useful Knowledge Base Document available online at http://support.apple.com/kb/HT2900.
As important as these limits to websites, are controls on using e-mail. The parent can specify addresses which a child can send to, or receive emails from. A facilty in this panel notifies a parent if the child tries to exchange mails with someone not authorised. Similar restrictions can also be applied to the Apple messenger service, iChat.

There are three sections to the Time Limits panel: Weekday and Weekend limits, and Bedtime. The weekday section restricts computer use to a pre-selected number of hours each day. The weekend panel is identical to Weekday, but recognises that Saturday and Sunday are not school days and the child may have more free time. The decision is the parent's. The Bedtime section prevents access to the computer during certain hours. Cleverly, it is in two sections: Sunday to Thursday, and Friday and Saturday.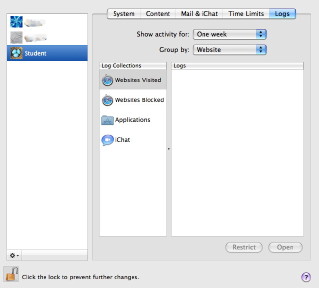 The last item here, Logs will record the user's activites for periods which can be selected using a button, from "Today" to one year, and by website listing or date. The log collections, listed to the left, record sites visited, sites blocked, applications and iChat. With this, if a parent suspects that the child has indulged in a risk activity, the logs can be checked and further action could be taken.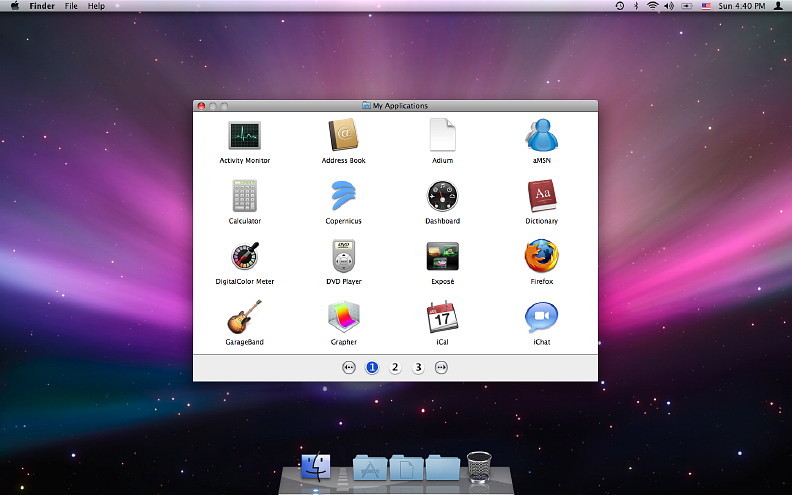 Simple Finder
See also other articles on System Preferences and information for new users (and old ones too).
<! ----------------------------------------------------------------------->