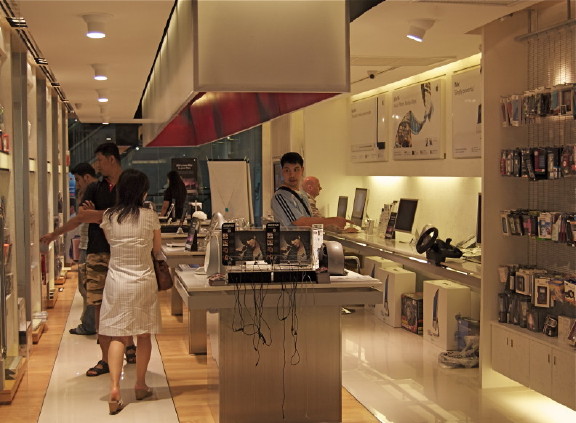 The New Year period creeps up quickly. It is when some of us think of gifts for the ones we love. We (companies as well as individuals) also use this period to look around for replacement hardware.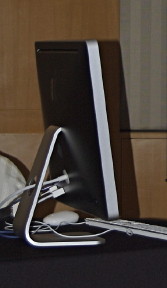 This week and next I am looking at Apple products in the shops in Bangkok and elsewhere: one of the phenomena around Apple in Thailand this year has been the number of new shops opening in areas which have never had them before: Pinklao, Nakhon Pathom, Hua Hin, Samui, Khon Khaen, Ubon are examples where there are new retail outlets (or will be in the future).
The switch to the Intel processor has meant a major change for people buying computers. With software like Apple's Boot Camp, Parallel's Desktop or VMWare Fusion, Windows operating systems can be used on Macs as well as the installed OS X. Walt Mossberg described the iMac as "the gold standard of desktop PCs." He added: "No desktop offered . . . can match the new iMac G5's (sic) combination of power, elegance, simplicity, ease of use, built-in software, stability and security."
Not everyone uses Windows of course. A student of mine just bought a new MacBook, one of the most popular Apple notebooks. I thought it was because she wanted dual-system operation. Not a bit. Having used Windows all her computing life, she moved to OS X and is loving it.
The top of the current range is the MacPro. This is a large aluminium box with a range of processors and expandable items (memory, cards, disks) that is aimed at the professional. If you are a photographer, or you want to make movies, then this is what you need.

At the level I work at, there are four computer ranges from Apple: the iMac, a slim glass and aluminium desktop machine; the polycarbonate MacBook; the Mac mini; and the MacBookPro, with its slender profile and aluminium finish.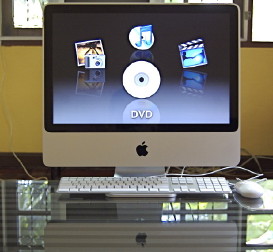 The iMac now comes in two screen sizes: 20" and 24", with 1G of RAM which is expandable up to 4GB. A colleague who bought a 17" iMac last year, having moved from Windows, enjoys it so much he has ordered a 24" version. The iMacs have all components inside the body which has a depth of under 2" and I have seen some in the shops looking round the back to see where the rest of it is. WiFi and Bluetooth are standard along with a new slim keyboard.
The 20" comes with a 2GHz processor and 250G hard disk or 2.4Ghz with 320G disk. iMacs have Apple software bundled, which means we can work out of the box: photography, making home movies, email, browser and lots more. They are priced at 47,900 and 59990 baht respectively. The 24" has a 2.4GHz processor and 320G disk. It is 72,990 baht. As well as RAM upgrades, there are options for hard disks up to 1 terabyte. A special order 24" with a 2.8Ghz chip is, I am told, around 91,000 baht.

The MacBook is popular among students and young people, although I also know a few more mature persons who love theirs too. There are three versions now using the Intel Core 2 Duo processor, all with the 13.3" glossy display and 1G RAM: 2.0GHz in white with 80G hard disk (Combo drive); 2.2GHz in white with 120G disk (Superdrive); and 2.2Ghz in black with 160G disk (Superdrive). These have the Apple software bundled as standard and are priced at 45,900, 54,900 and 62,500 baht respectively.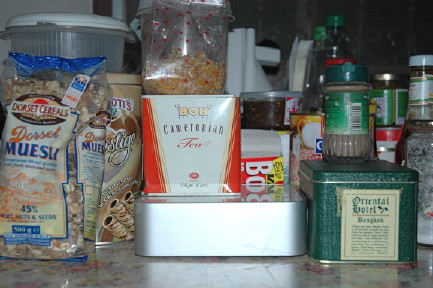 The Mac mini is still available. I bought three of these with G4 processors for student use. After a couple of years, they still work fine. These are ideal for someone with monitor, keyboard and mouse that they use with a PC. The Mac minis now have the Intel Core 2 Duo processor and 1G RAM: 1.83GHz (80G hard drive) and 2.0GHz (120G drive) for 23,590 and 31,590 baht. With their small size they are excellent if space is tight.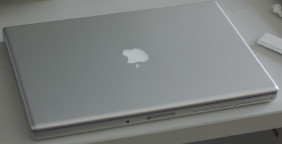 The MacBookPro is what I use daily. The 15.4" version now comes updated with a 2.2GHz processor, 2G RAM and 120G hard disk. What sets these apart from the MacBook is the upgraded graphics and the better availability of ports. It is priced at 75,900 baht.
The 2.4GHz version (94,900 baht) also has the 160G disk, while the 17" version (2.4GHz) is more like a desktop computer you can carry about. It is aimed partly at professionals who have to work in the field. It can be carried in a backpack (I have done it) but not as a regular event.

These Macs compare well with mid- and high-level name brand PCs and are often cheaper, plus they have the flexibility of multiple operating system abilities.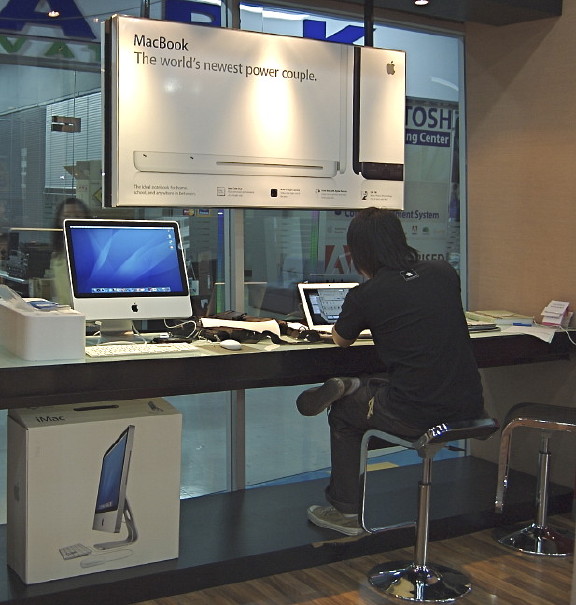 Next: Apples for your pocket.
<! ----------------------------------------------------------------------->