<! ----------------------------------------------------------------------->
---
When OS X first appeared, there was a free service included called iTools. It provided email and some other online features. This evolved into .Mac and became a subscription service. With 20G of online storage, it has now morphed into Mobile Me and is for Macs, iPhones, the iPod touch and for PCs. The annual subscription fee is $99 (3300 baht) or Singapore $132 (3400 baht).
Mobile Me was timed to start with the iPhone 3G introduction which included the new App Shops, plus upgrades for first generation iPhones and for the iPod touch. My iPod touch update was a bit sticky, but once downloaded, I could access the App Shop and all worked well.
I took it a stage further and signed up for the 60-day free demo on Mobile Me, which is being touted as "Cloud Computing".

There has been a shocking start to the Mobile Me service for many users with connection problems and features inaccessible. Almost in the "Pigs can Fly" realm, Apple issued an apology for problems over the first days and added a 30-day extension to accounts of subscribers.
When I first signed up it would not work at all after my initial login. I was never able to get back into the account which still exists. I have written to Mobile Me Help so that it might be deleted. [Note: this was later accomplished.]
A second account worked properly, with breaks in the service. As far as I can tell there are three reasons: server outages and maintenance at Apple's end; network connections, between my router, my ISP and Apple; and the browser, when viewing online pages. That was my fault. Safari has a feature called Private Browsing for online banking. For Mobile Me access that must be inactive.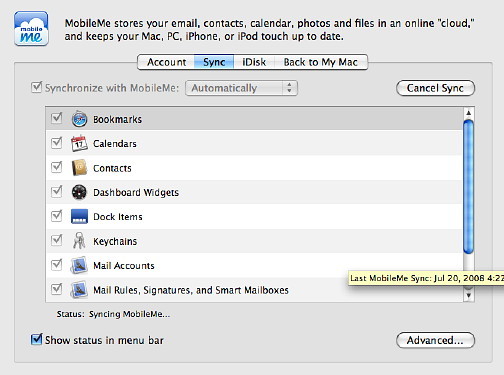 I set up the service on my MacBookPro first. This is my main working computer. I elected to sync calendars, contacts, mail accounts and notes. The interfaces are almost identical to their OS X equivalents, so Mac users are on familiar ground.
An item entered in the online calendar would appear instantly on the iPod touch. Items entered on the touch or the Mac's calendar application, iCal, took several minutes to appear in the other calendars. This is similar with the Address Book and Contacts, both on the Mobile Me account and my iPod touch.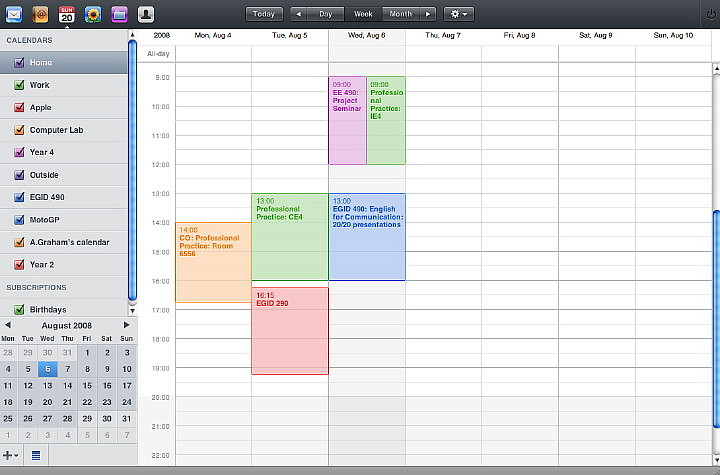 Any connection, however, is as reliable as the service one is connecting through. While it was good to see any changes updated almost instantly on some pages, 3rd party subscribed calendars were not fully included. They were on the iMac which was added later, so they are being synchronised: they did not appear on the web page or the iPod touch. This may be temporary.
Mobile Me mail has not been totally successful and the service is intermittent. One of the features temporarily disabled is access to the Contacts listings when composing mail. I circumvented this by creating mail direct from the contacts list.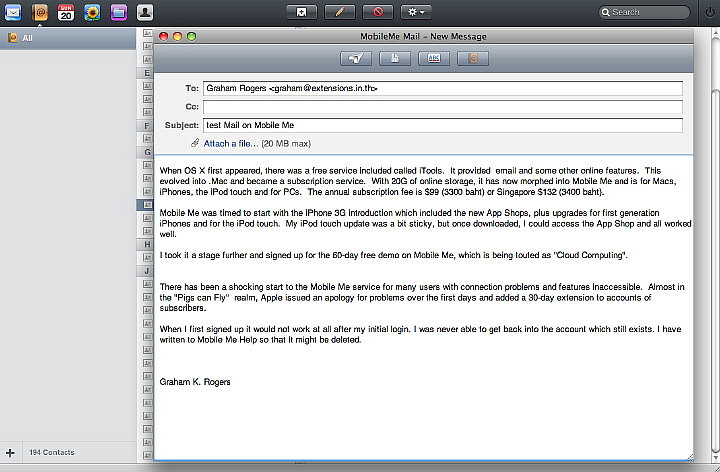 By mid-week there were improvements so I added the iMac then. As I use it less, the data did not match that on the MacBookPro. Synchronisation means that the two devices should agree, so several adjustments occurred. I added Bookmarks, Dashboard Widgets and Mail Rules to the list of items to be synchrobised with the "Cloud". I am still sifting through to delete duplicates, particularly with the bookmarks.

Despite the problems, I intend to subscribe because of the obvious potential. Perhaps what helped convince me as much as anything was the way I can create an online gallery using the web pages (old hat I know in many ways) and directly from either iPhoto or (in my case) Aperture and have tidy-looking pages created. As an experiment I uploaded images from a recent event at Siam Paragon.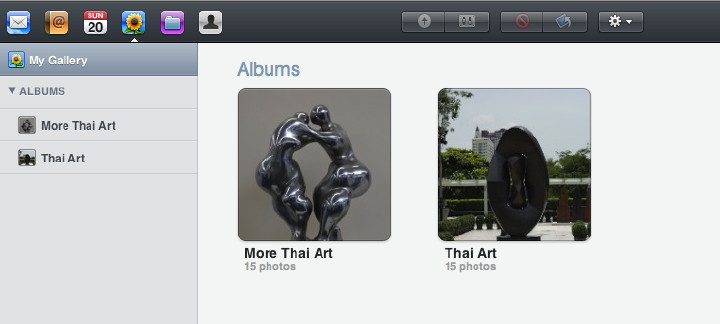 Scroll the cursor over the galleries and this effect is what Mac users have in iPhoto. While the standard view in albums is the grid, "carousel" has the same effect as Cover View in iTunes or the Finder.
At the weekend I activated another feature, the iDisk: online storage. With this I am able to access any files that I upload and there is also synchronisation that creates a copy of the iDisk on the computer, so that internet access is not required. We can work on the files anywhere.


Reported problems with various parts of Mobile Me have been severe for some users. I experienced no data loss, but then I trust no one, not even myself, and backup in several ways. Many people were unhappy with David Pogue's positive review in the New York Times which, at best, seemed a bit premature.

Between the cracks it is easy to see some sparks of what this service will become. On its good days, which mercifully are increasing, it is proving to be a valuable tool which Apple must get right.


<! ----------------------------------------------------------------------->