<! ----------------------------------------------------------------------->
---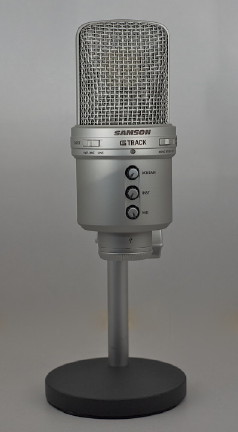 I have been recording the eXtensions podcast for some three years and up to now have always used the internal microphone for two reasons: I can; and to show that with such bare equipment, anyone can.
A friend recently started recording for the community radio station at Mahidol University that transmits on 90.75FM and covers the area around Salaya. While I guard my MacBookPro jealously, the 20" iMac was available.
Levels via the internal microphone, on the top of the iMac, were low. While I have learned to make my voice carry in the classroom, my friend's voice is quiet. A battery powered microphone gave a fair level of sound, but the microphone has to be held close to the mouth, resulting in slight distortion, especially with "P" and "S" sounds.
I was in the Siam Paragon iStudio recently and spoke to Khun Phornthep, who these days is usually found at the J-Avenue, Thonglor, iStudio. His English is good and he is helpful. I asked about USB microphones and he pointed me towards a MacPro there. Connected to it was a quality microphone that was a little more powerful and expensive (5,500 baht) than I had really been thinking about, but after a short, but convincing demonstration, I decided to take it home.

The Samson G-Track is described as a USB studio condenser microphone and audio interface. As well as a microphone, it can take input from an instrument, such as a guitar (or an MP3 player) and this is recorded onto the computer via the microphone.
It is almost plug and play with OS X and the package includes software for installation on a PC (the manual specified XP) including Cakewalk. Macs already have GarageBand, while a serious user would be working with Logic Pro, Logic Express or Shake.
As soon as it is plugged in, the Mac recognises the device and uses the pre-installed USB Audio CODEC. In use, this must be selected in the Sound Preference panel (Input). If the microphone is used to monitor sound via headphones, the CODEC should be selected in the Sound Output panel. When GarageBand was in use, a panel appeared telling me that the device had been detected and asking if I wanted to use it. Disconnecting the microphone while using GarageBand brings up the offer to switch to Built-in Audio.
GarageBand has a quirk in the way such a device works. It will show that a stereo input is recorded, but playback is only through the left speaker. Selecting the "i" for Information at the bottom right of the main panel allows us to select a mono signal which does play back through both speakers.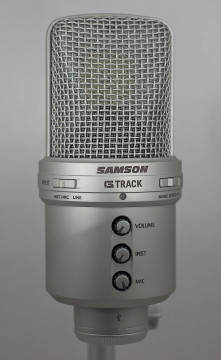 The smooth aluminium barrel of the microphone has three control buttons: for volume, instrument and Microphone. They are almost flush with the body, but to make an adjustment, the button is pressed. It moves out pushed by a spring. Once any changes are made, the button is pushed back in.
Above is the power light which is green. This changes to red when levels are high. Either side of the light are sliding switches for Input, Instrument/Microphone or Line; and for the Direct Monitor, Mono, Stereo or CPU.
Beneath are three ports. One is for connection of headphones so that sound input may be monitored. Another is for any input device. The USB port uses a square B-type connector. The other end of the 3-metre cable has a normal USB connector. This microphone connector can only be inserted one way, but it always feels a little loose. After moving it between rooms, I had to ensure that it was firmly connected or sound input was crackly.
The box contained several cables, all of generous length, to enable input and output conversion from the small input socket (like on the iPod) to large and vice versa; and for linking other devices.
The body is crowned with an aluminium wire mesh that covers the large (19mm) condenser. The whole device sits atop a hefty stand. The weight is given as 0.626Kg. There is also an option of a shock mount although I did not see this at the time I bought it. The base of the stand has a rubber ring round the circumference to protect surfaces. This had come adrift on mine, perhaps because of heat during transportation. It was easy to peel it off and relocate.
As it is USB-powered, I was able to use the microphone on the battery power of the MacBookPro alone. About ten minutes of recorded sound, which probably took some 20 minutes, used some 15% of the battery power.
Positioning of the microphone relative to the input, in my case voice, is important and I am still at the refining stage. With its directional sensitivity, there is less ambient noise interference, even in my poor acoustic surroundings. As expected, output quality has been vastly improved.

<! ----------------------------------------------------------------------->