<! ----------------------------------------------------------------------->
---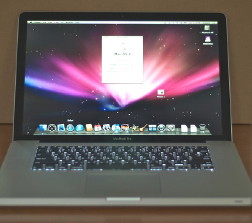 The latest MacBook Pro was in my hands for two weeks and I gave it a reasonable workout. Compared to my own MacBook Pro (2.16GHz) it has a stellar performance and scored higher in every aspect using standard XBench tests. I would not hesitate to change to this model if had the cash. Part of that performance came from the 2.53GHz processor and the standard 4GB RAM (now rated at 1066MHz). It was lighter than my current Mac at 2.49Kg compared to 2.54Kg. However, one or two things do need addressing.

One of the nicest things about this new computer is the screen. It is similar to that on my iMac: glass and with a black surround. Watching movies, viewing photographs, surfing the internet or working generally is a pleasant experience and easy on the eyes.
That screen, however, is one of the problems. It is important to position the computer so that, like a TV, there is no reflection from behind otherwise this will affect image display. Much comment has appeared on the Internet concerning this, and the point that Apple does not provided a matte screen option. Professional photographers, several of whom may consider this computer, may be concerned about this.
I cannot really say this was a major problem. I have been using Aperture and iPhoto on the iMac for several months and that is fine. I just carried on as normal with a set of images I copied over from my Mac. Without doubt when working with a window or bright light behind me that spoilt the effect, unlike my own MacBook Pro with its matte screen which is less affected by lighting conditions.
There were also reports about problems with hinges which are constructed differently from my current MacBook Pro. I can put my own Mac at any angle and the screen stays in the same position. Friction levels with the new hinges are not as high, so some have found the screen moving. I tried this at several angles and when lying flat -- with my knees up and heels tucked well in -- the screen did close. It is clearly easier to move than my current MacBook Pro, but closing did not occur for me except in that artificial posture. A little more friction, however, might be useful.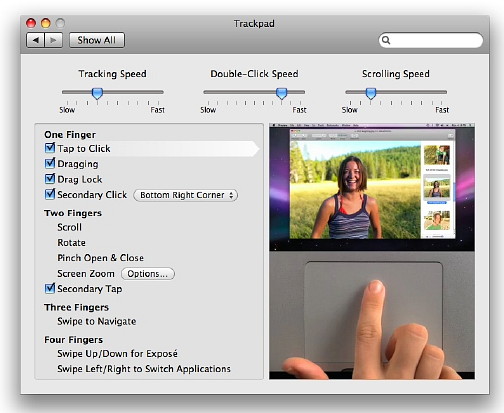 As I used this test Mac more, I became happier with the trackpad and its multiple gestures, some of which are already available on my own Mac. The glass trackpad does not have a bar to click: instead the trackpad itself is used. I did find however, that when pressing this, not all clicks were recognised. I tried with the trackpad single-click on or off, and with the secondary click on and off. Sometimes, it would not accept the clicks.
This is believed to be a software problem that affects some machines, so I also tried this with the same model in iStudio shops in Siam Discovery Centre and Siam Paragon. In both cases, there were no problems. We are told that a fix should be coming soon. I did find that the trackpad click itself -- something PCs have, which can be turned off for Macs -- was a little sensitive for me. But that may be more me than the Mac as I never use this on my own computer.
[Note: just after I submitted the article to the Bangkok Post, as anticipated, Apple released a Trackpad Firmware Update. The 704KB download, via the OS X Software Update feature, is an application that will update the firmware for the user.]

The MacBook Pro has two NVidia graphics processors: the GeForce 9600M GT and the GeForce 9400M. To change between them, we need to select the alternative in Energy Saver preferences then log out of the account. I found little difference in general working between the two, as the purpose of the faster processor is to handle the higher level graphics of some games. I did find however that the battery lasted far longer with the lesser chip selected.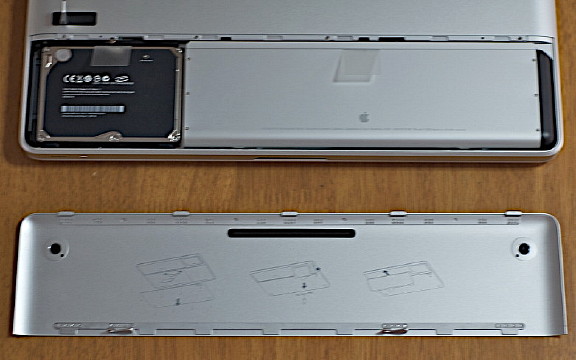 With the faster processor, battery power levels dropped really fast. I put it to sleep overnight, then went to work. It started with 61% and when woken up, 15 hours later, the power was down to 39%.
On a number of occasions also when power was low, it would not wake from sleep until the power was connected. I found it was in the deep sleep state: equivalent to Windows "Hibernate". I have never seen this on my own computers although it is available (I can do this using a widget called, Deep Sleep).
When I switched to the slower graphics processor, battery life improved: a 12 hour sleep dropped it from 100% to 89%. Leaving it on with no applications running at all, still failed to produce anything like Apple's claimed 5 hours. From full it dropped to 10% after 4 hours. I am sure the battery itself had a problem.
This machine would make a great replacement for my current MacBook Pro, despite the fixable problems I found. It will find its way into many homes and organisations where high performance, reliable mobile computing is wanted.


Back to Out of the Box

<! ----------------------------------------------------------------------->