eXtensions
Universiade: Television and Networking
By Graham K. Rogers

At the end of July I went up to the Rangsit campus of Thammasat University, where I was shown some of the preparations for delivery of television and other data to the sports venues during the period of the 24th Universiade sports, from 8 - 18 August.
The Mass Communications Authority of Thailand (MCOT) is responsible for televising the sports and transmitting signals to local television channels and abroad. MCOT also sends data to a unit that will process it for the stadiums, dormitories and the Internet.
The IT operation is under Dr. Sumet Yamnoon of the Office of University Affairs, while the technical organization and installation is headed by Dr Thanagorn Ouan-On, formerly Dean of Mahidol's Faculty of Engineering. He has several positions connected with this project: Chairman of the CCTV Committee (Closed Circuit Television); Vice-Chairman of ICT (Information Communication and Technology); and Vice-Chairman of the IBC Management Comittee (International Broadcasting Centre).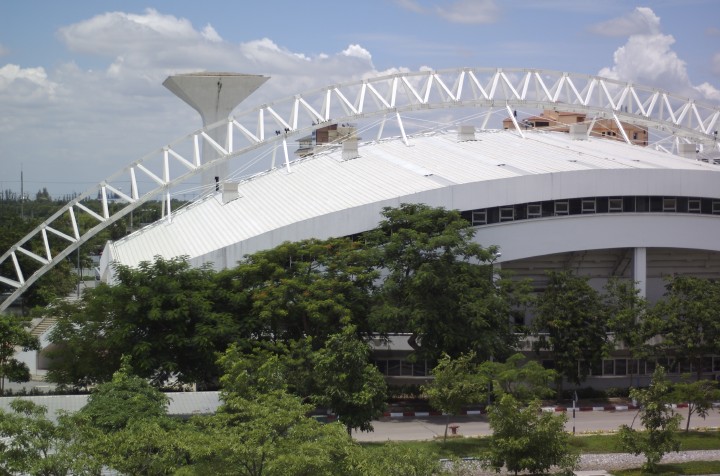 My main interest was the television editing and distribution that would be carried out by this section, using students and professionals. All of the editing was to be done on iMacs. I was told that MCOT is also creating an installation for editing that would utilise ten Mac Pro computers supplied by Digitron Solutions.
Students who would be involved were from Burapa University and from Mahidol University: Faculty of Engineering, Faculty of Sports Science, and from the International College. About 60 students had been recruited and their responsibilities ranged from technical, networking, editing and advice. Some would also conduct interviews in Thai, French or English.
As they are working with professionals, this is intended in part as a learning experience. Some of the tasks they would also carry out are connected with shooting, presentation and scripting.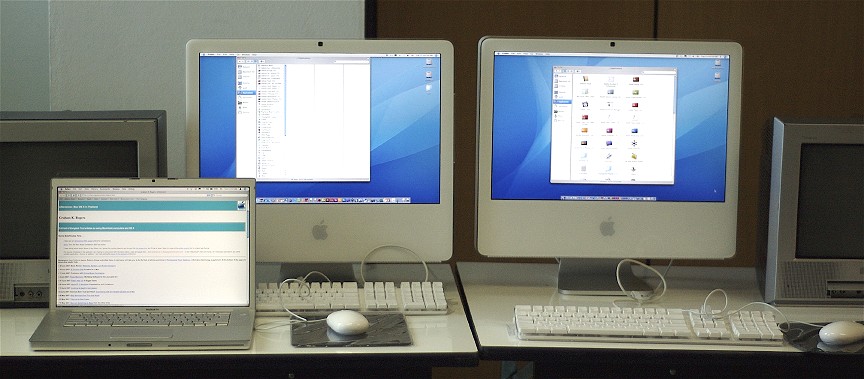 iMacs for Editing with MacBookPro for Comparison

While most editors would be using Final Cut Pro (and in some cases iMovie), the machines are dual-bootable and Windows was already installed: software such as Premiere is available. Graphics work would be carried out using Adobe software in the main. The man in charge of this aspect of the operation, Worawit Issarangul na Ayutthaya (who is not related to the politician), is a long-time PC user who has recently switched to using an iMac. He anticipates that 60-70% of the editing will be carried out using Macs.
I spoke to one of the professional staff, Miss Waraporn Sasue. She graduated from a technical college in Bangkok some two years ago where she had learned on both PCs and Macs. She prefers the Macs as she claims they are easier, more stable and do not hang: an important consideration with the time constraints that TV output demands.
I asked about her approach to editing. Waraporn told me she concentrates first on the script before working on the video and likes to think about the score or soundtrack. She has especially enjoyed working in the last couple of years on children's programs like Baan Dek Dee (Good Child's Home). One of her special tricks when working, she says, is to organise all input files carefully into folders before starting work.
Each of the machines used, eight 20" iMacs (leased from EITS, the education distributor for Thailand) is running the 2.16GHz Intel processor. Due to budget constraints each has only 1G of RAM. Data will be input and output using either Ethernet or WiFi, both of which are to be available in the studio area. Streaming servers were due to be installed some days after my visit.
Video output went to the Sony editing monitors that were alongside for viewing: an adapter converts the digital signal to analog. Output could also be saved to tape or video disk. It can be uploaded to the servers for transmission.
Television images produced by this unit will be used with other data such as the timing and scoring. All is to be transmitted to the 36 venues that are being used for the mixture of 15 sports represented. Eight of the huge diplays are at Thammasat, while other locations include Impact Arena (6), Srinakharinwirot University (4) and Phatthumwan. There are eight venues for soccer.
I spoke later to Dr. Thanagorn who showed me round some of the other facilities that were still being assembled on the second floor of the main press center. There was much security equipment evident. I noted the two large rooms full of PCs that he told me were for the Press. When I asked about OS X, as a number of journalists do use the platform, he told me that access for Macs would be on the first floor. There are a number of other facilities for the Press.
At this time I also saw the assembly of the servers for the entire distribution system, part of which is a 10 Gigbit backbone link while the venues have up to 1G. This is a huge array that shows the effort and investment going into this massive project.
---

For further information, e-mail to
Back to eXtensions
To eXtensions: 2004-05
To eXtensions: Year Two
To eXtensions: Year One
To eXtensions: Book Reviews
Back to homepage